23 June, 2017 (Singapore) – Singaporean shipowner and operator Winning International Group will deploy SAILOR 900 VSAT antenna systems from Cobham SATCOM across its fleet of 30 bulk carriers. The decision to provide high-speed always-on connectivity was driven by a desire to improve crew welfare and explore new opportunities for optimising vessel operation.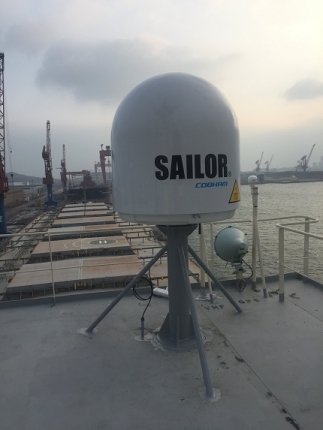 The contract was signed between the operator's business unit in Qingdao, China and Dalian Landsea Electronic System Co. Ltd., a key Cobham SATCOM partner since 2010, also based in China.
The SAILOR 900 VSAT is an advanced three-axis stabilised Ku-band antenna system designed and built specifically for maritime applications. Recognising that ships have tight constraints on available maintenance time when in port, it is supplied ready-to-go with standardised components and has only a single cable running between the antenna and below-deck unit.
In addition, the antenna is shipped fully balanced, which eliminates a time-consuming configuration process before installation. These adaptations make the SAILOR 900 VSAT the most cost effective Ku-band antenna on the market to deploy. It also incorporates several innovative diagnostic features to ensure 'always-on' availability while handling dual-antenna arrangements with no additional hardware.
The SAILOR 900 VSAT is a future-proofed solution. The reflector dish and radome are tuned to both Ku- and Ka-band frequencies, providing a pathway for vessel owners to upgrade and take advantage of new high throughput satellites without having to replace the antenna unit.
Mr Yu, General Manager of Qingdao Winning International Ship management Co comments: "Offering crew more reliable access to the web and electronic communication to allow them to keep in contact with their families was the foremost factor in Winning's decision to deploy the SAILOR 900 VSAT. Additionally, we have plans to evaluate options for improved vessel and fleet analytics to reduce fuel consumption and make other efficiency gains."
Dalian Landsea General Manager Mr. Liu Qi says that the SAILOR 900 VSAT solution was recommended after detailed consultation. "Cobham SATCOM offers an extensive portfolio of VSAT solutions; it is essential that all aspects of the end-user's true requirements are met, including the product, but also the logistics, installation and service agreement."
Christian Kock, Senior Sales Director Global Maritime of Cobham SATCOM comments: "It is particularly satisfying to see a leading bulk carrier operator such as Winning International Group invest in our technology. With highest RF performance in the 1m antenna class, the SAILOR 900 VSAT sets a new standard for broadband communication at sea. Thousands of units have shipped worldwide since its initial market launch in 2011."
Winning International Group is a specialised transporter of bauxite cargo from Guinea to China with an annual volume that reaches 30 million tonnes. It has diversified into iron ore, nickel ore, coal and alumina etc.
About
Cobham SATCOM
Providing dependable communications and internet access anywhere under the most demanding conditions.
Our satellite and radio communication terminals perform in the most challenging and remote environments on land, at sea and in the air.
We design and manufacture these high performance products under the AVIATOR, EXPLORER, SAILOR and Sea Tel brands providing customers with outstanding performance, value and support through our global sales and service network.
About
Cobham
The most important thing we build is trust.
Cobham is a leading global technology and services innovator, respected for providing solutions to the most challenging problems, from deep space to the depths of the ocean.
We employ around 11,000 people on five continents, and have customers and partners in over 100 countries, with market leading positions in: wireless, audio, video and data communications, including satellite communications; defence electronics; air-to-air refuelling; aviation services; life support and mission equipment.