Samskip and Boluda Lines will jointly launch shortsea container services connecting Santander, Dublin and Liverpool, in a new commitment to customers in Spain, Ireland and the UK that also delivers a strategic expansion for Samskip's European sustainable transport network.
28 September 2023  – Launching on 30 September, the joint service provides a new weekly Spain-Ireland-UK shortsea option for unitized cargoes that is highly cost competitive against road-ferry alternatives, while at the same time offering greater reliability and substantially reducing CO2 emissions per tonne mile.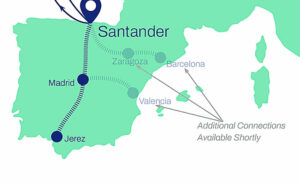 Based on Saturday departures from Santander by the 803 TEU nominal capacity vessel LUCIA B., the new service offers a 3-day transit time to Dublin port, with calls at Liverpool's Royal Seaforth Container Terminal, due two days after, before the ship's southbound voyage to Spain. With door-to-door and quay-to-quay services available, cargoes can move in owners' extensive range of containers – including 45ft high cubes, reefers and flatracks – or in shippers' own equipment.
In northern Spain, the focal point for operations will be Boluda Maritime Terminals Santander, which is ideally located to provide links to Ireland and the UK and is highly competitive against other local ports. Opened by Boluda in April 2023, after terminal investments approaching €40 million, the brand-new facility offers capacity to handle over 110,000 TEUs a year.
In addition to adding value through logistics expertise and local knowledge, Samskip and Boluda Lines are maximising Santander's operational, sustainability and market penetration potential by simultaneously launching block train rail services to/from Madrid and Seville. Cross-docking services are also being offered at Santander.
As experts in Multimodal planning logistics, Samskip has a strong local presence in Ireland and North Ireland. This provides a great edge for reliable service where extensive road haulage services have been developed to support ships connecting Cork, Dublin, Belfast and Waterford to Samskip's European network via the Netherlands.
Ólafur Orri Ólafsson, Head of Network Optimization & Iberia Trade, said: "Providing highly efficient, reliable, and sustainable shortsea products is at the center of what we do, and we are thrilled to continue to do just that in this new partnership with Boluda Lines. With our long-lasting experience and local knowledge in the Irish, UK and Spanish markets, particularly in clearance knowledge and inland distribution expertise, we will be able to add significant value to our customers, to whom we remain dedicated to in our mission to provide the most reliable service."
Meanwhile, the addition of Liverpool to north-south services represent a major new strategic commitment in the UK. The Santander link is competitive for Spanish importers and exporters, while Liverpool adds a significant service option for shippers in the Ireland-UK trade. The Port of Liverpool gives access to the M62 'corridor' of motorway to reach key UK importers and exporters, where Samskip's combination of efficient planning, in-house customs clearance expertise and UK-based truck capacity will deliver seamless logistics across the north-west and beyond.
Ignacio Boluda Ceballos, Vice Chairman of Boluda Shipping, said: "We are delighted to initiate this new journey with our partner Samskip, creating the alliance of two leaders in the intra-European transport. Our values and vision are fully aligned. In this new project, we will connect Santander with the UK and Ireland, offering an innovative solution for our clients, emphasizing efficiency and sustainability across all modes of transportation; rail, land, and maritime. We are particularly proud to showcase the new Maritime Platform in Santander, a project that our entire group is dedicated to, and in which we have invested all our efforts."
In addition, Boluda Lines' leadership in the transport of goods through the Canary Islands and West Africa offers importers and exporters in Northern Europe the possibility to expand their connections and carry out operations in these regions. With extensive experience in these markets the company operates more than six regular lines in this strategic area.
Kari-Pekka Laaksonen, Samskip CEO, said: "Having a reliable service to the Spanish market has been on the drawing board for Samskip for a long time. It is very exciting to take this step together with our partner Boluda Shipping, who has a proven track record of successful services in Spain. This allows us to further expand our sustainable multimodal network to one of the main European short-sea markets. We are thrilled to join this journey".
Gorka Carrillo Fernández, CEO of Boluda Shipping, said: "This collaboration represents a crucial step forward in enhancing connectivity between Spain, Ireland, and the UK, while aligning with our commitment to sustainable and efficient transport solutions. Boluda Lines' decades of maritime experience in door to door reliable transport solutions perfectly combined with Samskip's extensive network will undoubtedly deliver unique value to our customers and reinforce our shared dedication to excellence."
About Samskip
Samskip offers pan-European, environmentally responsible combined transport services via shortsea, road, rail and inland waterway routes. We are committed to cost-effectiveness, operational excellence and best practice in sustainable transport. High frequency services connect destinations across Europe, the Baltic States, Iceland and Faroes Island, both door-to-door (including collection) and quay-to-quay, transported using a wide range of owned vessels, containers, trucks and trailers.
About Boluda Shipping
Boluda Shipping provides efficient maritime transport services and international freight logistics. Its subsidiary, the shipping company Boluda Lines, operates shipping lines connecting the Iberian Peninsula with the Canary Islands, northern Europe, the Mediterranean, the west coast of Africa, Cape Verde and, through Naviera del Mercosur, connecting the ports of Asunción, Buenos Aires and Montevideo. The division also provides maritime terminals solutions, land and air transport services, shipping agency, international freight forwarding services, customs management and international trade consulting services.