20 May, 2016 – Multimodal network operator Samskip and inland waterway transport provider Pro-Log are celebrating the 10th anniversary of barge operations connecting Rotterdam and Duisburg by adding a second vessel, increasing service frequency to six times weekly.
May 1, 2016 completes the first decade in the cooperation between the two unitised transport specialists, one a pan-European operator of ships, trains, trucks and multimodal equipment, and the other a dedicated river barge operator.
"Reliability is a cornerstone in the competitive case for multimodal transport, and nowhere is it more crucial than in the corridor between Rotterdam and Duisburg," says Leo Osseweijer, Samskip General Manager Procurement & Equipment Control. "Over the last decade, Pro-Log has proved itself reliable day-in, day-out, as well as cost efficient and flexible enough to work with Samskip as a true partner always ready to consider the bigger picture.
"Customers in the Ruhr depend on sustainable multimodal services to avoid congestion on the roads to and from the port of Rotterdam. To date, 2,876 trips have been completed. We calculate that choosing multimodal has meant that customers have saved 479,415 total kg in CO2 emissions in the past 10 years – equivalent of 17,433 trees."
Mr Osseweijer said that the service levels achieved by the Pro-Log vessel Theodela (60x 45ft container capacity) had proved decisive in selecting an inland barge partner a decade ago, and that the three times weekly service had since proved "second to none".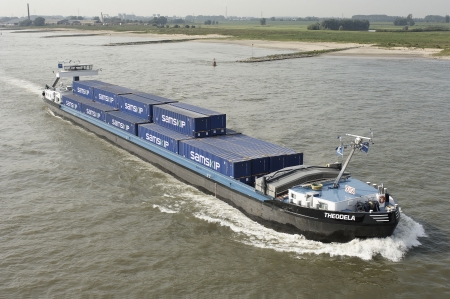 Adding a second vessel increased the service offering to six times a week in both directions, while also making it possible to expand the offering by adding calls in Nijmegen within the schedule.
The partners marked the occasion of their 10-year cooperation in an informal event held at Samskip's corporate headquarters in Rotterdam, marking the service launch date of May 1, 2006.
Note to editors:
Samskip operates one of Europe's largest multimodal container logistics systems. The Samskip network has the flexibility to move containers door-to-door between over 30 countries from the United Kingdom and Ireland to Russia, Scandinavia, Poland, the Baltic States, Finland and Iceland in the north to Spain, Portugal, Italy, Austria, Greece, Hungary, Czech Republic and Slovakia in Southern and Central Europe.
Samskip offers a wide range of routing options, utilising road, rail, sea and inland waterways as appropriate to provide the best combination of rate and transit time to suit individual customer requirements and preferences. It has over 13,000 containers at its disposal, ranging from 20ft to 45ft pallet-wide high cube containers including reefers, curtain-siders and flat-racks.
For further information,
please contact:
Eva Rademaker-de Leeuw
Samskip
E-mail: Eva.Rademaker@samskip.com
Phone: +31 88 400 1174