14 June 2019 – Pan-European multimodal service provider Samskip says experience gained up to March 31, 2019 find it fully prepared for a North Sea container traffic surge, as attitudes harden in the run up to October's revised Brexit deadline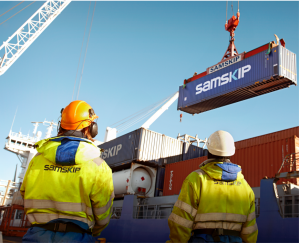 Europe's largest multimodal transport group by freight volume expects UK exporters and importers to start switching away from trailers and towards containerisation very soon, repeating a trend established in the run-up to the original deadline for Brexit.
"We saw a significant push in container volumes up to March 2019, especially into Hull, as decision-makers facing uncertainity opted for the reliability and proven procedures of container shipping," says David Besseling, Samskip UK Trade Manager. "Concerns over supply chain security are fast re-emerging."
Besseling says that stockpiling contributed to the earlier traffic surge, but adds that the experience also confirmed robustness in new Hull-Ghent and Hull-Amsterdam links established by Samskip at the end of 2018. The services add to existing high-frequency connections between Rotterdam, Tilbury, Hull and Grangemouth.
"These additions brought more than simply shortsea capacity," says Besseling. "Ghent and Amsterdam have brought multimodal head to head with trailers in new regional markets and opened longer distance routes across Europe."
Samskip services to Rotterdam are supported by 70 trains a week to destinations throughout the EU and beyond, as well as by regular barge connections but Ghent opens up northern French and Belgian markets traditionally feeding ferries into Zeebrugge. Besseling says the added dimension of low emissions, congestion-free barge connections have also proved an attraction for the Belgian port. Meanwhile, Amsterdam has brought new flexibility and cost-efficiency, with rail services running into the port's TMA Logistics shortsea terminal itself, and space available to launch cross-docking services for customs-friendly containerisation.
Besseling says that the period after March has allowed Samskip to refine post-Brexit arrangements and lay down plans for new rail links eastward from Dutch ports to Berlin and Poland, adding to a previous focus on Duisburg and Mannheim.
"We have been able to demonstrate performance levels to UK importers and exporters where mutlimodal options have been added and fully deploy the people, resources and IT that will enable seamless customs clearance. We are also confident that cross-docking services in Amsterdam will persuade more shippers of  conventional wagon loads from Germany, Austria, Poland and Italy to containerise."
Samskip Chief Executive Diederick Blom says that EU parliamentary elections, entrenched views from UK and EU politicians and the contest to become UK prime minister feed a deadlock that points to a 'hard' Brexit.
"We comment as logistics professionals not politicians but managing the supply chain is core to meeting the expectations of business and consumers alike," says Blom. "In the run up to the original Brexit date, container transport proved reliable and efficient, and that it could handle far more freight without the risk of terminal gate tailbacks, customs red tape, driver shortages or industrial action."
Note to editors:
Samskip offers pan-European, environmentally responsible combined transport services via shortsea, road, rail and inland waterway routes. We are committed to cost-effectiveness, operational excellence and best practice in sustainable transport.
High frequency services connect destinations across Europe, the Baltic States, Russia and Central Asia, both door-to-door (including collection) and quay-to-quay, transported using a wide range of owned vessels, containers, trucks and trailers. To match equipment to cargoes shipped, options include a full range of ISO containers and reefers, including 33-pallet capacity 45ft units.
In all cases shippers can make real choices based on frequency of service, transit times, freight rates and sustainability.
For further information please contact:
Corina State
Manager Marketing Communication
Samskip
E-mail: Corina.State@samskip.com
Phone: +31 88 400 1174