Early next month, Samskip will celebrate the maiden voyage of the Samskip owned and operated weekly service connecting Rotterdam, Helsinki, Riga and Hull. This new service is a direct reflection of Samskip's central strategic focus on customer centricity. Valuing customer relationships, the service is in response to demand for reliable short-sea service in the Baltic Sea region.
26 October 2023 – Samskip's new Baltic Sea service will directly link Latvia & Finland with the United Kingdom & the Netherlands with fast reliable transit times. The service achieves a 5-day transit time from Riga to Hull, and a 7-day transit time from Helsinki to Hull. Supporting the new route, Samskip will deploy 2 vessels.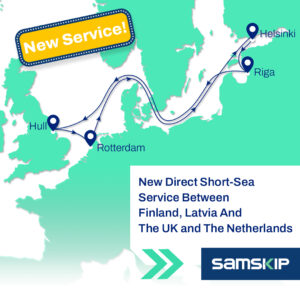 Customers such as retailers in Finland will benefit from the reliable and short transit times of the route from Rotterdam to Helsinki with arrivals in Helsinki every Tuesday morning.
The reliability of the new service is achieved by its robust schedule design and focus on consistency. Samskip's new Baltic service will deliver seamless integrated door-to-door service, supported by Samskip's strong value proposition in the UK consisting of in-house customs clearance support, its Humber-based owned truck fleet and additional value-added services such as cross-docking for paper and timber products.
Regional Director – Baltic Sea, Johan van der Piji, said: "Samskip has heavily invested in our Customers Experience. We have listened closely to our customer's to understand their needs and this new service underpins our commitment to them and their shipping requirements to-and-from Finland & Latvia. The new service provides a fast, direct link between the region and the UK and the Netherlands, which is paired with a high level of customer care and service quality. I am proud of the teams in the region who have worked passionately to drive this project."
Samskip Regional Director – UK, Richard Beales, said: "We are very pleased to welcome this new direct call from Helsinki/Riga via our ideally situated Humberside gateway in Hull. This new service offers our customers a direct and reliable corridor to-and-from Finland and the Baltics to the UK. We are able to link into the UK Region's in-house value-added services, such as customs clearance support and land transport to deliver a seamless door-to-door service."
About Samskip
Samskip offers pan-European, environmentally responsible combined transport services via shortsea, road, rail and inland waterway routes. We are committed to cost-effectiveness, operational excellence and best practice in sustainable transport. High frequency services connect destinations across Europe, the Baltic States, Iceland and Faroes Island, both door-to-door (including collection) and quay-to-quay, transported using a wide range of owned vessels, containers, trucks and trailers.