SAMSKIP, global logistics solution providers with offices in 24 countries, is venturing into "zero carbon emission free shipping services" by contracting Two Hydrogen fuel powered vessels to provide service its west European routes by signing a ship building contract with the leading Indian shipyard Cochin Shipyard Ltd.
21 March 2023 – Once commissioned, these vessels will be among the First Zero Emission Short Sea Container Vessel in the world using Green Hydrogen as the fuel. This is another of Samskip's ambitious projects as they work together with the Norwegian Government green funding program aimed at emission-free transport solutions by adopting sustainable innovative future technologies.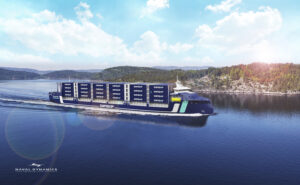 In zero emission mode, each vessel is expected to achieve around 25,000 tons of CO2 reduction per year. They will achieve zero emission operations in ports as well by using green shore power at the port of call.
CEO Samskip Group – Kari-Pekka Laaksonen: "This endeavour is another of Samskip's initiatives that is an important step towards reaching our sustainability targets outlined in our latest sustainability report. It reinforces our commitment to the Sustainability Science Based Target initiative and will support our goal of reaching Net-Zero by 2040. We have continuously practiced what we preached because sustainability is in our DNA and we are invested in the future; the future for green logistics, our planet, our economy and in the next generation of seafarers and we are certain that this project will be a game changer. Samskip is delighted to have found such a partnership in Cochin Shipyard who shares the same ambitions to provide environmentally friendly transportation and we look forward to a successful cooperation." 
"With this collaboration, CSL has further strengthened its position among the global league of early movers in sustainable green future technology thereby ready to meet the futuristic market expectations", said the Chairman of Cochin Shipyard Mr. Madhu Nair.
"On behalf of Naval Dynamics AS, we congratulate Samskip with the contract signing for their SeaShuttle Container Feeder Vessel with Cochin Shipyard Limited (CSL). The 2 vessel order is a milestone project for all parties involved as this is a true zero emission hydrogen fuel cell powered vessel. We at Naval Dynamics AS and our partners look forward to advancing this step change project after years of design and engineering, and now a true multi-megawatt fuel cell vessel series will allow sustainable and effective sea freight operations. A special thanks to ENOVA for enabling such step change endeavours."
About Samskip
Samskip offers pan-European, environmentally responsible combined transport services via shortsea, road, rail and inland waterway routes. We are committed to cost-effectiveness, operational excellence and best practice in sustainable transport. High frequency services connect destinations across Europe, the Baltic States, Iceland and Faroes Island, both door-to-door (including collection) and quay-to-quay, transported using a wide range of owned vessels, containers, trucks and trailers.
About Cochin Shipyard Ltd
Cochin Shipyard Ltd (CSL) is the largest commercial shipbuilder in India. CSL's rich experience and proven track record in construction of a number of high end offshore support vessels for European clients coupled with its recent delivery of Zero Emission Autonomous Cargo Ferries to Norwegian client ASKO, positioned it as the yard of choice for the client for placing this order for CSOVs. The yard is also active in the short sea shipping sector with current orders for 8 vessels for a Germen client.