29 June 2016 – Leading multimodal operator Samskip is seeking to strengthen its competitive position within the European transportation market by introducing a new type of composite container flooring. Manufactured out of fibre reinforced plastic (FRP), the flooring promises to deliver a number of significant environmental and operational benefits.
Samskip has developed the new flooring system in partnership with Guangdong-based CIMC ECO New Material Development Co. Ltd. To date it has been used within a series of around 500 45ft dry cargo containers, delivered since November 2015. Another batch of a similar size is due to be manufactured with the FRP flooring in the second half of 2016.
Danny de Koning, Samskip Technical Manager, says, "After testing 12 units thoroughly in our fleet since November 2014, we can now say that we are extremely pleased with the new series. Our customers are increasingly looking for environmentally-friendly, sustainable solutions and the new containers with FRP flooring certainly tick that particular box, which will give us an advantage over our competitors."
The new composite flooring has strong 'green' credentials, as unlike wooden floors, it does not cause deforestation. Furthermore, being lighter in weight, the material further helps increase payload capacity, while the manufacturing process does not involve the release of Volatile Organic Compounds (VOCs), which can be harmful to health and the environment. The FRP flooring is also manufactured without the need for high energy consuming processes, as would be the case with some other flooring types.
Extremely durable, the flooring is expected to have a 25-year lifetime, compared with 8-10 years for traditional wooden floors, reducing the need for replacement during the container's own life expectancy. Once used, it can be recycled for various uses, such as modular housing units.
As well as offering a sustainable flooring material, FRP is much stronger compared with traditional steel, aluminium or wooden floors. "Using FRP with a resin that serves as a bonding agent makes the container floors flexible, without any risk of permanent deformation," says Steven Zhao, vice president, CIMC ECO New Material Development Co. Ltd. "This means that they are particularly suitable for high density but sensitive cargoes, such as paper reels, and heavy cargo items generally."
There are also benefits in using the new flooring to carry food grade products. The FRP material is approved as being compliant with demanding US food certification requirements, for example. As it doesn't absorb fluids, there is no risk of water retention or rotting, and it is also resistant to pest infestation, avoiding the need for fumigation. The new FRP flooring is similarly resistant to corrosion and chemicals, and does not stain; these are important considerations when transporting foodstuffs.
Furthermore, FRP's high tensile strength makes it very resistant to general wear and tear, reducing maintenance and repair costs. "These floors are hard to damage, but easy to maintain and install," says Mr De Koning.
Another operational benefit is the fact that flooring is consistent in terms of quality. As Mr De Koning points out, "With this FRP product, all floors are the same, unlike wooden floors where colour and quality may vary from container to container. There are safety benefits as well, as FRP is slip-resistant compared with steel flooring, for example." The FRP flooring is also fire retardant and non-magnetic.
The new composite flooring panel system from CIMC ECO New Material Development Co. Ltd. comprises fibre-reinforced structures using Owens Corning's Advantex Glass 366 and PulStrandTM 4100 products. The components are pultruded and finished with a special glass fabric surface for protection against weathering, abrasion, chemical attack and water. Steven Zhao concludes, "The result is a high-performance flooring system with superior strength-to-weight ratio and significantly lower overall cost of ownership. Compared to traditional wooden or plywood panels, our composite flooring will last up to six times longer and provides substantial extra payload capacity, which also makes it an ideal refurbishment solution."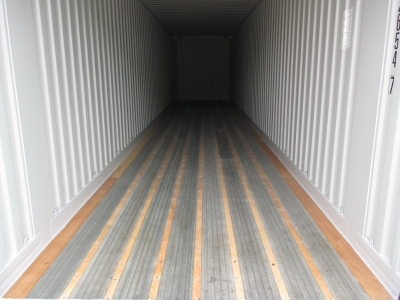 Note
to editors:
> Samskip operates one of Europe's largest multimodal container logistics systems. The Samskip network has the flexibility to move containers door-to-door between over 30 countries from the United Kingdom and Ireland to Russia, Scandinavia, Poland, the Baltic States, Finland and Iceland in the north to Spain.
Samskip offers a wide range of routing options, utilising road, rail, sea and inland waterways as appropriate to provide the best combination of rate and transit time to suit individual customer requirements and preferences. It has over 13,000 containers at its disposal, ranging from 20ft to 45ft pallet-wide high cube containers including reefers, curtain-siders and flatracks.
> Guangdong CIMC ECO New Material Development Co. Ltd. is a high-tech enterprise which is to research and develop various kinds of high-tech products to renovate and replace traditional products
For further information,
please contact:
Eva Rademaker-de Leeuw
Samskip
E-mail: Eva.Rademaker@samskip.com
Phone: +31 88 400 1174