25 July, 2017 – Samskip has announced that it will acquire activities associated with Nor Lines AS, in a major expansion of its shipping, transport and logistics businesses in Norway.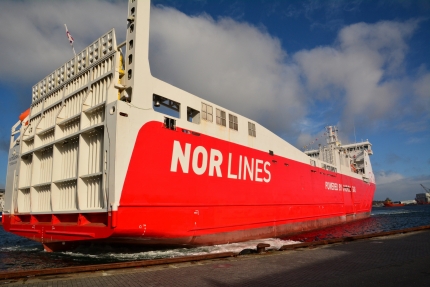 Subject to approval by Norway's competition authorities, Samskip has agreed with the DSD Group to acquire the activities of Nor Lines, which generate an average annual turnover of €110 million.
With its head office in Stavanger, Nor Lines is a diversified logistics business offering domestic and international services. The transaction includes terminal activities nationwide, warehousing and haulage services, while five out of seven multi-purpose vessels will be transferred under a time charter arrangement to Samskip. It also brings 170 employees, based in 14 locations throughout Norway. Post-acquisition, activities will continue operate under the Nor Lines brand name.
"The Nor Lines takeover represents a major opportunity for Samskip," says Ásbjörn Gíslason, Chief Executive Officer, Samskip Logistics. "It is a natural but significant extension of our shipping and logistics activities in Norway which will further broaden our customer offerings. Nor Lines' financial performance has been disappointing in recent years, but we are confident that by combining our respective strengths and refocusing the business we will create synergies, improve efficiency and provide customers with enhanced services."
Samskip's presence in Norway has been significantly strengthened over the past years through internal growth and several acquisitions. Samskip now transports around 90,000 TEU a year between Norway and Northern Europe, a volume it aims to further increase through the Nor Lines acquisition. The frigoCare (fully owned by Samskip) cold store and terminal in Aalesund serves an important hub in both Samskip's container system and Nor Lines vessel system. Samskip also owns a 50% share in Bergen based Silver Sea AS, which operates a fleet of 14 reefer vessels. Samskip's combined annual turnover after the Nor Lines takeover will make it a major player in the market.
"We are pleased to complete our divestment of Nor Lines and entrust the business to Samskip, in a strategic solution for a specialized business that needs to be part of a larger structure to develop and thrive. We believe that Samskip will be a good home for Nor Lines, and a good solution for our employees and customers," says Ingvald Løyning, Chief Executive of DSD.
Samskip, as an ISO14001-certified company whose sustainable transport policy has been recognised in multiple industry awards, is extremely pleased to add the LNG-vessels, Kvitnos and Kvitbjørn, to its fleet. The Rolls-Royce Marine designed vessels, delivered in 2015, eliminate NOx emissions, minimise SOx emissions and, in per ton/km terms, produce 70% lower CO2 emissions than the equivalent truck freight move. Overall, they are 65% more energy-efficient than a ship running on conventional marine fuel.
Note to
editors:
Samskip offers pan-European, environmentally responsible combined transport services via shortsea, road, rail and inland waterway routes. We are committed to cost-effectiveness, operational excellence and best practice in sustainable transport.
High frequency services connect destinations across Europe, the Baltic States, Russia, Turkey and Central Asia, both door-to-door (including collection) and quay-to-quay, transported using a wide range of owned vessels, containers, trucks and trailers. To match equipment to cargoes shipped, options include a full range of ISO containers and reefers, including 33-pallet capacity 45ft units.
In all cases shippers can make real choices based on frequency of service, transit times, freight rates and sustainability.
For further information
please contact:
Eva Rademaker-de Leeuw
Manager Marketing Communication
Samskip
E-mail: Eva.Rademaker@samskip.com
Tel: +31 88 400 1174
Ingvald Løyning
Chief Executive DSD
E-mail: ingvald.loyning@stavangerske.no
Mobile: +47 905 40 855
Issued by:
Samskip
Waalhaven OZ 81
Harbour number 2203
3087 BM Rotterdam
The Netherlands
Tel: +31 88 400 1000
Fax: +31 88 400 1900
rotterdam@samskip.com
www.samskip.com