18 October 2018 – Samskip is making a significant addition to its north-south continental rail services, launching direct services between Melzo and Amsterdam. The move builds rail capacity between the Netherlands and Italy to nine block trains a week and adds a new multimodal routing option for shortsea services to Hull.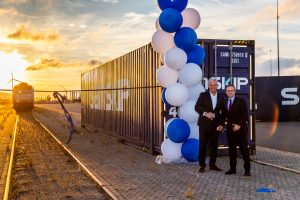 Officially launched on October 17th, the connection sees trains depart from Melzo east of Milan three times a week, to be ready for unloading along 750m intermodal rail tracks inside TMA Logistics' Holland Cargo Terminal (HCT), Amsterdam 24 hours later. As well as avoiding the driver delays increasingly affecting European road transport, arrivals in Amsterdam coincide with Samskip shortsea departures to Hull, creating a seamless multimodal option to minimise post-Brexit border control issues.
The new rail link is in addition to six times weekly train services connecting Melzo and Rotterdam, which will maintain their frequency in order to coordinate with shortsea services connecting to UK ports (Tilbury, Hull and Grangemouth), Ireland, Norway, Scandinavia and the Baltic States.
Adding rail capacity along a key unitised freight route demonstrates Samskip's commitment to enhancing the competitiveness of its UK-Italy multimodal offer as the reality of Brexit approaches, said Samskip UK Trade Manager, David Besseling. Samskip has performance guarantees in place with its terminal operations partners covering fast turn times for vessels, trucks and rail services.
"Samskip now offers ten sailings per week connecting Rotterdam, Amsterdam and Antwerp with Hull," said Mr Besseling. "Connecting the Port of Amsterdam with rail services to/from Italy three times a week puts a new pillar in place to support our fast, cost-efficient and reliable multimodal services between the Continent and the UK."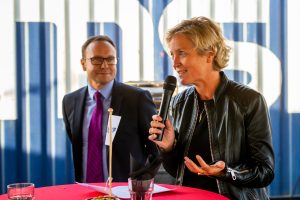 Femke Brenninkmeijer, Director Energy, Cargo & Offshore Port of Amsterdam, said: "Port of Amsterdam is delighted to add this new train connection from Samskip, which contributes to our intermodal strategy and adds significant options for our clients. The service strengthens our short sea connections and confirms Amsterdam port's capabilities and position as a logistical and multimodal European hub."
With nine trains weekly between Italy and the Netherlands, Samskip's commitment to the multimodal transport of 45ft containers, reefers, flat racks and tank containers is now unrivalled, according to Mr Besseling. He explained that the addition of Amsterdam also brought in a hinterland and on-shipment opportunities that were very distinct from Rotterdam.
"Services will benefit door-to-door and quay-to-quay customers," said Mr Besseling. "Increasing frequency creates additional opportunities to balance volumes, playing into multimodal's competitive edge. Space available for third parties will interest supply chain decision-makers not just in Italy, the Netherlands and the UK, but in the wider Benelux territories, Germany and Scandinavia too."
Southbound trains will depart from Amsterdam on Mondays, Wednesdays and Sundays, with the same locomotive providing traction all the way to Melzo, in an extension of the agreement between Samskip and Swiss rail company BLS covering Rotterdam. At Melzo, services connect to Padova and Bari.
Gerben Matroos, Managing Director of TMA Logistics, added: "This connection will make optimum use of the facilities our terminal has to offer. The service addition is also the next logical step to position Port of Amsterdam as a shortsea port."
The new Amsterdam link would also provide greater service resilience for the Netherlands-Italy rail option, Mr Besseling added. Connections to Amsterdam and Rotterdam will run along different routes, allowing flexibility in responding to any rail- or port-related delays, he said.

Note to editors:
Samskip offers European, environmentally responsible combined transport services via shortsea, road, rail and inland waterway routes. We are committed to cost-effectiveness, operational excellence and best practice in sustainable transport.
High frequency services connect destinations across Europe, the Baltic States, Russia and Central Asia, both door-to-door (including collection) and quay-to-quay, transported using a wide range of owned vessels, containers, trucks and trailers. To match equipment to cargoes shipped, options include a full range of ISO containers and reefers, including 33-pallet capacity 45ft units.
In all cases shippers can make real choices based on frequency of service, transit times, freight rates and sustainability.

For further information please contact:
Corina State, Marketing & Communication
Samskip
E-mail: Corina.State@samskip.com
Phone: +31 88 400 1174