17 May 2017 – Proof that a new type of refrigerated container is prompting growth in Samskip's temperature-controlled volumes arrived in Rotterdam during early May, when the multimodal operator added 51 more lighter weight 45ft length units to its fleet.
Enhanced
features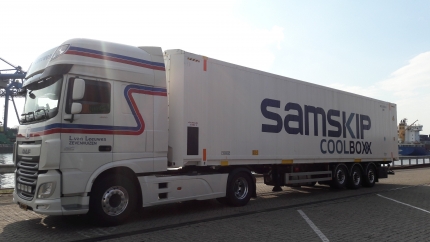 The electric reefer containers, built in China and delivered to the Rotterdam Shortsea Terminals, feature the same innovative flat composite inner lining first favoured by Samskip in a breakthrough order in 2014. The enhanced design results in containers that are lighter, stronger and easier to clean than conventional reefer units, while allowing for a smoother (un)loading process.
Johan Vogelaar, Samskip Manager Multimodal Services – Reefer Trade, explains that unit Tare weight has been reduced from 5,990 kilograms to 5,760 kilograms, in turn increasing payload capacity. "These new reefers are also five centimetres wider inside than a normal 45ft reefer, allowing wider pallets and packaging," he says. "This is an especially significant advantage for fruit and vegetable shippers."
Each unit includes a high performance Thermo King Magnum Plus generator set, designed specifically for long distance transportation of deep frozen, frozen, chilled or heated cargo in a temperature range of -30 to +30 degrees Celsius.
Track & trace
devices
Track & trace management software will be used to monitor and control sensor-connected 45ft reefer units operating in shortsea, rail, barge and road services throughout Europe, and during terminal storage remotely.
"The new reefers further enable an expanded network while offering a more sustainable and cost-effective solution, with enhanced quality assurance for the customers' temperature-controlled goods and perishables," says Vogelaar. "What is more, the insulation material used is 100% non-CFC (Cyclopentane), in line with our environmentally friendly business standards."
Note to
editors:
Samskip offers pan-European, environmentally responsible combined transport services via shortsea, road, rail and inland waterway routes. We are committed to cost-effectiveness, operational excellence and best practice in sustainable transport.
High frequency services connect destinations across Europe, the Baltic States, Russia, Turkey and Central Asia, both door-to-door (including collection) and quay-to-quay, transported using a wide range of owned vessels, containers, trucks and trailers. To match equipment to cargoes shipped, options include a full range of ISO containers and reefers, including 33-pallet capacity 45ft units.
In all cases shippers can make real choices based on frequency of service, transit times, freight rates and sustainability.
For further information
please contact:
Eva Rademaker-de Leeuw
Samskip
E-mail: Eva.Rademaker@samskip.com
Phone: +31 88 400 1174