With the mission of preserving and revitalising forests in Europe, Samskip is partnering with Ecobal, an organisation that helps companies to offset their carbon footprint and contribute towards a healthier natural environment.
03 June 2021 – As one of the first companies to join the Ecobal initiative, Samskip has reserved 50,000 square metres of woodland in Poland, Italy and Spain. Ecobal is responsible for the maintenance and protection of these plots and will plant hundreds of new seedlings to encourage their regeneration, which Samskip will be able to track using geofencing technology. Ecobal will also verify Samskip's carbon offsetting and forest conservation efforts by issuing ECO2 compensation certificates.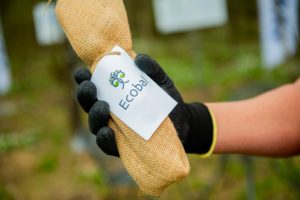 Whilst many companies recognise the importance of sustainability, reducing climate impact or compensating for CO2 emissions is often challenging. Ecobal supports organisations like Samskip with practical insights into their ecological footprint and provides forest conservation certificates for their own allocated plots. To this end, Ecobal currently manages forest projects in Spain, Italy, Poland and Romania.
"Forests are a crucial part of the Earth's ecosystem, and we are proud to announce our partnership with Ecobal in support of its mission to inspire the betterment of the planet, one tree at a time," says Kari-Pekka Laaksonen, Group CEO at Samskip. "Following our recent introduction of biofuels to make our customers' logistical chains greener, we are taking the next step in our sustainability journey by setting an ambitious goal to plant trees throughout the continent and revitalise our environment. This partnership will boost our sustainability goals and have a positive impact on our brand and the customers we serve by restoring critical forest ecosystems around Europe and ensuring that the benefits can be felt by future generations."
"With Ecobal, every company can be ecologically in balance," says Don de Jong, Ecobal founder. "Ecobal aims to increase environmental engagement by giving companies access to their own projects. All revenue is reinvested in the protection and maintenance of private Ecobal forests in Europe. In Spain, we are restoring a former orange plantation to the forest it once was, and in Poland we are replanting a large forest that was destroyed years ago. I invite everyone to join our initiative so that we can protect, revitalise and expand our European forests together."
About Ecobal
Ecobal gives its clients professional care and expertise in carbon offsetting and forest preservation with externally certified compensation certificates. Through the climatic effects of many different activities a company makes on a daily basis, Ecobal aims to provide their clients a way to compensate this in a transparent and reliable way. Ecobal provides its clients with their own allocated tree or part of the forest.
Currently, Ecobal protects parts of the forests in Spain, Italy, Poland and Romania. Clients can therefore visit and learn about biodiversity in the areas offered by the company, which allows Ecobal clients to feel actively involved in the project. The certificates ensure that the plot under the patronage will not be granted to anyone else for the duration of the contract.
All revenues are reinvested in the protection and maintenance of private Ecobal forests in Europe.
About Samskip
Samskip is a global logistics company offering transport and related services by land, sea, rail and air with a particular focus on cost efficient, reliable and environmentally friendly transport. Samskip is one of the larger European transport companies, with offices in 35 countries in Europe, North and South America, Asia and Australia, employing approximately 1,700 people around the world. Samskip is headquartered in the Netherlands but was originally founded in Iceland in 1990. Since then, Samskip has produced consistent organic growth complemented by strategic acquisitions. Samskip's transportation and logistics activities focus mainly on the following sectors: European multimodal transport, North Atlantic integrated logistics, worldwide temperature controlled & ambient cargo forwarding and logistics, and finally European breakbulk and project cargo movements.
For further information please contact:
Sen Kaya
Marketing Coordinator, Samskip
E-mail: Sen.Kaya@samskip.com
Phone: +31 88 400 1180