Samskip pilot scheme sets out fossil-free future for freight transport by road
20 May 2021 – Global shipping company Samskip has strengthened its commitment to sustainability in the supply chain with a series of customer projects to advance the use of carbon neutral biofuel as part of its haulage services.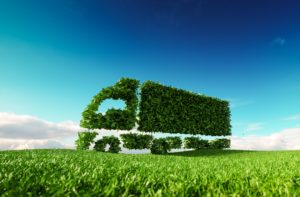 A new partnership between Samskip, Unilever and TMA Logistics and is trialling the use of HVO100 fossil-free biofuels supplied by Schouten Olie B.V. by trucks carrying goods for Unilever from the TMA Logistics terminal. In carbon dioxide (CO2) tonne equivalent terms, Samskip's aim is to save up to 14,500 kilograms of CO2 through the partnership – a reduction of 90% compared to traditional fuels. This is equivalent to the carbon compensation that would be needed from an astonishing 531 trees to result in the carbon footprint generated by conventional fuels.
Samskip sees the scaled-up use of sustainable fuelling alternatives as opening a pathway for shippers seeking to reduce CO2 emission in the supply chain while transporting cargo by road. The new partnership is viewed as the first of many which Samskip believes will rapidly extend the use of biofuels to other shippers.
The product selected is ISCC-EU certified as a 100% biofuel. It is produced from cooking oils and residual waste and can be used in all diesel engines as an equivalent to conventional diesel. Its use also lowers the release of harmful matter such as hydrocarbon, nitrogen oxides, carbon monoxide and PAHs. This is not only beneficial for the local air quality but also good for the engine, as filters and injectors stay cleaner for longer and need to be replaced less frequently.
"Our ongoing commitment to increase eco-friendly solutions by road are taking full shape," says Ásbjörn Gíslason, CCO and Deputy CEO, Samskip. "This project will bring new possibilities to the market and provides encouragement for shippers seeking greener fuel alternatives by demonstrating the ease and efficiency of integrating the Hydrotreated Vegetable Oil based fuel into existing fleet equipment and operations. We are very pleased to see a significant shift in sentiment and involvement from customers and suppliers towards sustainable solutions. Reducing CO2 emissions is a core strategy for Samskip, and we acknowledge that it is increasingly important to be able to offer customers a new way of doing business with us while supporting the sustainability aspect of their supply chain.''
"This biofuel partnership is in line with the ambition of the City of Amsterdam and Port of Amsterdam to reduce transport emissions", says Michael van Toledo – General Manager, TMA Logistics. "We all know that low-carbon resources make a vital contribution in reducing emissions, particularly in road transportation. Biofuels are therefore a perfect fit with our ambition to increase the usage of sustainable alternatives. This partnership is, together with our current sustainability policy, part of a wider environmental commitment. TMA intends to accelerate the growth and uptake of sustainable fuels in the industry and is proud to be a part of this development.''
''One of the main hurdles that biodiesel producers have been trying to overcome is the sustainability of their fuel,'' says Joost Zuurendonk, Sales Director, Schouten Olie BV. ''The reality now is that more and more companies within the shipping industry are looking to fossil-free fuel alternatives. We are committed to responsible, sustainable practices and proud to lead by example and show that transporting cargo with a significant reduction of emissions is possible and that the time is now.''
"Initiating this partnership demonstrates our company's and Unilever's support of moving towards sustainable fuel alternatives,'' says Philip Collet, Corporate Key Account Manager, at Samskip. ''This project not only ensures green growth and helps safeguard the earth's limited natural resources, but also strengthens our long-lasting partnership with Unilever. Together with Lukasz Myszka, Logistics Procurement Manager at Unilever, we recognised our common ground values and future environmental goals. As committed as we were before, we aim to make biofuels even more accessible and to inspire others to switch to sustainable fuels in their supply chain.''
The biofuel shipping option is available to all shippers in Europe and the UK as of today. Contact your Samskip account manager or your local Samskip office and switch to a greener way of shipping.
Note to editors:
Samskip offers pan-European, environmentally responsible combined transport services via shortsea, road, rail and inland waterway routes. We are committed to cost-effectiveness, operational excellence and best practice in sustainable transport. High frequency services connect destinations across Europe, the Baltic States, Iceland and Faroes Island, and Russia, both door-to-door (including collection) and quay-to-quay, transported using a wide range of owned vessels, containers, trucks and trailers. To match equipment to cargoes shipped, options include a full range of ISO containers and reefers, including 33-pallet capacity 45ft units. Samskip' Global Forwarding division offers global expertise in transporting perishables. With offices throughout Europe, Asia and the Americas connected by state-of-the-art operational software, and backed by a group transporting 800,000 containers every year, we bring fresh food to your markets worldwide.
About TMA
With 3 multi-purpose terminals in Amsterdam, Beverwijk and Velsen, TMA Logistics is the flexible logistics hub in North Holland, The Netherlands. With trimodal access, TMA connects the direct European hinterland and China with shortsea destinations in the United Kingdom, Sweden and Finland. The strategically located terminals are low in congestion and are located directly on important national, rail and waterways. Whether it concerns containers, break bulk, project cargo or RoRo, our experienced employees will keep your logistics flowing.
About Schouten Olie BV
Schouten Olie is a local fuel, oil, and energy supplier located in Alphen aan den Rijn, The Netherlands, and has an innovative approach to help build a sustainable energy future by investing in power and new fuels for the logistics sector, such as advanced biofuels. Schouten Olie offers the technical know-how of a multinational, with the services of an independent, regionally operating company. Our family business has deep knowledge of international market developments and their needs, making us a full and competent partner as an energy supplier. Our company stands for an energy-efficient future, as a result, corporate social responsibility is the only logical way to ensure – in this rapidly changing society – that we remain our customers' number one go-to partner when it comes to fuel alternatives. With our Corporate Social Responsibility policy in place, we contribute to making our products and processes more sustainable. In this way, we try to have a positive impact on the people and communities we work for.
About ISCCE-EU Certificate
ISCC is a globally applicable sustainability certification system and covers all sustainable feedstocks, including agricultural and forestry biomass, circular and bio-based materials and renewables. Read more here
For further information please contact:
Sen Kaya
Marketing Coordinator, Samskip
E-mail: Sen.Kaya@samskip.com
Phone: +31 88 400 1180