A commitment to crew welfare has seen the New York-based shipping company emerge as one of the leading users of Inmarsat's dedicated seafarer internet solution.
30 March 2023 – Established in 1975 in New York, United States, Sealift Incorporated is a privately held shipping company. The corporation's owned fleet of six container ships relies on services from Inmarsat, a world leader in global, mobile satellite communications, to meet connectivity requirements at sea.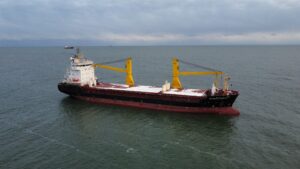 In 2021, Sealift extended its existing agreement with Inmarsat by signing five of its vessels up to the award-winning Fleet Hotspot, with installations taking place in late 2021 for the first two vessels and in mid-2022 for the remaining three.
Powered by Inmarsat's Fleet Xpress, a market-leading connectivity service, Fleet Hotspot is a dedicated crew internet solution that delivers reliable, high-speed onboard connectivity without interfering with vessel bandwidth. Crew can access the solution using their personal devices and top up their accounts, whether on board or ashore, via a user-friendly platform.
"At Sealift Incorporated, our main asset is our people and their skills, so we take the welfare of our seafarers – and their ability to perform their jobs effectively – very seriously," said Charles Worledge, Fleet and IT Management, Sealift Incorporated. "Today, fast and reliable onboard connectivity is crucial to a happy and healthy crew, and as an extension to our existing Fleet Xpress contract, Inmarsat's Fleet Hotspot allows us to meet this requirement with no impact on our business-critical communications."
Following the installations in 2021 and 2022, Sealift has emerged as one of the leading users of Fleet Hotspot among Inmarsat's extensive maritime client base, with the solution experiencing particularly high demand on board three of the vessels – Maj Richard Winters, Sagamore and LTC John U.D. Page. Feedback from both the fleet manager and crew has been positive, and the solution will soon go live on the sixth Sealift vessel, Captain David Lyon.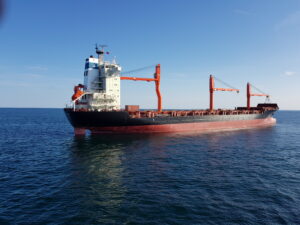 In addition to Fleet Hotspot, Sealift's contract with Inmarsat includes a subscription to Fleet Care. This ensures that the company's Fleet Xpress service can be maintained, repaired and supported anywhere in the world, maximising uptime for both business and crew communications.
"Sealift's use of Fleet Hotspot is a great example of how the solution benefits seafarers and shipping companies alike," said Logan Murray, Sales Manager, Inmarsat Maritime. "With a dedicated onboard internet connection, crew can keep in touch with family and friends and access online entertainment in their spare time, using their own devices. Sealift in turn benefits from a more motivated workforce without having to worry about network interference or unexpected costs related to bandwidth consumption."
Sealift's commitment to improving seafarer welfare through the provision of high-quality onboard internet access reflects an industry-wide trend that has been accelerated by the pandemic as well as by recent amendments to the Maritime Labour Convention 2006, which made crew connectivity a regulatory requirement.
As appreciation for the importance of crew internet has grown, Inmarsat has seen a significant increase in the uptake and usage of Fleet Hotspot. The solution's contribution to seafarer welfare was officially recognised in October 2022 when it won the Mission to Seafarers Innovation Award at the Seafarers Awards Singapore.
Fleet Hotspot is available as a value-added service to all Fleet Xpress users via the Fleet Edge platform, which provides access to a broad portfolio of Inmarsat connectivity services for more advanced, efficient and secure operations.
ABOUT INMARSAT
Inmarsat delivers world leading, innovative, advanced and exceptionally reliable global, mobile communications across the world – in the air, at sea and on land – that are enabling a new generation of commercial, government and mission-critical services. Inmarsat is powering the digitalisation of the maritime industry, making operations more efficient and safer than ever before. It is driving a new era of inflight passenger services for aviation, while ensuring that aircraft can fly with maximum efficiency and safety. Furthermore, Inmarsat is enabling the rapid expansion of the Internet of Things (IoT) and enabling the next wave of world-changing technologies that will underpin the connected society and help build a sustainable future. And now Inmarsat is developing the first-of-its-kind, multi-dimensional communications network of the future, ORCHESTRA.
In November 2021, Inmarsat and Viasat announced the planned combination of the two companies, to create a new leader in global communications.
For further information, follow us: Twitter | LinkedIn | Facebook | YouTube | Instagram.