16 November, 2016 – Selektope®, the antifouling agent pioneered by Gothenburg-based I-Tech, has ended the 2016 maritime awards season where it started, by securing one of the industry's most sought-after environmental accolades. The coating ingredient, whose pharmacological action is unique in marine antifouling, has been named winner of the Tanker Shipping & Trade Environmental Award 2016.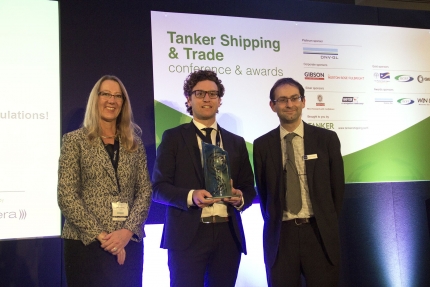 I-Tech Managing Director Philip Chaabane (centre) holds the 2016 Environmental Award, given in recognition of Selektope®, pictured alongside Karen Purnell, Managing Director of award sponsor ITOPF and Tanker Shipping & Trade Editor Edwin Lampert
Organized by Riviera Maritime Media, the Tanker Shipping & Trade Awards recognize excellence, innovation, and environmental performance across the tanker industry.
Karen Purnell, Managing Director of Award sponsor International Tanker Owners Pollution Federation Ltd presented the trophy to I-Tech Chief Executive Philip Chaabane after the gala dinner of the Tanker Shipping & Trade Conference, London on November 15th.
"This has been a breakthrough year for Selektope, following the many years spent in researching, certifying, commercializing and industrializing the product," said Mr. Chaabane. It is particularly pleasing that the environmental performance of Selektope has been recognized by specialists in the tanker sector, which has been one of the earliest adopters of Selektope."
Selektope repels barnacle settlement on ships' hulls by temporarily stimulating the barnacle larvae's swimming behavior. It is distinguished by extremely low biocidal loading and is harmless to the marine environment and has been approved by Japanese, Korean, Chinese and European regulatory bodies.
Tests have shown that antifouling products containing Selektope significantly reduce barnacle fouling, lowering water resistance and potentially saving up to 40% in fuel costs, and thereby cutting ship air emissions. It repels barnacles even when ships are at rest, allowing fuel saving claims made by coatings suppliers to cover the ship's entire operational cycle.
Award judges were made aware of the first publicly-disclosed coating application to include Selektope, with Sembcorp applying a Chugoku Marine Paints (CMP) antifouling to the side walls of the 2010-built, Laurin Maritime chemical carrier Calypso in late 2015. In August 2016, CMP launched the first two 'SEAFLO'-branded marine coatings to feature Selektope.
Earlier this year, Selektope secured one of the prestigious European Marine Engineering Awards 2016, in recognition of the breakthrough marine coating ingredient's Environmental Performance.
Selektope® – further improving
antifouling paints
Selektope introduces for the first time ever a pharmacological mode of action to combat barnacle settlement. By temporarily stimulating the octopamine receptor, the barnacle larvae's swimming behaviour is activated and the organisms are deterred from the hull. These ground-breaking discoveries enable unrivalled power at very low concentrations, yet within the limits of rigorous risk assessments. Selektope is an organic, non-metal compound with efficacy proven at 0.1% w/w.
About
I-Tech
I-Tech is a Gothenburg based bio-tech company with global reach, holding all IP and regulatory rights to its all new antifouling agent Selektope (generic name, medetomidine).
The company is privately held and is supported by Swedish Energy Association, the European Innovation Initiative Eco-Innovation and FP7 SeaFront. The company is a member of the Astra Zeneca BioVentureHub.
Read more at www.i-tech.se