29 August 2018 – Swedish bio-tech innovator I-Tech AB has developed a new 'drop-in, dust-free' dissolvable packaging system to enhance the way the antifouling active agent Selektope® is added to marine coatings during the manufacturing process.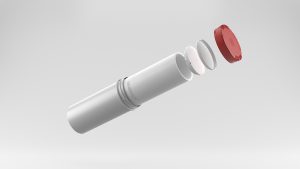 The expanded polystyrene (EPS) container, which can be added to paint without being opened, fully dissolves almost instantaneously without leaving any traces in the coating system. This innovative packaging therefore allows for the dust-free charging of 100% Selektope® powder material to a liquid paint batch, eliminating dust formation completely. It also allows the paint manufacturer to make optimal use of available Selektope® and improves safety in the paint processing plant.
Each EPS container is supplied within a CurTec HDPE screw lid jar with locking mechanism making it durable with improved impact resistance for transport. The complete EPS container system can hold 300-800g of medetomidine (the chemical name for Selektope®) as a dry powder within a very low weight (18g) EPS container.
The formal launch of the EPS container follows extensive testing with the revolutionary packaging having been qualified for use during the manufacturing process without compromising paint performance.
Philip Chaabane, CEO I-TECH AB, comments: "This latest innovation from I-Tech supports our customers in the safe use of Selektope® and is a game-changer for the addition of biocides during the paint manufacturing process. In recent years, I-Tech has been successful in scaling up the production of its unique technology from quantities measured in kilos to a robust manufacturing platform producing at multiple tons scale. This latest invention supports the increasing uptake of this breakthrough technology in the market."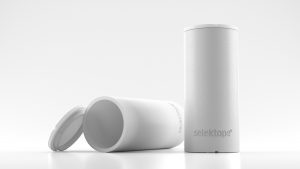 Selektope® is the organic, non-metal compound whose efficiency in preventing barnacle fouling has enabled traditional marine coatings suppliers to develop products that deliver superior hard fouling protection, lower water resistance, decreased fuel consumption, and reduced maintenance costs. Characterized by high efficacy at extremely low concentrations (0.1% w/w) with ultra-low leaching, the biocide repels barnacle settlement on ships' hulls by temporarily stimulating the barnacle larvae's swimming behavior.
Join I-Tech AB at the SMM Hamburg exhibition between 4-7 September at stand A5.608.
About Selektope®
Selektope® introduces a unique, bio-repellent mode of action to combat barnacle settlement. By temporarily stimulating the octopamine receptor, the barnacle larvae's swimming behavior is activated and the organisms are deterred from the hull. These ground-breaking discoveries enable unrivalled power at very low concentrations, yet within the limits of rigorous risk assessments. Selektope® is an organic, non-metal compound with efficacy proven at 0.1% w/w.
About I-Tech AB
I-Tech AB is a public held bio-technology company based in Mölndal, Sweden that owns all IP and regulatory rights to the antifouling agent Selektope® (generic name, medetomidine). I-Tech also controls the largest and most efficient source of medetomidine production. Since 2006, I-Tech has successfully transformed the scientific invention of Selektope® into a commercially ready and available antifouling agent. I-Tech supplies Selektope® to marine coatings manufacturers for inclusion in antifouling products.
Read more at www.i-tech.se
Contact details:
Catherine Austin, Director of Marketing & Communications
Email: catherine.austin@i-tech.se
Tel: +44 7703 835 029