25 May, 2017 – Coldharbour Marine, developer of a unique in-tank, in-voyage and inert gas-based ballast water treatment system for large tankers, bulkers and LNG vessels, has signed an agreement with Sembcorp Marine that will see the latter offer the Coldharbour GLD™ BWT as part of the Sembcorp Marine Green Technology Retrofit (GTR) solutions for ship owners.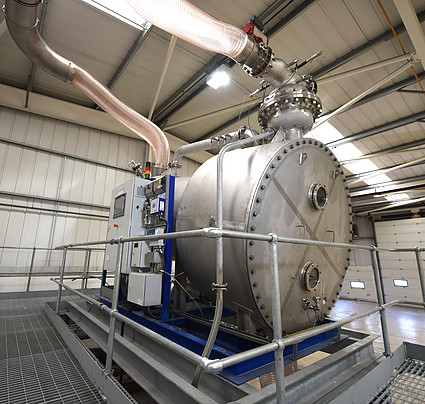 Coldharbour Inert Gas Generator
The GTR solutions provide carefully evaluated ballast water treatment systems from a select group of equipment manufacturers with whom Sembcorp Marine is working closely. Coupled with expert technical assistance from Sembcorp Marine, the GTR solutions ensure that ship owners are able to select and install the most appropriate technology for their vessels.
Coldharbour CEO Andrew Marshall said: "We are delighted to sign this agreement with Sembcorp Marine. We have always maintained that no single technology is suitable for all vessel types and for all operating requirements. Our ballast water treatment systems target the largest vessels with the highest pumping rates, largest ballast volumes and longest ballast legs. For many ballast water treatment technologies, these three elements combined would have translated into a perfect storm of terminal delays and unrecoverable costs for owners, which by comparison, would make the initial cost of installing a ballast water treatment system pale into insignificance."
Mr Marshall said the Coldharbour GLD™ system carries full International Maritime Organization type-approval issued by the UK Maritime and Coastguard Agency; Lloyd's Register type-approval; and US Coast Guard Alternate Management Systems acceptance. It is currently undergoing full US Coast Guard type-approval.
As the global marine industry prepares for the implementation of the Ballast Water Convention on September 8th this year, there is still a considerable level of confusion and uncertainty surrounding the questions of suitable equipment choice for different types of vessel and securing a successful retrofit installation strategy.
Addressing these concerns, Sembcorp Marine Executive Vice President and Head of Repairs and Upgrades Lee-Lin Wong said the company had examined various ballast water technologies and established collaborations with the best manufacturers around the world over the past 24 months.
She said: "Our one-stop GTR solutions have everything needed to achieve successful ballast water treatment outcomes – from the analysis of requirements, system selection, scanning and engineering, to full installation and commissioning of equipment. We are confident that ship owners working with us and our chosen equipment partners such as Coldharbour, will no longer be confused by ballast water treatment requirements."
Ms Wong added that Sembcorp Marine's GTR solutions will also include ultra-violet and electro-chlorination-based systems so as to offer the most suitable technologies for all vessel types and operating requirements.
About
Coldharbour Marine Ltd
Coldharbour Marine Limited is a UK-based design, engineering business with nearly four decades of inert gas and water treatment experience. The company has a long history in the inert gas generation sector, and has in recent years developed Sea Guardian™ – a clean, green, compact "third generation" technology for use in LNG carriers and large tankers.
Sea Guardian™ inert gas generators incorporate a range of patented features that ensure stable, reliable, low maintenance operation and they are also integral to Coldharbour's award winning GLD™ ballast water treatment system.
Key features of the GLD™ system are that treatment takes place in-tank and in-voyage and without the need for any form of in line filtration. This approach ensures no disruption to terminal operations during ballasting and no risk of re-growth of marine organisms on long ballast voyages. With the GLD™ system large vessels are now guaranteed to arrive at terminals ready to load or off-load ballast without the risk of delay caused by BWTS operational difficulties.
The system is fully type-approved by IMO, with testing undertaken by both the UK's Maritime and Coastguard Agency and Lloyd's Register. It also has US Coast Guard Alternate Management Systems acceptance and is currently undergoing the full US Coast Guard type approval process.