25 August 2021 – Shell announces the launch of VitalyX, powered by Shell Remote Sense and Bently Nevada, a Baker Hughes business, as an intelligent, advanced analytics-based oil condition monitoring and machine health service for the marine sector.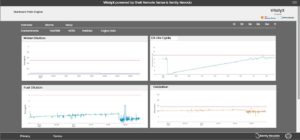 VitalyX combines Shell Remote Sense lubricant analysis expertise with Bently Nevada's 60-year experience in condition monitoring and protection to offer an early warning system that remotely monitors oil quality to increase machine uptime.
By deploying industrial internet of things (IIOT) and artificial intelligence (AI) technology in innovative ways, the service uses real-time sensor data and machine learning to provide customers with actionable insights to optimise equipment health, lower maintenance costs and increase operational efficiency of marine vessels.
Shell Marine's General Manager Services & Technical, Marcus Schaerer, said: "We are delighted to bring the advanced capabilities of Shell Remote Sense to our marine customers in partnership with Bently Nevada. Shell understands the importance of good lubricant management and its impact on equipment life. With Shell Remote Sense, ship owners and operators can continuously monitor oil conditions across multiple components on a vessel. Customers will have vital and predictive information at their fingertips to make proactive decisions on maintenance planning and extend equipment life."
Ed J. Boufarah, Vice President, Bently Nevada, a Baker Hughes business, said: "Digitalization is maturing rapidly in the marine sector, with the data drawn from real-time remote monitoring not only enhancing operations and improving safety, but also delivering significant efficiency gains. VitalyX provides operators with the predictive capability to optimize maintenance cost management, by switching from a time-based to a health-based approach. This partnership between Shell and Bently Nevada combines the best of our expertise, as we invest for growth to further advance digital transformation and industrial asset management."
ENQUIRIES:
Shell Marine Global
+44 (0) 207 934 5550
Bently Nevada, a Baker Hughes business
+44 (0)7787 527372
sarah.rowson@bakerhughes.com
ABOUT SHELL MARINE
Shell provides lubricants for the marine industry through its Shell Marine business. It serves over 10,000 vessels, ranging from large ocean-going tankers to small fishing boats in over 700 ports across 62 countries. The advice and technical services we provide help our customers achieve maximum value from using our lubricant products across all types of machinery and equipment on a ship. www.shell.com/marine
Royal Dutch Shell plc
Royal Dutch Shell plc is incorporated in England and Wales, has its headquarters in The Hague and is listed on the London, Amsterdam, and New York stock exchanges.  Shell companies have operations in more than 70 countries and territories with businesses including oil and gas exploration and production; production and marketing of liquefied natural gas and gas to liquids; manufacturing, marketing and shipping of oil products and chemicals and renewable energy projects. For further information, visit www.shell.com.