06 June 2018 – Shell Marine is launching Shell Marine 40, an engine oil for use in high-speed diesel engines in the fishing and tug boat segments, to support and help enhance the performance of engines on board some of the hardest working vessels at sea.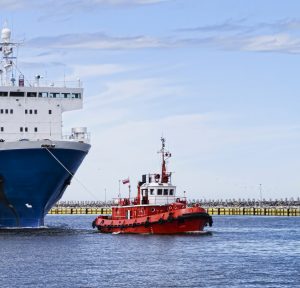 Shell Marine 40 has been formulated to react to the combustion processes that take place in high-speed engines, giving added protection and extended machinery life to vessels whose unavailability can have disproportionate cost consequences further along the supply chain.
Fuel is one of the largest vessel operating costs, so ensuring clean combustion protects both a vessel's engine and its operator's bottom line, points out Marcus Schaerer, Shell Marine Global Marketing Manager. Shell Marine 40's additive system controls piston deposits and helps to maintain good standards of engine cleanliness to ensure more efficient burning and higher reliability, he says.
"Poorer-quality oils can thicken or break down. Either way, the engine can become dirty and less efficient than its designers intended. The change is typically very gradual – almost imperceptible, in fact – so it is hard to detect on a day-to-day basis, but over time the degradation accumulates."
Whether used to sustain a tug manoeuvring large cargo ships to facilitate the just-in-time port operations, or a fishing vessel chasing shoals to leverage fluctuations in market prices and consumer tastes, selecting the wrong lubricant can result in premature engine corrosion and wear. Unplanned maintenance or, in more serious cases, outright downtime spent on repair can jeopardise the chances of contracts being renewed or missed catch opportunities. Shell Marine 40 helps to lower maintenance outlay and hence helps to improve vessel availability.
"Recent successes in commercial shipping have been built around the development of innovative solutions, and our expectations in the fishing and tug markets are based on the same marriage between product R&D and deep understanding of the requirements of a specific market," says Schaerer. "The high-speed engines that power tugs and fishing boats face a vastly different operational profile to a containership or a dredger. We deliver lubricants that recognise and match the differing needs to help ensure that vessel engine can perform their jobs reliably and efficiently."
ENQUIRIES:
Shell Marine Global:
Oliver Lim
+65 6477 7499
o.lim@shell.com
ABOUT SHELL MARINE
Shell provides lubricants for the marine industry through its Shell Marine business. It serves over 10,000 vessels, ranging from large ocean-going tankers to small fishing boats in over 700 ports across 60 countries. The advice and technical services we provide help our customers achieve maximum value from using our lubricant products across all types of machinery and equipment on a ship.
Royal Dutch Shell plc
Royal Dutch Shell plc is incorporated in England and Wales, has its headquarters in The Hague and is listed on the London, Amsterdam, and New York stock exchanges. Shell companies have operations in more than 70 countries and territories with businesses including oil and gas exploration and production; production and marketing of liquefied natural gas and gas to liquids; manufacturing, marketing and shipping of oil products and chemicals and renewable energy projects. For further information, visit www.shell.com.
Cautionary note
The companies in which Royal Dutch Shell plc directly and indirectly owns investments are separate legal entities. In this press release "Shell", "Shell group" and "Royal Dutch Shell" are sometimes used for convenience where references are made to Royal Dutch Shell plc and its subsidiaries in general. Likewise, the words "we", "us" and "our" are also used to refer to Royal Dutch Shell plc and subsidiaries in general or to those who work for them. These terms are also used where no useful purpose is served by identifying the particular entity or entities. ''Subsidiaries'', "Shell subsidiaries" and "Shell companies" as used in this press release refer to entities over which Royal Dutch Shell plc either directly or indirectly has control. Entities and unincorporated arrangements over which Shell has joint control are generally referred to as "joint ventures" and "joint operations", respectively. Entities over which Shell has significant influence but neither control nor joint control are referred to as "associates". The term "Shell interest" is used for convenience to indicate the direct and/or indirect ownership interest held by Shell in an entity or unincorporated joint arrangement, after exclusion of all third-party interest.
This press release contains forward-looking statements (within the meaning of the U.S. Private Securities Litigation Reform Act of 1995) concerning the financial condition, results of operations and businesses of Royal Dutch Shell. All statements other than statements of historical fact are, or may be deemed to be, forward-looking statements. Forward-looking statements are statements of future expectations that are based on management's current expectations and assumptions and involve known and unknown risks and uncertainties that could cause actual results, performance or events to differ materially from those expressed or implied in these statements. Forward-looking statements include, among other things, statements concerning the potential exposure of Royal Dutch Shell to market risks and statements expressing management's expectations, beliefs, estimates, forecasts, projections and assumptions. These forward-looking statements are identified by their use of terms and phrases such as "aim", "ambition', ''anticipate'', ''believe'', ''could'', ''estimate'', ''expect'', ''goals'', ''intend'', ''may'', ''objectives'', ''outlook'', ''plan'', ''probably'', ''project'', ''risks'', "schedule", ''seek'', ''should'', ''target'', ''will'' and similar terms and phrases. There are a number of factors that could affect the future operations of Royal Dutch Shell and could cause those results to differ materially from those expressed in the forward-looking statements included in this press release, including (without limitation): (a) price fluctuations in crude oil and natural gas; (b) changes in demand for Shell's products; (c) currency fluctuations; (d) drilling and production results; (e) reserves estimates; (f) loss of market share and industry competition; (g) environmental and physical risks; (h) risks associated with the identification of suitable potential acquisition properties and targets, and successful negotiation and completion of such transactions; (i) the risk of doing business in developing countries and countries subject to international sanctions; (j) legislative, fiscal and regulatory developments including regulatory measures addressing climate change; (k) economic and financial market conditions in various countries and regions; (l) political risks, including the risks of expropriation and renegotiation of the terms of contracts with governmental entities, delays or advancements in the approval of projects and delays in the reimbursement for shared costs; and (m) changes in trading conditions. No assurance is provided that future dividend payments will match or exceed previous dividend payments. All forward-looking statements contained in this press release are expressly qualified in their entirety by the cautionary statements contained or referred to in this section. Readers should not place undue reliance on forward-looking statements. Additional risk factors that may affect future results are contained in Royal Dutch Shell's 20-F for the year ended December 31, 2017 (available at www.shell.com/investor and www.sec.gov). These risk factors also expressly qualify all forward looking statements contained in this press release and should be considered by the reader. Each forward-looking statement speaks only as of the date of this press release, 6 June 2018. Neither Royal Dutch Shell plc nor any of its subsidiaries undertake any obligation to publicly update or revise any forward-looking statement as a result of new information, future events or other information. In light of these risks, results could differ materially from those stated, implied or inferred from the forward-looking statements contained in this press release.
We may have used certain terms, such as resources, in this press release that United States Securities and Exchange Commission (SEC) strictly prohibits us from including in our filings with the SEC. U.S. Investors are urged to consider closely the disclosure in our Form 20-F, File No 1-32575, available on the SEC website www.sec.gov.