2 November, 2017 – Shell today opened an integrated lubricants and grease production facility in Tuas, Singapore. At 10 hectares, the site size is equivalent to almost 25 football pitches. It is Shell's 3rd largest lubricants plant in the world and 2nd largest in Asia-Pacific, capable of producing up to 430 million litres (equivalent to 390 kilotonnes) of lubricants and greases every year – enough to change the engine oil of over 12,000 cars, every hour, every day.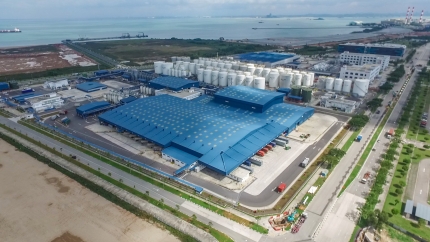 Shell Tuas Lubricants Plant
Speaking at the opening, Huibert Vigeveno, Shell Global Commercial, Executive Vice President (including Shell Lubricants) said: "This state-of-the-art, highly automated facility in Singapore was built to support our business ambitions here in the APAC region. It serves as a strategic production hub, and will be the centrepiece of our lubricants supply chain network to reliably supply our world-class lubricants to millions of customers in the region. Asia represents over 40% of the world's lubricants demand, and is home to half of the world's largest lubricants markets.
"This facility will also further strengthen our marine lubricant business's presence here in Singapore, the world's second busiest port."
Lim Kok Kiang, Assistant Managing Director of the Singapore Economic Development Board, commented, "We are heartened by Shell's commitment to improving productivity through the adoption of innovative technologies, which is aligned with the strategies of the Energy & Chemicals Industry Transformation Map. With a 50% increase in capacity and six-fold improvement in productivity over its previous plant, the new plant will be yet another great showcase of an Advanced Manufacturing facility that provides Singaporeans with good jobs."
The new plant will be a production hub for products that will be shipped to more than 40 countries, mainly in the Asia-Pacific region. It will produce lubricants carrying Shell's globally renowned brands, such as Shell Helix (passenger car motor oil), Shell Rimula (heavy duty engine oil), Shell Tellus (hydraulic oil), Shell Alexia (two-stroke marine engine oil) and Shell Gadus (greases).
Notes to
Editors
Shell fully owns and operates this plant, thus ensuring complete control over product quality.
The new facility will use state-of-the-art, highly-automated lubricant blending, filling and packaging technology. It is equipped with a stringent quality control system that tests lubricants at all stages of production to ensure products meet the high-quality specifications associated with Shell's brands. All processes at the plant are fully automated and controlled at all stages by skilled operators at control panels installed at the control room and strategic locations in the plant. As part of the focus on quality products, the plant has been equipped with a dedicated world-class lubricant-testing laboratory.
It is located adjacent to the Singapore Lube Park (SLP) in Tuas, Singapore, a JV between Shell and two other partners who share its facilities. SLP contains an import-export jetty, pipelines and a tank farm.
Shell operates 50 lubricants blending and grease manufacturing plants globally, 16 of which are in located in Asia, specifically, in China, India, Indonesia, Malaysia, Pakistan, Singapore, South Korea and Vietnam.
Three out of Shell's five base oil plants are in Asia.
About
Shell Lubricants
The term "Shell Lubricants" collectively refers to Shell Group companies engaged in the lubricants business. Shell sells a wide variety of lubricants to meet customer needs across a range of applications. These include consumer motoring, heavy-duty transport, mining, power generation and general engineering. Shell's portfolio of lubricant brands includes Pennzoil, Quaker State, Shell Helix, Shell Rotella, Shell Tellus and Shell Rimula. We are active across the full lubricant supply chain. We manufacture base oils in five plants; blend base oils with additives to make lubricants and manufacture grease in 50 plants; distribute, market and sell lubricants in over 100 countries. We also provide technical and business support to customers. We offer lubricant-related services in addition to our product range. These include: Shell LubeMatch – the market leading product on-line recommendation tool, Shell LubeAdvisor – helps customers to select the right lubricant through highly trained Shell technical staff as well as online tools, and Shell LubeAnalyst – an early warning system that enables customers to monitor the condition of their equipment and lubricant, helping to save money on maintenance and avoid potential lost business through equipment failure. Shell's world-class technology works to deliver value to our customers. Innovation, product application and technical collaboration are at the heart of Shell lubricants. We have leading lubricants research centres in China, Germany, Japan and the USA. We invest significantly in technology and work closely with our customers to develop innovative lubricants. We have a patent portfolio with 150 + patent series for lubricants, base oils and greases; more than 200 scientists and lubricants engineers dedicated to lubricants research and development. Customer benefits include lower maintenance costs, longer equipment life and reduced energy consumption. One of the ways we push the boundaries of lubricant technology is by working closely with top motor racing teams such as Scuderia Ferrari and BMW Motorsport. These technical partnerships enable us to expand our knowledge of lubrication science and transfer cutting-edge technology from the racetrack to our commercial products.
Royal
Dutch Shell plc
Royal Dutch Shell plc is incorporated in England and Wales, has its headquarters in The Hague and is listed on the London, Amsterdam, and New York stock exchanges. Shell companies have operations in more than 70 countries and territories with businesses including oil and gas exploration and production; production and marketing of liquefied natural gas and gas to liquids; manufacturing, marketing and shipping of oil products and chemicals and renewable energy projects. For further information, visit www.shell.com
Cautionary
Note
The companies in which Royal Dutch Shell plc directly and indirectly owns investments are separate legal entities. In this announcement "Shell", "Shell group" and "Royal Dutch Shell" are sometimes used for convenience where references are made to Royal Dutch Shell plc and its subsidiaries in general. Likewise, the words "we", "us" and "our" are also used to refer to subsidiaries in general or to those who work for them. These expressions are also used where no useful purpose is served by identifying the particular company or companies. ''Subsidiaries'', "Shell subsidiaries" and "Shell companies" as used in this announcement refer to companies over which Royal Dutch Shell plc either directly or indirectly has control. Entities and unincorporated arrangements over which Shell has joint control are generally referred to as "joint ventures" and "joint operations" respectively. Entities over which Shell has significant influence but neither control nor joint control are referred to as "associates". The term "Shell interest" is used for convenience to indicate the direct and/or indirect ownership interest held by Shell in a venture, partnership or company, after exclusion of all third-party interest.
This announcement contains forward-looking statements concerning the financial condition, results of operations and businesses of Royal Dutch Shell. All statements other than statements of historical fact are, or may be deemed to be, forward-looking statements. Forward-looking statements are statements of future expectations that are based on management's current expectations and assumptions and involve known and unknown risks and uncertainties that could cause actual results, performance or events to differ materially from those expressed or implied in these statements. Forward-looking statements include, among other things, statements concerning the potential exposure of Royal Dutch Shell to market risks and statements expressing management's expectations, beliefs, estimates, forecasts, projections and assumptions. These forward-looking statements are identified by their use of terms and phrases such as ''anticipate'', ''believe'', ''could'', ''estimate'', ''expect'', ''goals'', ''intend'', ''may'', ''objectives'', ''outlook'', ''plan'', ''probably'', ''project'', ''risks'', "schedule", ''seek'', ''should'', ''target'', ''will'' and similar terms and phrases. There are a number of factors that could affect the future operations of Royal Dutch Shell and could cause those results to differ materially from those expressed in the forward-looking statements included in this announcement, including (without limitation): (a) price fluctuations in crude oil and natural gas; (b) changes in demand for Shell's products; (c) currency fluctuations; (d) drilling and production results; (e) reserves estimates; (f) loss of market share and industry competition; (g) environmental and physical risks; (h) risks associated with the identification of suitable potential acquisition properties and targets, and successful negotiation and completion of such transactions; (i) the risk of doing business in developing countries and countries subject to international sanctions; (j) legislative, fiscal and regulatory developments including regulatory measures addressing climate change; (k) economic and financial market conditions in various countries and regions; (l) political risks, including the risks of expropriation and renegotiation of the terms of contracts with governmental entities, delays or advancements in the approval of projects and delays in the reimbursement for shared costs; and (m) changes in trading conditions. There can be no assurance that future dividend payments will match or exceed previous dividend payments. All forward-looking statements contained in this announcement are expressly qualified in their entirety by the cautionary statements contained or referred to in this announcement. Readers should not place undue reliance on forward-looking statements. Additional risk factors that may affect future results are contained in Royal Dutch Shell's 20-F for the year ended December 31, 2016 (available at www.shell.com/investor and www.sec.gov). These risk factors also expressly qualify all forward looking statements contained in this announcement and should be considered by the reader. Each forward-looking statement speaks only as of the date of this announcement, 1 November 2017. Neither Royal Dutch Shell plc nor any of its subsidiaries undertake any obligation to publicly update or revise any forward-looking statement as a result of new information, future events or other information.
We may have used certain terms, such as resources, in this announcement that United States Securities and Exchange Commission (SEC) strictly prohibits us from including in our filings with the SEC. U.S. Investors are urged to consider closely the disclosure in our Form 20-F, File No 1-32575, available on the SEC website www.sec.gov