6 April 2016, (Singapore and London) – Singapore Telecommunications Limited (Singtel) and Inmarsat (LSE:ISAT.L) have entered into a strategic partnership to enhance maritime cyber security using Trustwave's Unified Threat Management (UTM) solution.
Trustwave, the cyber security arm of Singtel, will provide the software based UTM service to be integrated with Inmarsat hardware onboard ships, to protect data and reduce cyber risk for maritime companies. The UTM service offers a suite of cyber security defences, such as advance firewall, anti-virus, intrusion prevention and web-filtering, which is backed by global round-the-clock support. It will be delivered through Fleet Xpress, the first globally available, high-speed broadband solution for maritime and offshore operators, available from a single communications provider.
Mr Andrew Lim, Managing Director, Business Group, Group Enterprise at Singtel said, "Our partnership with Inmarsat is important as it marks the first phase in rolling out Singtel cyber security services for Inmarsat; starting with maritime. Shipping still moves about 90% of the world's trade, hence the maritime industry is a significant backbone of the global supply chain [1]. As maritime systems become more digital, it is imperative for the industry to protect data onboard ships against all forms of cyber attacks. Our partnership with Inmarsat will provide maritime companies with a cyber security solution to meet rapidly evolving cyber threats, globally."
"The landscape of shipping is changing. As we move from traditional shipping into the ship intelligence era, the threat of cyber attacks have never been more real," commented Mr Ronald Spithout, President Inmarsat Maritime. "Risks from malicious attacks and unlawful access to a ship's intelligence, its system infrastructure and networks cannot be ignored, and the shipping industry needs to take action."
"We are excited to enter into a strategic partnership with Singtel to leverage the power of the market proven Trustwave managed UTM solution for the benefit of the global maritime industry. Together with our recent launch of Fleet Xpress, which sets a new standard in maritime communications, we are confident in delivering enhanced cyber security services to our customers. This new partnership supports our commitment to the market and elevates the benchmark for maritime cyber security," commented Mr Gary Gagnon, Senior Vice President Global Cyber Security, Inmarsat.
Trustwave Chief Executive Officer and President Robert J. McCullen, said, "Eliminating fragmented network security controls between land-based systems and assets at sea helps customers maintain audit and compliance requirements, while alleviating many of the stresses of managing complex networks. Trustwave is honoured to provide a fully- managed security solution for the maritime industry, and we look forward to working with Inmarsat to defend international commerce from cyber attacks."
Singtel and Inmarsat plan to launch the new maritime cyber security service in the second half of 2016.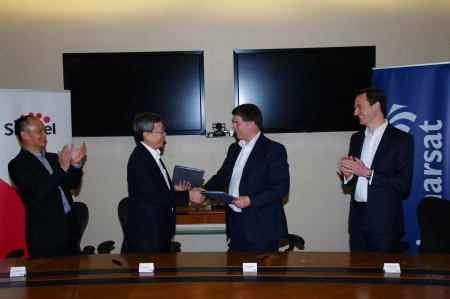 Far left – Mr Lim Kian Soon, Head of Satellite Business, Singtel; left – Mr Andrew Lim, Managing Director, Business Group, Group Enterprise at Singtel; right – Mr Ronald Spithout, President Inmarsat Maritime; far right – Jonathan Wood, Vice President, Application Partner Development, Inmarsat Maritime
[1]http://www.ics-shipping.org/shipping-facts/shipping-and-world-trade
About
Singtel
Singtel is Asia's leading communications and ICT solutions group, providing a portfolio of services from next-generation communication, technology services to infotainment to both consumers and businesses. For consumers, Singtel delivers a complete and integrated suite of services, including mobile, broadband and TV. For businesses, Singtel offers a complementary array of workforce mobility solutions, data hosting, cloud, network infrastructure, analytics and cyber security capabilities. The Group has presence in Asia, Australia and Africa and reaches over 595 million mobile customers in 25 countries. Its infrastructure and technology services for businesses span 21 countries, with more than 200 direct points of presence in 160 cities. For more information, please visit www.singtel.com.
Singtel was formerly a founding member of Inmarsat, which was set up in 1979 by the International Maritime Organisation.
About
Inmarsat
Inmarsat plc is the leading provider of global mobile satellite communications services. Since 1979, Inmarsat has been providing reliable voice and high-speed data communications to governments, enterprises and other organizations, with a range of services that can be used on land, at sea or in the air. Inmarsat employs around 1,600 staff in more than 60 locations around the world, with a presence in the major ports and centres of commerce on every continent. Inmarsat is listed on the London Stock Exchange (LSE:ISAT.L). For more information, please visit www.inmarsat.com.
The Inmarsat press release newsfeed and corporate updates are on @InmarsatGlobal.
About
Trustwave
Trustwave is a wholly-owned subsidiary of Singtel that helps businesses fight cybercrime, protect data and reduce security risk. With cloud and managed security services, integrated technologies and a team of security experts, ethical hackers and researchers, Trustwave enables businesses to transform the way they manage their information security and compliance programs. More than three million businesses are enrolled in the Trustwave TrustKeeper® cloud platform, through which Trustwave delivers automated, efficient and cost-effective threat, vulnerability and compliance management. Trustwave is headquartered in Chicago, with customers in 96 countries. For more information about Trustwave, visit www.trustwave.com.
Note
to editors
In a recent report published by the Baltic and International Maritime Council (BIMCO), it had been recommended that onboard computers should be protected to the same level as office computers ashore. In addition, anti-virus and anti-malware software should be installed, maintained and updated on all personal work-related computers onboard to reduce the risk of these computers being used as attack platforms against servers and other computers on a ship's network [2].
For more information and to download the report follow this link.
[2] The Guidelines on Cyber Security onboard Ships: BIMCO, CLIA, ICS, Intercargo and Intertanko, January 2016.