15 August 2018 – As part of its constant drive for new efficiencies, Stena Drilling has placed a significant part of its safety equipment and servicing management under a VIKING Offshore Safety Agreement.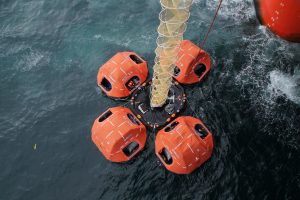 Progressive UK-based offshore drilling company Stena Drilling Limited is committed to the continuous improvement of safety and operational performance, actively encouraging its workforce to consider innovative ideas that affect how the company works and the equipment it uses.
Proactive focus on safety and efficiency: So, in early 2018, when an extensive review done by VIKING Life-Saving Equipment for its long-time customer, revealed the potential for major cost and administration savings in placing much of the company's safety equipment sourcing and administration under a VIKING Offshore Safety Agreement (OSA), Stena Drilling welcomed the input and signed up. The agreement covers the company's liferafts and offshore evacuation systems.
Potential upsides: VIKING Offshore Safety Agreements are designed to save offshore asset owners and operators time, money and administrative headaches, while providing a transparent, predictable cost structure and ensuring safety-equipment readiness at full POB capacity at all times. The OSA concept is an innovative answer to the typical mish-mash of multiple safety equipment brands, fluctuating costs and complex administration that present a constant obstacle to operations.
Speeding up safety logistics: Alex Kristensen, VIKING's Country Director for the UK and Ireland, adds to the story: "We had been performing standard service rotation for Stena Drilling's liferafts for some time. This required the offshore company to rent or own additional rafts to maintain POB capacity during the weeks it typically takes to service and return liferafts via supply vessels. Transport logistics were complex and costly and, as the liferafts aged, we could see they would unavoidably become more expensive to service. We were keenly aware of the administrative and cost burdens of doing all this the 'normal' way and believed the whole task could be done better and more affordably under an OSA."
When Stena Drilling decided to upgrade POB on the first of a number of assets, and placed a new order for VIKING lifejackets, the OSA concept was presented and negotiations were quickly concluded.
Longer service intervals: As part of the new agreement, Stena Drilling will upgrade its liferafts to VIKING S30 liferafts with extended service intervals, a wise move for operating far from shore because doing so removes the need for annual, land-based servicing. Instead, certified crew perform annual onboard inspections, a task made even easier by an innovative and intuitive humidity/CO2 leakage testing device incorporated into in each VIKING liferaft container. Onshore servicing is, however, still required every 30 months according to regulations.

John Flynn, Marine Superintendent with Stena Drilling, is confident the agreement will deliver on its promise of greater efficiency. "Our Health, Safety & Environmental Policy requires us to ensure the availability of high-quality, compliant safety equipment that's in working order at all times," he commented. "VIKING's experience and capabilities as a manufacturer, its breadth of products and the ability to provide technical guidance as we upgrade our POB gave us the confidence to outsource a significant part of safety equipment management, bringing it under one contract to streamline administration and logistics."
"We're delighted that Stena Drilling has placed its trust in VIKING," says Alex Kristensen and continues: "We introduced this type of agreement to the offshore industry in 2014 and we're still alone in offering solutions that put as much as possible under one roof while maintaining the flexibility to easily change terms or scope as the customer's priorities and needs evolve."
About VIKING
VIKING Life-Saving Equipment is a global market leader in maritime and offshore safety, providing and servicing safety and fire-fighting equipment for passenger and cargo ships, offshore installations, fishing vessels, the navy, fire departments and leisure yachts.
VIKING is a privately held corporation founded in 1960 with group headquarters in Denmark. Products are manufactured in Denmark, Norway, Bulgaria and Thailand. VIKING offers a broad range of high-quality safety products and systems as well as tailored safety solutions certified in accordance with the latest IMO, SOLAS, EU and USCG requirements. The VIKING product range includes chute and slide-based marine and offshore evacuation systems, liferafts, lifejackets, immersion suits, fire suits, work suits, aviation safety gear, life- and rescue boats, hooks, davits, firefighting equipment, pyrotechnics and other lifesaving appliances. VIKING Shipowner and Offshore Safety Agreements are uniquely customizable concepts incorporating safety products, global servicing, exchange, single-source management, and financing in a variety of fixed price structures.
With 2,000 dedicated employees and a network comprising 72 branches, 262 certified servicing stations, multiple agents and stock points worldwide, VIKING is a truly global provider of safety solutions in all significant markets and locations. www.VIKING-life.com
For further information please contact:
Thomas Hestehave, Global Marketing Communications
Tel: +45 2542 8454
Email: THH@VIKING-life.com