December 1st, 2015, (Houston, TX): To power four new harbor tugboats under construction in Brazil, global towage and emergency response provider Svitzer turned to Caterpillar—purchasing eight Cat® 3516C marine propulsion engines and eight C4.4 generator sets.
Part of the Maersk Group, the world's largest container shipping company, Svitzer operates a fleet of more than 430 vessels globally. Earlier in 2015, the company acquired a controlling stake in Brazilian harbor towage company Transmar Servicos Maritimos—now known as Svitzer Brazil. The new harbor tugs will join an existing fleet operating along the Brazilian coast.
"Svitzer is a long-time Cat customer, with many vessels powered by Cat engines," said Rodrigo Feria, marine sales manager for Sotreq, the Cat dealer that led sales efforts on the project. "They turned to Caterpillar and Sotreq because of our previous strong relationship with Transmar Servicos Maritimos, our product support capability and our experience working with the shipyard."
"Securing the main engines and propulsion for our Brazil vessels are an important step in growing our presence in Brazil," Martin Helweg, Managing Director for Svitzer Americas noted. "With Caterpillar we have a high quality provider with good aftersales services, which is important to us as the leading towage provider in the world."
The four 60-ton bollard pull tugs are being built at INACE shipyard in Fortaleza, Ceará. The first engines will be delivered in February 2016, and the tugs are expected to be operational in 2017.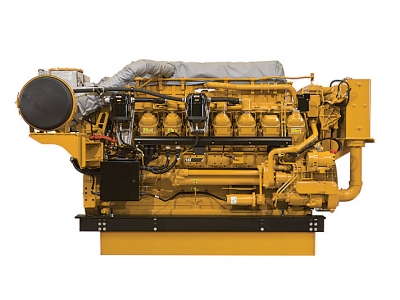 Each vessel will be powered by two 3516C marine propulsion engines, delivering 2500 hp @ 1600 rpm apiece. Designed to meet IMO II regulations without any additional aftertreatment, 3516C engines provide efficient operation with electronic governing, cold mode start strategy and programmable low idle to minimize fuel consumption. In addition, each tug will feature two C4.4 generator sets for on-board power generation.
Visit us at the International Workboat Show, December 1st – 3rd in New Orleans, Louisiana, booth #2802. For more information on Caterpillar Marine, visit www.marine.cat.com.
Follow us on:
• Facebook: www.facebook.com/caterpillarmarine
• Twitter: @catmarineglobal #CatWBS
• LinkedIn: https://www.linkedin.com/company/caterpillar-marine/
• Periscope:https://www.periscope.tv/CatMarineGlobal
About Caterpillar Marine
Caterpillar Marine, with headquarters in Hamburg, Germany, groups all the marketing and service activities for Cat® and MaK marine engines within Caterpillar Inc. The organisation provides premier power solutions in the medium- and high-speed segments with outputs from 93 to 16,800 kW in main propulsion and 10 to 16,100 kWe in marine generator sets. The sales and service network includes more than 2,100 dealer locations world-wide dedicated to support customers in ocean-going, commercial marine and pleasure craft wherever they are.
More information is available at: MARINE.CAT.COM/pr
About Caterpillar
For nearly 90 years, Caterpillar Inc. has been making sustainable progress possible and driving positive change on every continent. Customers turn to Caterpillar to help them develop infrastructure, energy and natural resource assets. With 2013 sales and revenues of $55.656 billion, Caterpillar is the world's leading manufacturer of construction and mining equipment, diesel and natural gas engines, industrial gas turbines and diesel-electric locomotives. The company principally operates through its three product segments – Resource Industries, Construction Industries and Energy & Transportation – and also provides financing and related services through its Financial Products segment. For more information, visit caterpillar.com. To connect with us on social media, visit caterpillar.com/social-media.
More information is available at www.cat.com.
©2015 Caterpillar
All Rights Reserved
CAT, CATERPILLAR, their respective logos, MaK, "Caterpillar Yellow", the "Power Edge" trade dress as well as corporate and product identity used herein, are trademarks of Caterpillar and may not be used without permission.
About Svitzer
Since 1833, Svitzer has provided safety and support at sea. With 4,000 employees, a fleet of more than 430 vessels and operations all over the world, we are the global market leader within towage and emergency response.
About Maersk Group
Svitzer is part of the Maersk Group. In Brazil, Maersk is completing a US$4bn plus investment cycle. The group has more than 6,800 staff in Latin America, 89,000 in the world and more than 2,000 in Brazil.
Maersk is present in more than 130 countries. The company, which is also the world's largest container shipping company, is also engaged in terminal operations, oil and gas production, oil drilling and tankers, focusing heavily on safety and training of its highly-skilled staff as well as sustainability.
About INACE Shipyard
INACE is a Brazilian private shipyard owned by the same family since 1968. National leader in construction of luxury motor yachts and patrol vessels (private industry), and it is noteworthy one of the largest tugboats and commercial/offshore (including aluminium construction) providers in the country. It is almost 900 vessels delivered in more than four decades, combining tradition and constant innovation in shipbuilding.
More information: inace.com.br