01 June 2018 – This year, Greek maritime company Technava celebrates 50 years of playing a key role in the supply of equipment and technical support to the Greek shipping industry. A hallmark of that success has been a long-standing alliance with global maritime safety equipment manufacturer and servicing provider VIKING Life-Saving Equipment.
Long-running success
"Technava has decades of experience supplying and servicing VIKING safety equipment in the region, making the VIKING brand a firm favorite among Greek shipowners who face the pressures of a difficult market," says Technava Managing Director, Styliani (Stella) Tomazos. She takes pride in the way the Greek shipping industry continues to embrace the innovative service concepts and high-quality products developed by the pioneer supplier of life-saving equipment.
Personal relationships
Maintaining relations with its customer base of over 550 shipowners and more than 5,200 vessels is a Technava priority. "Technava has provided the Greek Shipping Industry with technical support for the past 50 years with customer satisfaction and care as its ultimate goal. Personal contact and mutual trust are key to our customer relations and to our success," Stella Tomazos explains.
Having won the trust of its customers, Technava has been able to solve their challenges by, for example, offering service-ready equipment packages; these include safety equipment 'exchange' concepts that ease safety compliance, such as an on-quay personal protection gear swapping scheme.
Fixed-price contracts
Such concepts are part of VIKING's popular Shipowner Agreements, which offer everything needed to simplify safety compliance and iron out fluctuating service costs and other unwelcome surprises. This uniquely customizable concept provides for almost all products and brands in a variety of predictable, fixed-price structures.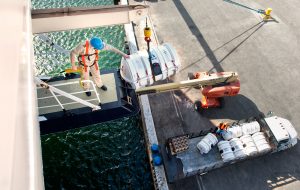 VIKING's Shipowner Agreements relieve shipowners from unpredictable costs and minimize liferaft inspection times. The concept offers fixed prices including transportation, overtime, all spares and consumables required, while eliminating the risk of equipment being condemned. As a liferaft manufacturer, VIKING also offers coverage through a network of more than 260 servicing stations assuring that, even in remote areas, liferaft inspections will still be available at a controllable cost and to the same high standards. "Thanks to extensive market development by Technava at the concept launch stage and to VIKING's adaptability, a unique tailor-made concept has been forged over the years which meets all of the expectations of the demanding Greek ship-operators," says Stella Tomazos, who continues: "We have also been working with VIKING's marine evacuation systems (MES) and liferafts for many years. Recently, we've been handling other VIKING product groups such a personal protective equipment and EEBDs, which became big sellers, too.
Unique flexibility
"Over the last 6 years, VIKING Shipowner Agreements have been snapped up fast, and we currently count over 1,500 Greek-owned vessels under contract. The flexibility of the agreements is the concept's unique advantage in the Greek shipping industry. Greek owners prefer to have things tailored to fit their exact needs. So, we identify those requirements together with our customers, convey them to VIKING, then adapt each agreement to fit perfectly. VIKING is very supportive toward our needs."
VIKING on board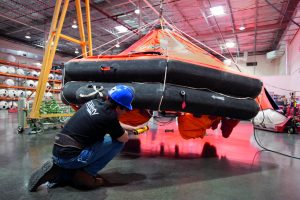 References are important to Greek shipowners too, and with far more than a thousand VIKING Shipowner Agreements active around the world, there is no shortage of satisfied customers. In fact, around 95 per cent of customers choose to renew their Shipowner Agreements upon expiration. "The VIKING brand name is very important for our customers. They perceive the company to be a reliable supplier with high-end products that are often chosen for the newbuilding sector around the world," Stella Tomazos concludes.
Meet Technava and VIKING at Posidonia 2018 – stand 111 in hall 3
http://www.technava.gr
www.VIKING-life.com
About VIKING
VIKING Life-Saving Equipment A/S is a global market leader in maritime and offshore safety, providing and servicing safety and fire-fighting equipment for passenger and cargo ships, offshore installations, fishing vessels, the navy, fire departments and leisure yachts.
VIKING is a privately held corporation founded in 1960 with group headquarters in Esbjerg, Denmark. Products are manufactured in Denmark, Norway, Bulgaria and Thailand.
VIKING offers a broad range of off-the-shelf and tailored safety solutions and systems certified in accordance with the latest requirements of the IMO, SOLAS, EU and USCG.
The product portfolio includes chute and slide-based marine and offshore evacuation and crew transfer systems, liferafts, lifejackets, immersion suits, fire suits, work suits, pilot suits, helicopter transportation suits, MOB boats, davits, pilot ladders, signs, and other lifesaving appliances. The VIKING Agreements offer uniquely customizable concepts that incorporate safety products, global servicing, single-source management, and financing in a variety of fixed price structures.
With 2,000 employees worldwide, the unique VIKING network of branch offices, agents, 270 certified servicing stations and worldwide stock points makes VIKING a truly global provider at convenient locations in all significant markets.
For further information please contact:
Thomas Højbjerg Hestehave, Global Marketing Communications Executive
Tel: +4576118454
E-mail: THH@viking-life.com