27 January 2021 – Inmarsat, the world leader in global, mobile satellite communications, has secured a fleet-wide agreement with offshore support vessel major Tidewater to advance its digitalisation strategy by upgrading the majority of its active fleet to Fleet Xpress. Inmarsat has developed a product roadmap of advanced vessel technology efficiencies solutions and enhanced and reliable communications for crews, which bring competitive advantages for Tidewater.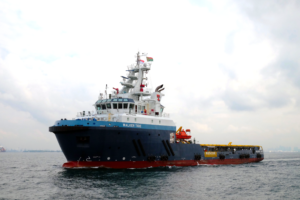 Tidewater was one of the largest users of Inmarsat's legacy iFusion service, which was scheduled for network shutdown on December 31, 2020.  Tidewater and Inmarsat created a joint project team and comprehensive plan to fast track vessel installations and upgrades to deliver the project in six months, with a scope of 60 active vessels, across 15 countries and involving a team of 75 from the combined organisations.
The project was highly complex due to its scope and number of vessels, managing activities through the middle of a pandemic and requiring expert precision to achieve installations and upgrades on time and plan. All 60 vessels in the project were successfully transitioned before year-end and vessels experienced no disruptions during the iFusion shutdown events. In January, Tidewater will have 56 active vessels with Fleet Xpress providing new capabilities for their vessels, crews and customers.
"This transformational project advanced Tidewater to a new level of vessel communications with Fleet Xpress's combination of high-speed Ka-band and continuous back-up using L-band creating an always on bandwidth for our vessels," Cherise Brooks, the IT program manager for this project, stated. "Tidewater has deployed this new technology to provide internet demands for crews and customers, a capability previously not available for these vessels. The project success of achieving an aggressive six month schedule and significantly upgrading our fleet with advanced technology was only made possible by the exceptional efforts of the Tidewater shore based teams, Tidewater crew members, Inmarsat and their partners."
"Tidewater will be the first beneficiary of new investments Inmarsat has made in reporting capabilities and a new addition to Inmarsat's product portfolio," adds Inmarsat's Sales Director for Offshore and Fishing, Chuck Moseley. "Once again, a big-name brand in the offshore space has confirmed the compelling case Fleet Xpress presents as the platform for flexible digital solutions that meet operator needs on vessel efficiency, crew welfare and client demands. The combined Tidewater and Inmarsat project teams delivered amazing results and commissioned a significant ramp-up of Fleet Xpress installations in record times. Inmarsat is looking forward to continuing the partnership and delivering the 2021 product roadmap to further advance the Tidewater fleet."
Contacts
Inmarsat:
Jonathan Sinnatt/Matthew Knowles
Corporate Communications
+44 (0)20 7728 1518/1355
press@inmarsat.com
Mark Warner
Marketing and PR Director, Inmarsat Maritime
+44 (20) 7728 1654
mark.warner@inmarsat.com
Debbi Bonner
Managing Director, JLA Media Ltd
+31 (0)652 630122
debbi.bonner@j-l-a.com
Tidewater:
Jason Stanley
Vice President Investor Relations and ESG
+1-713-470-5292
ir@tdw.com
ABOUT INMARSAT
Inmarsat is the world leader in global, mobile satellite communications. It owns and operates the world's most diverse global portfolio of mobile telecommunications satellite networks, and holds a multi-layered, global spectrum portfolio, covering L-band, Ka-band and S-band, enabling unparalleled breadth and diversity in the solutions it provides. Inmarsat's long-established global distribution network includes not only the world's leading channel partners but also its own strong direct retail capabilities, enabling end to end customer service assurance.
The company has an unrivalled track record of operating the world's most reliable global mobile satellite telecommunications networks, sustaining business and mission critical safety & operational applications for more than 40 years. It is also a major driving force behind technological innovation in mobile satellite communications, sustaining its leadership through a substantial investment and a powerful network of technology and manufacturing partners.
Inmarsat operates across a diversified portfolio of sectors with the financial resources to fund its business strategy and holds leading positions in the Maritime, Government, Aviation and Enterprise satcoms markets, operating consistently as a trusted, responsive and high-quality partner to its customers across the globe.
For further information, follow us: Twitter | LinkedIn | Facebook | YouTube | Instagram.
ABOUT TIDEWATER
Tidewater owns and operates the largest fleet of Offshore Support Vessels in the industry, with over 60 years of experience supporting offshore energy exploration and production activities worldwide.
To learn more, visit the Tidewater website at: www.tdw.com.