11 September, 2017 – Transas Chief Executive Frank Coles has won 'gold' in the Most Influential People of the Year category of the 2017 Golden Bridge Business and Innovations Awards. The prestigious accolade acknowledges his ability to communicate his vision for the maritime industry in the digital age.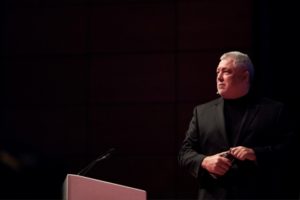 Frank Coles, Transas CEO
The Golden Bridge Awards are an annual industry and peer recognition program based in San Francisco that honours the Best Companies, Products, Innovations, Management Teams, Executives and Influencers from around the globe.
A master mariner and maritime lawyer by training, Coles was selected by the Golden Bridge judging panel for his ability in being the driving force behind the maritime industry's digital age and a new world of automated shipping. A huge campaigner for improving training standards, modernising roles and responsibilities, and ensuring operation in an efficient and environmentally friendly way, Coles is passionate about the need for "competence not certification".
Continuously engaging with stakeholders to communicate his company's contribution and strategic goals, Coles has striven to communicate the importance of embracing digitalisation and new business models. His passion for modernising the industry is reflected both in his influential media presence and in the pioneering solutions Transas is bringing to the marketplace that include the use of machine learning as a waypoint in the voyage towards autonomous ships.
A visionary thinker, his statements draw upon this unrivalled breadth of experience, allowing him to adopt a laser focus on the big questions few dare to tackle. His observations often challenge the status quo and consistently provoke intense debate about the future direction of the industry.
On receiving the award, Coles commented: "The maritime industry can no longer remain invisible. Whether by media or traditional face-to-face conversations, transparency, interaction and collaboration must all be embraced if the industry is to flourish."
In a 40-year career, Coles has served the maritime industry in practically every position from sailor to senior executive, delivering market-changing improvements at almost every step. The experience gained in the Merchant Navy has given him first-hand understanding of the practical pressures on those working at sea and still informs the decisions he makes today as the pro-active CEO of Transas. Most recently, he has been responsible for the development and launch of a revolutionary software platform, THESIS, or Transas Harmonised Ecosystem of Integrated Solutions, which will reshape the way commercial vessels operate; improving safety and reducing costs for vessel owners and bringing efficiency gains in global supply chains.
About
Transas
Transas' vision is to lead the way in creating an ecosystem of harmonised integrated solutions in safety, navigation and ship operations. In creating these solutions Transas unites global maritime stakeholders in the future of e-Navigation and operations.
True to its vision, Transas has introduced THESIS, the Transas Harmonised Eco System of Integrated Solutions. THESIS is a flexible data resource where Ship, Fleet Operations, Academy (simulation & training) and Ship Traffic Control can all be connected to the ecosystem, effectively a community working together on a cloud based shared data platform to enable smarter operations, safety and navigation.
United into a single environment, navigation, simulation, vessel traffic, and fleet management systems become a decision support tool using the data provided by Transas software solutions.
Transas operates more than 20 own regional offices and has a global network of partners around the world.
For more information, please visit our website at www.transas.com