14 September, 2017 – Transas has introduced a new Survival Craft Simulator (SCS) to prepare crew for the multitude of possible scenarios that can occur during lifeboat drills, aiming to address one of the most notorious sources of accidents in shipping without exposing personnel to physical danger.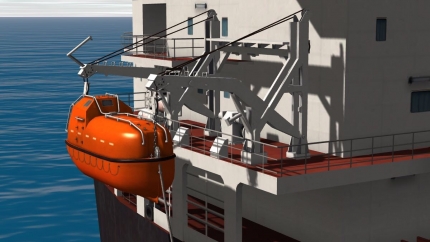 Effective survival craft training is essential to prepare crew for a disaster at sea but practical lifeboat drills have a troubling track record for causing fatalities. By shifting some elements of training to a simulated environment, the risks are minimized and the crew can focus on the procedures that will increase safety when operating the real lifeboat equipment in an emergency.
IMO expert investigations have focused mainly on the complex quick-release hooks that typically suspend enclosed lifeboats from their davits, which are designed to hold tons of mass securely for years at a time and then come free quickly when the lifeboat is lowered. The Maritime Safety Committee expects new guidelines to enter into force on 1 January 2020, addressing longstanding issues including the need for uniform and documented standards for hook servicing.
However, a failure to follow correct procedures and lack of proper training have also been cited as contributory factors in incidents. The Transas Survival Craft Simulator allows such training to be conducted either at a training centre or on-board in a benign environment, allowing trainees to learn essential procedures, such as the preparation of survival craft, its launch and boarding, but without the risk.
At the heart of the new simulator is a highly detailed virtual model of a totally enclosed davit-launched, self-righting lifeboat. It is supported by a functional model to simulate the hook-release gear, wire lashings and gripes, and for boat securing onto a davit. Instruction on using the release handle, a safety pin, and hydrostatic interlock level can be delivered either virtually or with a physical device connected to the simulator.
"No one doubts the importance of effective survival craft training," said Frank Coles, Transas Chief Executive Officer. "Guidance issued by insurers reaffirms that crew should be capable of operating lifeboat systems and understanding the mechanics and procedures, but training itself cannot be the source of risk. The majority of the maritime industry stakeholders still have some way to go to fully embrace the use of simulation to enhance and improve competency in shipboard operations. This tool is further evidence of that competence can be raised safely and efficiently without endangering lives. The time for platitudes is over; resources and recurrent training save lives and enhance safety."
Survival Craft Simulator was created to function under Transas Academy, the seafarer competency development component of THESIS. In the future, this oversight will enable data collected during exercises to feed into and inform other aspects of vessel and fleet operation.
About
Transas
Transas' vision is to lead the way in creating an ecosystem of harmonised integrated solutions in safety, navigation and ship operations. In creating these solutions Transas unites global maritime stakeholders in the future of e-Navigation and operations.
True to its vision, Transas has introduced THESIS, the Transas Harmonised Eco System of Integrated Solutions. THESIS is a flexible data resource where Ship, Fleet Operations, Academy (simulation & training) and Ship Traffic Control can all be connected to the ecosystem, effectively a community working together on a cloud based shared data platform to enable smarter operations, safety and navigation.
United into a single environment, navigation, simulation, vessel traffic, and fleet management systems become a decision support tool using the data provided by Transas software solutions.
Transas operates more than 20 own regional offices and has a global network of partners around the world.
For more information, please visit our website at www.transas.com