25 August, 2017 (Bangkok) – The United States Agency for International Development's Oceans and Fisheries Partnership (USAID Oceans) and Inmarsat Global Limited (Inmarsat) have announced a new partnership to help commercial fishing crews promote sustainable fishing in Southeast Asia.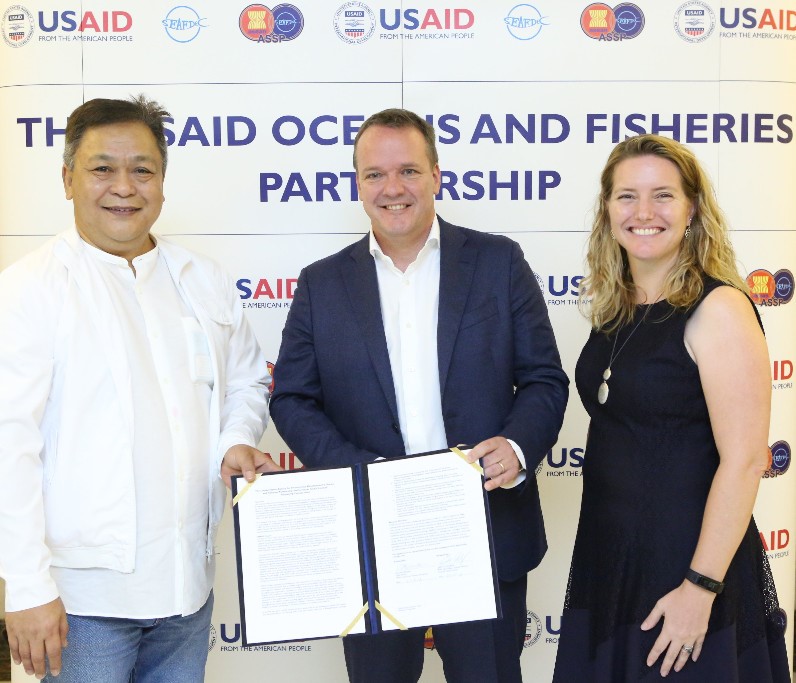 From left to right: Geronimo Silvestre, Chief of Party, USAID Oceans, Gerbrand Schalkwijk, Chief Sales Officer, Inmarsat Maritime and Angela Hogg, USAID Regional Development Mission for Asia's Regional Environment Office Director at the signing ceremony for the partnership.
By making use of enhanced communication technology, the partnership will advance catch documentation and traceability (CDT) to promote legal, reported and regulated fishing. USAID Regional Development Mission for Asia's Regional Environment Office Director, Angela Hogg, and Chief Sales Officer for Inmarsat Maritime, Gerbrand Schalkwijk attended a signing ceremony for the partnership.
"USAID Oceans is very pleased to be partnering with Inmarsat on developing solutions and services that will support sustainable fishing and, at the same time, improve the welfare and livelihood of those working at sea," said Angela Hogg.
Through this partnership, USAID Oceans will leverage Inmarsat's expertise to improve communications for fishing vessels in the region. Crew members on medium and large vessels will integrate existing monitoring systems and CDT data with Inmarsat's Fleet One and IsatData Pro technology, a global two-way messaging service for tracking and monitoring ports and vessels. USAID Oceans will pilot this technology in Bitung, Indonesia, and Songkhla, Thailand, where the project has undertaken CDT system development and testing. Successful pilot tests demonstrating effective communications between vessels and ports will enable further CDT system development in the region.
In Indonesia, Inmarsat will equip fishing vessels from participating companies with onboard satellite systems for real-time electronic voice and data exchange while at sea, consistent with Indonesia's Ministry of Marine Affairs and Fisheries reporting requirements. Enhanced connectivity will help reduce illegal fishing and support fishers to monitor and share fish stocks. This technology will help fishing fleets to locate fish faster, improve voyage planning and reduce operational costs. Better ship-to-shore communication will enable captains to instantly track weather forecasts, thereby ensuring safer sailing and quality of life at sea.
In Thailand, Inmarsat, in partnership with seafood producer, Thai Union, is providing a satellite communications to help crews maintain at-sea connectivity for quicker and easier digital catch reporting, communication and fleet management. Activities in Indonesia and Thailand will support expansion to other countries in the Asia-Pacific region to use similar systems.
"We believe that by bringing a new level of connectivity onboard, we can help combat illegal, unreported and unregulated fishing, ensure compliance, improve data transfer, quality and reliability, and enhance crew safety," said Inmarsat's Gerbrand Schalkwijk. "Inmarsat has been at the forefront of crew welfare and safety for over 37 years and is pushing the boundaries of satellite communications at sea. By working with USAID Oceans, we can help safeguard the future of the industry and the countries where fishing is so vital to their economy."
ABOUT
USAID OCEANS
USAID Oceans is a partnership between USAID and the Southeast Asian Fisheries Development Center. USAID Oceans works to strengthen regional cooperation to combat illegal, unreported and unregulated fishing, promote sustainable fisheries, and conserve marine biodiversity in the Asia-Pacific region. The backbone of the program is the development and implementation of a financially sustainable catch documentation and traceability system, piloted in learning sites in Indonesia and the Philippines and adapted for regional expansion. For more information, please visit www.seafdec-oceanspartnership.org.
ABOUT
INMARSAT
Inmarsat plc is the leading provider of global mobile satellite communications services. Since 1979, Inmarsat has been providing reliable voice and high-speed data communications to governments, enterprises and other organizations, with a range of services that can be used on land, at sea or in the air. Inmarsat operates around the world, with a presence in the major ports and centers of commerce on every continent. Inmarsat is listed on the London Stock Exchange (ISAT.L). For more information, please visit www.inmarsat.com. The Inmarsat press release newsfeed and corporate updates are on @InmarsatGlobal.