Comprehensive suite of services will enable Vallianz to achieve smarter offshore vessel operations amid growing competition and evolving industry requirements
17 November 2022 – Vallianz Holdings, an established provider of offshore marine and engineering solutions for the global energy industry, is accelerating the digitalisation of its fleet of offshore support vessels (OSV) with a comprehensive package of connectivity services from Inmarsat, the world leader in global, mobile satellite communications.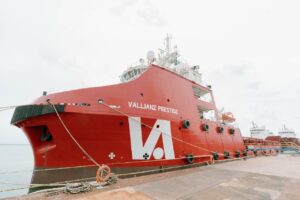 With its headquarters in Singapore, Vallianz operates an OSV fleet worldwide that will benefit from industry-leading connectivity through Inmarsart's Fleet Xpress solution, which supports a variety of Internet of Things (IoT) applications for crew welfare, cyber security, data capture and analysis and more.
Through Fleet Data, provided on the Fleet Edge platform, Vallianz can collect, transfer, store and analyse IoT data to support decision-making in real time. Also included is Fleet Connect, which offers Vallianz and its technology partners access to the vessels through dedicated bandwidth. The offshore specialist has already adopted ultra-low-bandwidth maritime-surveillance technology to enable live vessel monitoring from a shore-based operations centre.
Elisa Woodward, Head of Engineering, New Building and Technology, Vallianz Holdings, said: "By utilising Inmarsat's solution, the Group will be able to accelerate the digitalisation of our worldwide offshore support vessels fleet and lay the foundation for future developments based on IoT data and services. In an increasingly competitive offshore environment, Vallianz will be able to stand out from the crowd by offering our customers smarter vessel operations that meet modern requirements for data analytics, cyber resilience, and seafarer welfare."
Vallianz will also enhance crew welfare through Fleet Hotspot, which is a crew connectivity solution that recently won the Mission to Seafarers Innovation Award for its outstanding contribution to seafarer welfare. Fleet Hotspot allows the crew to maintain contact with loved ones ashore and access online entertainment on their own devices – without interfering with business-critical bandwidth. Vallianz will be providing each of its crew members with free internet allowance every month.
In addition, to combat the ever-evolving threat of cyber-attacks, Vallianz has signed up for Inmarsat's Fleet Secure Unified Threat Management (UTM), a complete package of network security tools consolidated on a single device. Designed specifically for the shipping industry, Fleet Secure meets the International Maritime Organization's 2021 functional cyber-security requirements for demonstrating cyber-risk management.
Vallianz's contract with Inmarsat also includes Fleet Mail for secure and stable email, as well as Fleet Care which provides round-the-clock maintenance, repairs, and support for Fleet Xpress.
Gert-Jan Panken, Vice President Direct Sales, Inmarsat Maritime, said: "Vallianz is a fine example of a forward-thinking company upgrading to Fleet Xpress to drive its digitalisation efforts further. From the outset, Fleet Xpress gives Vallianz the bandwidth and network stability to stream live CCTV, as well as the connectivity services to support cyber security, crew welfare, and data transfer and analysis. In the long term, it will allow Vallianz to optimise operations effectively as requirements evolve."
ABOUT INMARSAT
Inmarsat delivers world leading, innovative, advanced and exceptionally reliable global, mobile communications across the world – in the air, at sea and on land – that are enabling a new generation of commercial, government and mission-critical services. Inmarsat is powering the digitalisation of the maritime industry, making operations more efficient and safer than ever before. It is driving a new era of inflight passenger services for aviation, while ensuring that aircraft can fly with maximum efficiency and safety. Furthermore, Inmarsat is enabling the rapid expansion of the Internet of Things (IoT) and enabling the next wave of world-changing technologies that will underpin the connected society and help build a sustainable future. And now Inmarsat is developing the first-of-its-kind, multi-dimensional communications network of the future, ORCHESTRA.
In November 2021, Inmarsat and Viasat announced the planned combination of the two companies, to create a new leader in global communications.
For further information, follow us: Twitter | LinkedIn | Facebook | YouTube | Instagram.
ABOUT VALLIANZ HOLDINGS LIMITED
Vallianz is an established provider of offshore marine and engineering solutions for the global energy industry. To keep pace with the transformation of energy markets, the Group continually advances its capabilities and adapts its solutions to meet customers' needs.
From its headquarters in Singapore, the Group's reach extends to markets in Asia Pacific, Middle East and Central America. To enhance its customer value-add, Vallianz offers integrated solutions across five core pillars — offshore support vessel chartering, specialised heavy transport, shipyard and engineering, marine technology, and renewable energy.
Vallianz is a well-established operator of offshore support vessels offering critical support to customers in the conventional and renewable energy sectors. The Group also owns a shipyard in Batam, Indonesia, which has strong in-house fabrication and engineering capabilities. Listed on SGX-Catalist, Vallianz is helmed by an experienced management team.
For more details about the Group, please refer to http://www.vallianzholdings.com