03 June 2020 – Leading davit supplier Vestdavit has completed the delivery of four boat-handling systems to Australian shipyard Austal. The PLAR-4501-type davits are due to be installed on two Cape-class patrol boats aquired by the Government of the Republic of Trinidad and Tobago to enhance the island nation's border protection capabilities.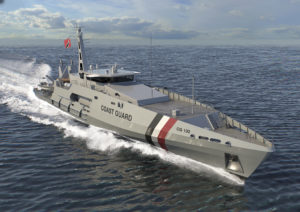 The cutting-edge launch-and-recovery systems – part of a lightweight, robust and reliable family of A-frame aluminium davits for man-overboard and fast-rescue craft – are designed according to new standard DNVGL-ST-0498 for safer and more efficient boat handling. Due to their compact and resilient structure, they offer high performance without compromising vessel stability or manoeuvrability.
"As the newest addition to the PLAR family, the PLAR-4501 is as light, tough and flexible as previous iterations, but offers even greater safety and efficiency in line with the latest performance standards. This makes it highly-effective as a davit system for fast-patrol craft – and the perfect choice for the dynamic and unpredictable operations of coast guards and navies," says Vestdavit Sales and Business Development Director Bjørnar Dahle.
With this most recent delivery, Vestdavit has now supplied Austal with over 60 marine davits.  Between 2004-2006, Vestdavit delivered 28 units of the PLAR-4500 – the PLAR-4501's predecessor – to the Henderson-based shipyard for installation on the Royal Australian Navy's fleet of 14 Armidale-class patrol boats.
The latest announcement follows a run of successes for Vestdavit in the first half of 2020 with shipbuilders fulfilling navy contracts, including orders for Royal Navy, United States Navy and French Navy ships.
Dahle sees Vestdavit's relationship with Austal and some of the world's most prominent naval organisations as testament to the company's ever-growing reputation. "This is another significant deal with a big name in shipbuilding for navies, and it reinforces our status as a supplier of premium-grade davits for high-stakes missions. Clearly, navies and coast guards – like that of Trinidad and Tobago – need reliable, high-performance systems for boat launch and recovery, and they are increasingly opting for the credentials and expertise of Vestdavit."
About Vestdavit:
Vestdavit designs, supplies and supports tailor-made solutions for launching and recovering boats in difficult conditions at sea. Its range of boat-handling systems and davits are the first choice of navies, coastguards, seismic survey operators, pilot authorities and offshore operators who need to be able to operate small boats safely from larger vessels. Since 1975, Bergen-based Vestdavit has supplied over 2000 davits and side and stern launch systems. These have proved themselves over more than four decades of use in the North Sea and other harsh environments around the world. Self-tensioning and shock-absorbing systems ensure crew safety and widen the operational window for the user. Vestdavit's key focus is on operational effectiveness, safety and the reliability of its equipment. www.vestdavit.no
For more information, contact:
Bjørnar Dahle
Sales and Business Development Director
Vestdavit AS
+47 45 21 95 73
Bjornar.Dahle@vestdavit.no
Rolf Andreas Wigand
Managing Director
Vestdavit
+47 99 46 48 62
rolf.andreas.wigand@vestdavit.no
Hugh O'Mahony
Director, PR
JLA Media
+44 208 405 6343
hugh.omahony@j-l-a.com