05 July 2018 – Vestdavit has secured a patent from the United States Patent and Trademark Office for MissionEase which protects the multi-boat handling system's unique mode of operation from plagiarism.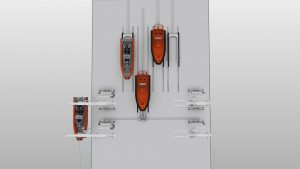 Boat-handling specialist Vestdavit has developed MissionEase as a more efficient and safer transfer method for RHIBS, USVs and other craft within mission bays between their storage and the davit launch areas. Mission bays allow boats and other equipment to be stored, maintained, prepared and launched safely from a protected area within the ship's profile.
MissionEase turns boat-handling within the mission bay 'on its head' by replacing overhead gantries with a system of deck-mounted, hydraulically-operated cradles. Developed for simplicity and cost effectiveness, the solution avoids the hazards of swinging loads when the ship is in motion, and time-consuming slinging and unslinging, while also lowering the vessel's centre of gravity.
However, unlike previous solutions, MissionEase also includes a unique apparatus that allows boats moving forward along longitudinal rails to be delivered to a cradle feeding davits on either side of the bay without any rails intersecting. This patented feature means that more boats can be handled more safely and more efficiently using fewer davits.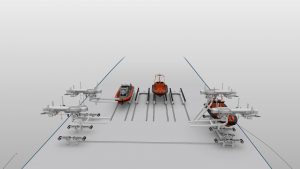 Already patented in Norway and with an application pending to cover all EU territories, the US patent provides decisive protection for the solution, which is as useful for cruise ship owners as it is to navies, coastal authorities, offshore support vessels and SAR craft.
"This patent is a crucial milestone for MissionEase, in a market where mission ship flexibility is vital, and the expedition cruise sector is opening a new chapter in multi-boat handling," says MissionEase inventor and Vestdavit Business Development Director, Atle Kalve. Given that the US has the reputation as perhaps the least tolerant regime in the world on patent infringement, the award sends a strong signal of the originality of MissionEase IP to the wider market, he adds.
"Customers are already acknowledging the way MissionEase can make boat handling safer and more efficient, and we are very proud that the original thinking that has made this possible has been formally recognized by US patent authorities," says Rolf Andreas Wigand, Managing Director, Vestdavit.
MissionEase allows boats to be moved safely and quickly on cradles, even in high seas or during a vessel listing. The system also enables one operator using a remote control to control the entire mission boat handling operation, from the storage position to launch, and from boat recovery to storage.
About Vestdavit:
Vestdavit designs, supplies and supports tailor-made solutions for launching and recovering boats in difficult conditions at sea. Its range of boat handling systems and davits are the first choice of navies, coastguards, seismic survey operators, pilot authorities and offshore operators who need to be able to operate small boats safely from larger vessels. Since 1975 Bergen-based Vestdavit has supplied over 1,900 davits and side and stern launch systems. They have proven themselves for almost 40 years of use in the North Sea and other harsh environments around the world. Self-tensioning and shock absorbing systems ensure crew safety and widen the operational window for the users. Vestdavit's key focus is on operational effectiveness, safety and the reliability of its equipment. www.vestdavit.no
For more information: 
Atle Kalve
Development Director
Vestdavit AS
+47 908 93 939
Atle.Kalve@vestdavit.no