08 May, 2017 – Vestdavit has completed its largest ever single-point A-frame davit for over the side boat handling, rising to the continuing challenge set by customers to be able to launch and retrieve ever larger workboats from their ships.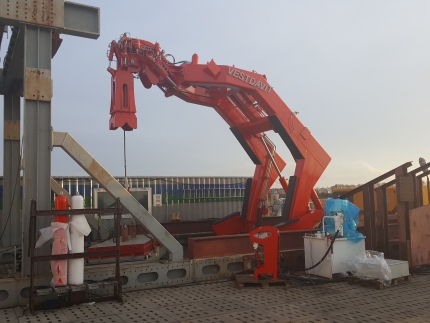 The first PAP-16000 davit, which features a safe working load of 16t, will be installed on board a service operation vessel destined for a specialized segment in the offshore industry for an unspecified owner. The 58.5 m length vessel, due delivery by the end of 2017, will operate off north continental Europe.
The Norwegian boat-handling specialist said it had received approval from DNV-GL for the new PAP-16000, which can handle workboats in conditions of up to sea state 5. It features an anti-pendulation docking head and guiding arms to limit load sway in adverse weather.
"Vestdavit has supplied bigger davits, but the PAP-16000 is our largest single point davit with docking system for lifting over the side of a ship to date," said Atle Kalve, Vestdavit Development Director. "We have delivered dual-point/winch davits of up to 36t SWL and a 30t single point davit for stern operations, making us the market leader in handling very large workboats. However, single point handling of larger and larger workboats over the side without compromising stability presents particular challenges."
The first installation will be onboard a vessel designed for flexibility, needing to lift one crew boat able to carry up to five personnel, but another able to carry a complement of up to 10 persons plus one ton of cargo, Mr. Kalve added.
In its first delivery, the new davit will also be distinguished by its high operating speeds, with the customer requesting lifting speeds of 45 m/min, which Mr. Kalve said demanded a comparatively high oil flow to achieve max hoisting speed at SWL.
In addition to service operation vessels, the PAP-16000 offers a new and innovative option for owners of emergency response and rescue vessels, pilot ships, standby vessels, multi-purpose offshore vessels and other types of construction vessel.
About
Vestdavit:
Vestdavit designs, supplies and supports tailor-made solutions for launching and recovering boats in difficult conditions at sea. Its range of boat handling systems and davits are the first choice of navies, coastguards, seismic survey operators, pilot authorities and offshore operators who need to be able to operate small boats safely from larger vessels. Since 1975 Bergen-based Vestdavit has supplied over 1,900 davits and side and stern launch systems. They have proven themselves for almost 40 years of use in the North Sea and other harsh environments around the world. Self-tensioning and shock absorbing systems ensure crew safety and widen the operational window for the users. Vestdavit's key focus is on operational effectiveness, safety and the reliability of its equipment.
www.vestdavit.no