27 May 2020 – Leading boat launch and recovery systems supplier Vestdavit will deliver the most advanced motion-compensated davits in the world to the US Navy, following orders placed with Vestdavit Inc. by General Dynamics NASSCO to equip two Expeditionary Sea Base (ESB) ships.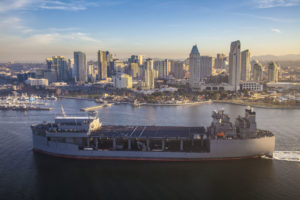 The US shipbuilder's San Diego yard will deliver ESB 6 and ESB 7, the latest in a series of ships renowned for flexibility which act as mobile sea bases to support mine countermeasure, counter-piracy, disaster-relief, crisis-response and other operations. Bergen-based Vestdavit established Vestdavit Inc. in Seattle in 2017 to build on its strong reputation within the region, where it also offers support to the US Coast Guard, the National Oceanic and Atmospheric Administration (NOAA) and to offshore customers.
For the latest US Navy contract, Vestdavit will supply one 2TDB-7000-type davit for each of the new ESB vessels. With a safe working load of 14,000 kilograms, the high-performance davit can handle boats of varying size and weight, including seven- and 11-metre rigid-hulled inflatable boats and the Combatant Craft Assault. The first davit system is due for delivery to ESB 6 in early 2021.
"ESB ships are built to support the US Navy on critical and potentially hazardous missions, so they need highly flexible and responsive marine davits, says Vestdavit Managing Director Rolf Andreas Wigand. "The 2TDB-7000 type will allow safe operation in much higher sea states than has been possible for the davits used on any previous ESB vessels."
Wigand explains that the hydraulically operated overhead telescopic davits can function in both single- and dual-point configuration, with the latter mode enabling synchronised movement of the two davit arms. They also include dual independent self-levelling winches that offer hoisting/lowering speeds of up to 40m/min, an anti-pendulation system and an automatic wire hauler and shock absorbers on each arm – among other features.
Proud of his company's longstanding relationship with the world's largest navy, Wigand sees the new agreement as the latest endorsement of Vestdavit's products and services: "We have worked with the US Navy for over 20 years now," he says. "Over that time, we have proved our worth by providing tailormade davits of the highest quality. Supplying ESB ships is a great honour and outstanding recognition of our boat-handling expertise."
About Vestdavit:
Vestdavit designs, supplies and supports tailor-made solutions for launching and recovering boats in difficult conditions at sea. Its range of boat-handling systems and davits are the first choice of navies, coastguards, seismic survey operators, pilot authorities and offshore operators who need to be able to operate small boats safely from larger vessels. Since 1975, Bergen-based Vestdavit has supplied over 2000 davits and side and stern launch systems. These have proved themselves over more than four decades of use in the North Sea and other harsh environments around the world. Self-tensioning and shock-absorbing systems ensure crew safety and widen the operational window for the user. Vestdavit's key focus is on operational effectiveness, safety and the reliability of its equipment. www.vestdavit.no
For more information, contact:
Magnus Oding
General Manager
Vestdavit Inc.
+1 425 501 5936
magnus.oding@vestdavit.no
Rolf Andreas Wigand
Managing Director
Vestdavit
+47 99 46 48 62
rolf.andreas.wigand@vestdavit.no
Hugh O'Mahony
Director, PR
JLA Media
+44 208 405 6343
hugh.omahony@j-l-a.com