Thanks to the new joint venture between VIKING and Daemyung Marine, Korean shipowners and foreign-flag visitors will have faster access to locally stocked products and service agreements direct from the manufacturer.
7 January 2016 (Esbjerg, Denmark) – Marine safety equipment manufacturer and servicing provider VIKING Life-Saving Equipment A/S is to establish a local presence in Korea through a joint venture agreement with leading Korean marine safety equipment and servicing company Daemyung Marine Co. Ltd.
The new joint venture, VIKING Life-Saving Equipment Korea LLC, has VIKING as the majority shareholder.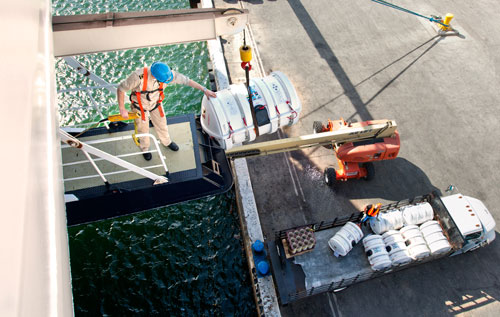 The venture aims to bring faster access for Korean-based and foreign-flag ship managers in the cargo, passenger and offshore segments to the full range of VIKING products and service concepts. It is also the logical next step for a highly successful partnership that has extended over more than 30 years.
"Moving as a joint venture into a larger, brand-new and purpose-built facility, and integrating staff competencies from both companies represents a natural evolution for us together with Daemyung," says Henrik Uhd Christensen, VIKING's CEO. "With this new entity, we're able to extend our product portfolio while speeding up the supply of safety equipment to shipowners in Korean ports."
Shipowner
Agreements
Establishing a local presence also strengthens VIKING's ability to deliver on the full potential of its industry-leading Shipowner Agreement (SOA) contracts in the region. Popular with shipowners around the world, a SOA combines global product availability and servicing with financing in fixed price structures – and with service schedules managed from a single point of contact at VIKING. Under the joint venture agreement, for example, the Korean facility will stock ready-packaged liferafts to provide fixed-price liferaft exchange to vessels calling Korean ports.
The new investment in safety servicing infrastructure is placed in the Port of Busan, the largest port in South Korea and a key hub in the Asian region. Centrally located, and famed for its high service level and pier-to-pier ease of access, Busan comprises four fully equipped modern cargo ports as well as an international passenger terminal and six container terminals. Busan handles some 40% of the country's total marine cargo, 80% of its container cargo, and 42% of Korea's fisheries production.
Strategically located
among shipyards
"Investing in local stock points makes the most of the operating efficiencies Busan can offer ship managers and shipyards," says Mr J.W. Lee. A successful Korean businessman, he built Daemyung Marine around VIKING's range of safety products, gaining considerable market share in newbuilding. In 2014, his achievement was recognized with the awarding of a Medal of Honor by HRH Prince Henrik of Denmark.
"This new joint-venture agreement is a powerful statement of satisfaction with the partnership between the two companies," he continues. "It's a big step forward in our joint commitment to bringing the very best safety solutions to ship managers in Korea – and around the world.""
Expanding
Asian footprint
"Coming on the heels of our Australian acquisition a few months ago, we are delighted to announce this investment in Korea as the latest in a string of initiatives that strengthen our capabilities to support both the local agenda and global ship owners," says Bjarne Kolbo Nielsen, VIKING's Vice President, Asia.
About
VIKING
VIKING Life-Saving Equipment A/S is a global market leader in maritime and offshore safety, providing and servicing safety and fire-fighting equipment for passenger and cargo ships, offshore installations, fishing vessels, the navy, fire departments and leisure yachts.
VIKING is a privately held corporation founded in 1960 with group headquarters in Esbjerg, Denmark. Products are manufactured in Denmark, Norway, Bulgaria and Thailand. VIKING offers a broad range of off-the-shelf and tailored safety solutions and systems certified in accordance with the latest requirements of the IMO, SOLAS, EU
and USCG.
The product portfolio includes chute and slide-based marine and offshore evacuation and crew transfer systems, liferafts, lifejackets, immersion suits, fire suits, work suits, offshore transportation suits, MOB boats, davits, hook retrofit, pilot ladders, signs, and other lifesaving appliances. The VIKING Agreements offer uniquely customizable concepts that incorporate safety products, global servicing, single-source management, and financing in a variety of fixed price structures.
With 2,000 employees worldwide, the unique VIKING network of branch offices, agents,
270 certified servicing stations and worldwide stock points makes VIKING a truly global provider at convenient locations in all significant markets.
For
press inquiries:
Lone Aaboe, Marketing Communications Manager, tel: +45 7611 8217,
email: LAJ@VIKING-life.com