31 May 2023 – New VIKING YouSafe™ Twist constant wear immersion suit hits pricing-quality sweet spot to encourage cargo ship owners to choose safety gear for crew that is proven beyond complianceVIKING Life-Saving Equipment has launched the VIKING YouSafe™ Twist, a compliance-led constant wear immersion suit whose advanced capabilities extend the reach of high-performance protection to the most cost conscious of maritime industry buyers.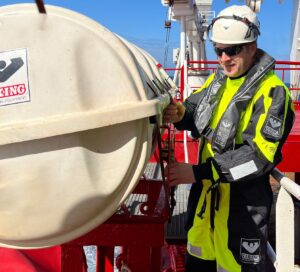 Alongside other suits in the portfolio that have established VIKING's as the broadest range of high-spec crew work application immersion suits in the market, the 'Twist' joins the VIKING YouSafe™ Cyclone, Hurricane, Hurricane+ and Boras in a range of progressively higher spec, storm-themed suits. All of them are made from waterproof, highly durable and breathable materials and designed for constant wear across multiple tasks in difficult conditions.
Work suits provide critical protection for seafarers at risk of cold shock and hypothermia if they go into the water, with their use mandatory for specific crew duties under IMO rules. However, lack of comfort, breathability or fit can become a donning deterrent, especially when duties require switching between operations or only involve short-lived exposure to risk. Dual approved for SOLAS/MED and CE/ISO, the VIKING YouSafe™ Twist provides insulation up to one hour immersion in 5 ⁰C water plus the comfort of conventional marine work gear and the pricing to satisfy even the most cost-conscious PPE buyer. Providing an option for offshore, SAR and other patrol boat customers, the combination also puts the high-quality materials and PPE performance usually seen only on luxury cruise ships within reach of cargo ship owners.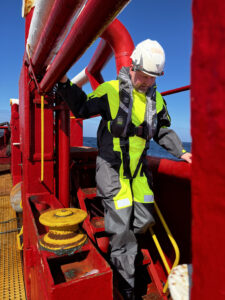 The VIKING YouSafe™ Twist distils the resilience, flexibility and comfort that users expect from VIKING, in a straightforward design and pricing point to convince even cost-focused owners," says Charlotte Nielsen, PPE, VIKING. "Wearability is key in persuading crew to take positive action rather than shortcuts when risks are intermittent or short-lived.
Typical scenarios where comfort will persuade crew to reach for the additional safety of a Twist include maintenance work on deck (handling mooring lines or pilot ladders), or davit operations. Multiple sizes are available, all integrating the Kevlar reinforcements that are synonymous with VIKING-quality suits.
"High quality crews want to work for high quality owners who prioritize safety, and VIKING has been able to boil down its high-performance constant wear to the essentials to match budgets in the cargo vessel market," commented Global Cargo Sales Manager Lasse Boesen "Supported by our global service network, we continue to make adhering to best practice on safety the best option for our clients."
About VIKING