22 August 2018 – VIKING is now the worldwide distributor for Rosenby Engineering's revolutionary HydroPen™ System, which enables crew to safely and efficiently tackle costly container fires at heights.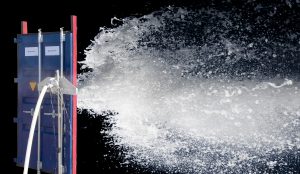 Maritime safety equipment manufacturer and global servicing provider VIKING Life-Saving Equipment has signed with Rosenby Engineering to exclusively distribute the award-winning Danish startup's HydroPen™ fire extinguishing system for container vessels.
VIKING's Product Management and New Building Director, Jørgen Holm, sees the HydroPen™ System as a leap forward for protecting container vessels, their cargo and crew from one of modern shipping's most hazardous situations.
"Traditionally, container fires at heights above the reach of the crew have been fought indirectly by dousing the burning container and its surroundings with water," he explains, "It's a drawn-out approach and does not address the fire in the container directly. The HydroPen™ System is a new innovative and ground-breaking technology that enables crew to effectively and efficiently fight container fires at significant heights in the stack."
With many dangerous, sometimes insufficiently declared goods in transit on today's container vessels, a container fire can put crew, cargo and a shipowner's business at serious risk. Such fires are extremely difficult to target with current methods, and the task becomes even more difficult when the burning container is high up in the vessel's container stack.
Jørgen Holm is confident that the new agreement with HydroPen™ inventor Rosenby Engineering will bring added peace of mind to VIKING's customers around the world. "Our exclusive distributorship of the product will ensure the HydroPen™ System benefits can reach shipowners around the globe, providing increased protection for both people and business," he says.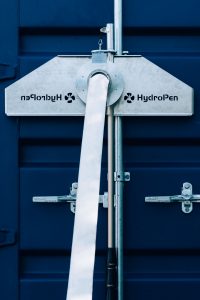 Powered solely by water pressure from the fire main, the HydroPen™ System is an intelligently designed, water-based drilling machine that is able to drill through a standard steel container door, then switch mode to spray water profusely inside the container. All crew need to do is to hoist the HydroPen™ drilling/spraying unit up using its telescopic lift to the doors of the burning container. The drilling and extinguishing process is then carried out automatically and with minimal risk to the crew.
Rosenby Engineering's Chief Technical Officer, Jesper Rosenfeldt Hansen, joins the company's co-founder, Martin Winkel, in acknowledging the significant role VIKING will play in taking the HydroPen™ System to the global market: "Our focus is firmly on creating the best possible solutions to the problems faced by shipowners. And the agreement with VIKING ensures the HydroPen™ System can deliver its significant advantages to advance safety aboard container vessels of all types."
About VIKING
VIKING Life-Saving Equipment is a global market leader in maritime and offshore safety, providing and servicing safety and fire-fighting equipment for passenger and cargo ships, offshore installations, fishing vessels, the navy, fire departments and leisure yachts.
VIKING is a privately held corporation founded in 1960 with group headquarters in Denmark. Products are manufactured in Denmark, Norway, Bulgaria and Thailand. VIKING offers a broad range of high-quality safety products and systems as well as tailored safety solutions certified in accordance with the latest IMO, SOLAS, EU and USCG requirements. The VIKING product range includes chute and slide-based marine and offshore evacuation systems, liferafts, lifejackets, immersion suits, fire suits, work suits, aviation safety gear, life- and rescue boats, hooks, davits, firefighting equipment, pyrotechnics and other lifesaving appliances. VIKING Shipowner and Offshore Safety Agreements are uniquely customizable concepts incorporating safety products, global servicing, exchange, single-source management, and financing in a variety of fixed price structures.
With 2,000 dedicated employees and a network comprising 72 branches, 262 certified servicing stations, multiple agents and stock points worldwide, VIKING is a truly global provider of safety solutions in all significant markets and locations.
About Rosenby Engineering
Established by experienced industry professionals in 2016, Rosenby Engineering develops high-quality solutions for complex problems in the marine industry. Their HydroPen™ System is their latest product developed with an aim to improve container fire safety and reduce risk to crew, vessel and environment. The company recently won the Danish Tech Challenge competition for hardware start-ups, receiving a substantial monetary prize awarded by HRH Crown Prince Frederik of Denmark to help them continue the development of innovative products in the maritime industry.
For further information please contact:
Thomas Hestehave, Global Marketing Communications
+45 2542 8454
THH@VIKING-life.com