16 March, 2016 – Marine safety equipment leader VIKING Life-Saving Equipment will appear in force a Seatrade Cruise Global 2016, displaying both innovative products and services that are proving popular with shipowners around the world.
The LifeCraft™ – a revolutionary hybrid
VIKING's new super-sized, flexible evacuation system is a revolutionary hybrid that brings together the best of lifeboats and liferafts in one. The VIKING LifeCraft™ system combines all of the advantages of modern lifeboats – such as self-propelled maneuverability – with the flexibility, comfort and smaller footprint of today's liferafts.
"This is a product that completely changes the lifeboat vs. liferaft discussion – at least when it comes to high-capacity evacuation systems," says VIKING director Niels Fraende: "The VIKING LifeCraft™ system enables rapid, mass evacuation with maximum safety for passengers and crew."
The LifeCraft™ system consists of two main elements: The LifeCraft™ survival craft – a self- propelled inflatable vessel with four engines for a high degree of maneuverability and safety; and a stowage and launching unit, either placed on deck or built in, containing up to four LifeCraft™ crafts with a capacity of 200 persons each – for a total capacity of 800 persons. There is a gangway for stretchers, if needed. A miniature model of the LifeCraft™ as well as a 3D video of the system will be showcased at Seatrade Cruise Global 2016.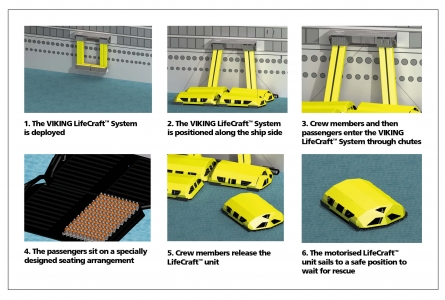 VIKING LifeCraft™ welcomed at IMO Last year, VIKING took an important step on the road to gaining approval for the VIKING LifeCraft™. The concept was presented to the International Maritime Organization's Sub-Committee on Ships Systems and Equipment in London, with the full support of the Danish Maritime Authority.
With full prototype testing of the LifeCraft™ nearly complete, the audience heard that the system has been performing in line with expectations. Mr Fraende said the approvals process for the alternative LSA had been 'a challenge', but added that progress had been made by taking a practical approach to IMO guidelines (MSC 1/Circ. 1455, MSC. 1/ Circ. 1212 and SOLAS III/38). VIKING Life-Saving Equipment aims to secure the first approvals from flag states this year.
At the company's booth (1727) will be a number of maritime specialists with extensive experience, including Niels Fraende and Flemming Nielsen from VIKING's passenger division, both 20-year veterans of the maritime industry. Together with their colleagues, they will be sharing lessons learned and best practices with the maritime industry.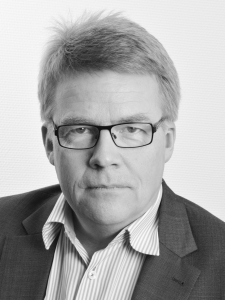 VIKING director Niels Fraende
Raising the
bar for safety
Every second is critical when a situation requires abandoning ship and safely evacuating the maximum number of persons in the shortest amount of time is the priority. High capacity life-saving equipment must be easy to handle and require limited involvement by crew. VIKING's evacuation systems provide fast and easy evacuation, exceptional stability and are trusted by crew worldwide.
The world
leader in capacity
When it comes to safety in numbers, VIKING's impressive track record can prove difficult for its competitors to beat. For example, the company's product offering boasts the industry's widest range of passenger evacuation systems – having introduced the first such system over 30 years ago.
VIKING is proud to introduce a brand new chute system at Seatrade Cruise Global. In 30 minutes, it is capable of evacuating the largest number of people to date. The system is simple to operate and fully operational within 2 minutes. Numbers like these make VIKING the current global leader in evacuation chute capacity.
Additionally, VIKING has some 270 certified service stations around the world, making it the most comprehensive and experienced network of any comparable supplier.
High performing
suits and lifejackets
Raising the standards for personal safety, the company's PS4190 combined work- and immersion suit and full range of solid lifejackets, have been tested and approved according to the most stringent performance standards. All will be showcased at Cruise Shipping Miami, so feel free to stop by and get a live demo.

VIKING's high performing combined work and immersion suit PS4190
Onboard crew training and
competency management
VIKING Saatsea, which develops 24/7 onboard training and management systems for STCW certification, is demonstrating the newly released STCW "refresher" packages at VIKING's stand. The system is designed to help shipowners and operators comply with the tougher demands of 2010 STCW Manilla amendments, which will come into full force on January 1, 2017.
Experts will be on hand to explain how onboard training and competency management can reduce training and administration costs. In addition, shipowners can use the Course Creator function to design and streamline their own training and documentation.
Visit VIKING at Seatrade Cruise Global, Booth # 1727
About
VIKING
VIKING Life-Saving Equipment A/S is a global market leader in maritime and offshore safety, providing and servicing safety and fire-fighting equipment for passenger and cargo ships, offshore installations, fishing vessels, the navy, fire departments and leisure yachts.
VIKING is a privately held corporation founded in 1960 with group headquarters in Esbjerg, Denmark. Products are manufactured in Denmark, Norway, Bulgaria and Thailand.
VIKING offers a broad range of off-the-shelf and tailored safety solutions and systems certified in accordance with the latest requirements of the IMO, SOLAS, EU and USCG.
The product portfolio includes chute and slide-based marine and offshore evacuation and crew transfer systems, liferafts, lifejackets, immersion suits, fire suits, work suits, pilot suits, helicopter transportation suits, MOB boats, davits, pilot ladders, signs, and other lifesaving appliances. The VIKING Agreements offer uniquely customizable concepts that incorporate safety products, global servicing, single-source management, and financing in a variety of fixed price structures.
With 2,000 employees worldwide, the unique VIKING network of branch offices, agents, 270 certified servicing stations and worldwide stock points makes VIKING a truly global provider at convenient locations in all significant markets.