21 June 2023 – Special project on electric vehicle fires leads VIKING Life-Saving Equipment to sign distribution agreements for fire extinguishing innovations in marine fire safety
As part of its ever-intensifying focus on marine fire safety, VIKING has reached agreements to distribute Bridgehill's fire blankets and the Rosenbauer Battery Extinguisher System (BEST) to maritime customers worldwide. The agreements are key outcomes of a project focusing on fire safety needs arising from the growing electric vehicle numbers moving by ship – and more initiatives are to be added in the future.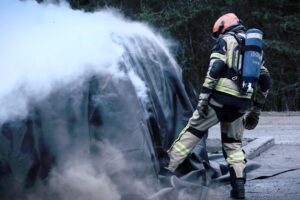 All cars carried by ship are classified as Dangerous Goods (DG). However, electric vehicle (EV) fires raise specific safety concerns because battery fires are notoriously hard to extinguish, but also because cars are stowed close together and the crew are not professional firefighters. First responders are exposed to shock risks as well as fire, while lithium-ion battery fires spread low and outwards, and damaged cells can trigger thermal runaways.European Maritime Safety Agency 'Guidance on the Carriage of Alternative-Fuel Vehicles in Ro-Ro Spaces', recommends risk assessments for every vessel moving EVs and carriage of procedures for prevention and mitigation of EV fires. Recommended procedures included the use of "portable equipment (local water cooling etc)" and "a strategy to contain the fire".
"It often takes a long time for a lithium battery to burn out which means it is imperative that it is contained onboard as quickly as possible," comments Louise Søgaard, Product Manager at VIKING Life-Saving Equipment. "On a car ferry, it's crucial to isolate the fire and smoke quickly first, to prevent the fire from spreading in order to keep passengers and crew out of harm's way."
This risk scenario is the basis for the agreement with Bridgehill, whose Bridgehill fire blanket offers specific performance characteristics to deal with EV fires. The company has already delivered several units to a major car carrier owner and to ferries worldwide, where its 6×8 m, 26 kg blankets can be deployed by two personnel and reused multiple times.
Bridgehill founder, Frank Brubakken, says VIKING fully verified the performance of Bridgehill fire blankets while noting that no formal maritime standards exist covering fire blankets. "Tested according to EN standards, the product is nonetheless more than fit for marine safety purposes. Given its melting temperature is around 2,500oC; Bridgehill fire blankets can contain an EV fire comfortably until other steps are taken or the vehicle is removed. As a minimum, each car deck should have its own fire blanket."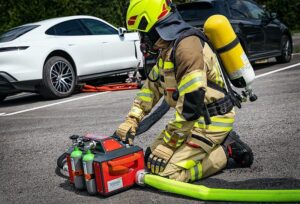 The Rosenbauer BEST system, meanwhile, has been purpose-developed to extinguish high-voltage lithium-ion batteries in EVs, with the firefighter using a piercing stinger attached to a hose to penetrate the battery housing and flood the cells, rather than the deck. Direct cooling stops the chemical reaction in the cells and consequent thermal runaway. 
"The BEST system has been tested with all known battery types used by European and American manufacturers of passenger cars, trucks, and vans, in capacities of up to 120 kWh," says Louise Søgaard. "European emergency response services have also tested the system extensively and provided valuable feedback on its practical applications." René Kofod, Center Manager at the Slagelse Rescue and Safety Center, Denmark, has spent two years overseeing trials within the ELBAS project (Electric Vehicle Fires at Sea: New Technologies and Methods for Suppression, Containment, and Extinguishing of Battery Car Fires Onboard Ships). He says the Danish Institute of Fire and Security Technology project has confirmed that firefighting tools which deliver water to the battery cell through intermediary spikes or spears are safe, fast and highly effective. "This type of approach is a new development that you won't find in the STCW Code," says René Kofod. "An induction process is certainly necessary to learn about hose connections, pressure set-ups and so on. But the technology is very efficient. The cooling process starts immediately after penetration: sensors in the battery pack show temperatures dropping from 600 degrees to 60 degrees within about 15 minutes, with flow of about 25 liters of water per minute. Other solutions can use 10 or 20 times that amount, which can cause problems on a ship." With the increasing demand for electric vehicles, VIKING maintains its position as a leader in fire safety solutions, offering state-of-the-art technology and expert guidance. Leveraging extensive knowledge of EV fire risks and agility in adapting to evolving market dynamics, VIKING is ready to assist industry operators worldwide in their commitment to safety in the era of electric mobility.
About VIKING
VIKING Life-Saving Equipment A/S is a global leader in maritime, offshore and fire safety solutions.   We manufacture, market and service safety and firefighting equipment for passenger and cargo ships, offshore installations, offshore wind turbines, fishing vessels, navies, helicopter services, fire departments and leisure yachts around the world.   VIKING's products protect passengers and crew on many of the world's largest cruise liners and cargo ships, and we help to ensure safe conditions for workers on some of the world's most advanced offshore platforms.   We also enable shipowners and owners/operators of offshore installations to focus ontheir business by managing their service tasks and ensuring the regulatory compliance of all their products and solutions.   VIKING is a privately held corporation, founded in 1960. In recent years, VIKING acquired the Norwegian company Norsafe, whose lifeboats have been used around the world since 1904, and Drew Marine's FSR division, one of the world's three largest providers of Marine Fire Service. Headquartered in Esbjerg, Denmark, VIKING products are manufactured in Denmark, Norway, Bulgaria, Greece, China and Thailand.