09 April 2018 – Sea Japan 2018: The combined capability of supplying extended service interval liferafts and the recent Japanese government approval for its liferaft range has upped the competitiveness of VIKING safety solutions for Japanese shipowners.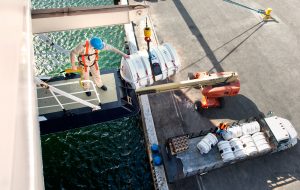 Leading maritime safety equipment and servicing provider VIKING Life-Saving Equipment is kicking off its presence at Sea Japan 2018 (11-13 April) with a boosted liferaft offering. On one hand is the company's ability to supply VIKING S30 extended service interval SOLAS liferafts; on the other is a recent Japanese Government approval for VIKING to supply liferafts to Japanese flagged vessels and carry out final liferaft assembly in Japan. This is the first such approval awarded to a non-Japanese manufacturer, and the first of a series of similar approvals for other VIKING safety products which is expected to follow.
"VIKING has taken important steps to demonstrate commitment to the Japanese market, and with the first of the Japanese government approvals in place for our liferafts, we're able to provide solutions that more closely match the relationships shipowners already have with local suppliers," says Bjarne Kolbo Nielsen, Vice President of the Asian region.
World leading shipping nation
With around 8,000 vessels under its flag, Japan could overtake Greece as the world's leading shipping nation. And, with Japanese shipowners' attention to safety ranking among the highest in the world, the potential for high-quality life-saving equipment with the latest features is correspondingly large.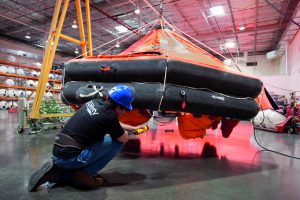 Whilst VIKING's products are certainly competitive in terms of price, quality and range, the Japanese market poses a special set of challenges for new entrants. Bjarne Kolbo Nielsen explains: "The Japanese business community is characterized by an extremely high level of internal loyalty, so it often takes years to earn sufficient trust to become part of their supply chain. This business culture also prevails in other countries, but not to the extent which we see embedded and practiced in Japan. Conversely, it does provide significant benefits in the long term and with regards to ongoing commitment, and that fits VIKING's own core culture very well." 
Strong alliance
Five years ago, VIKING entered a strategic alliance with MOL's subsidiary MOL Techno-Trade, which has since represented the global safety leader in the local Japanese market. Joining forces, the two companies have worked to create growth in three primary areas: deliveries to the newbuilding market; sales to shipowners; and liferaft services.
So far, VIKING has chosen not to have employees stationed in Japan. Sales are conducted via a dedicated VIKING project team established by MOL Techno-Trade. However, Bjarne Kolbo Nielsen says: "We are evaluating the options for taking the next steps with MOL towards further demonstrating VIKING's commitment to the Japanese market. Servicing of liferafts is carried out by Marine International Co. Ltd., which has long been the authorized service station provider in Kobe and Yokohama, and by the members of the JSMQA network which have achieved certification to provide servicing throughout Japan."
Unique advantages
The VIKING Shipowner Agreement concept has a particularly strong business case for Japanese shipowners with its global, all-in-one servicing packages. Besides vastly simplifying the shipowners' administration, VIKING's agreements mitigate the risk of operational downtime. With a variety of fixed-price payment plans, the agreements ensure that shipowners know exactly what they can expect and how much it will cost.
The other key advantage is VIKING's S30 liferafts with extended service intervals, which presents a compelling alternative to standard liferafts for commercial vessels, ferries or offshore supply ships. VIKING S30 liferafts extend the servicing intervals for each raft from annually to up to 30 months – without compromising safety readiness or compliance.
Meet VIKING and MOL Techno-Trade at Sea Japan, Tokyo, 11-13 April 2018 at Stand DEN-03
About VIKING
VIKING Life-Saving Equipment is a global market leader in maritime and offshore safety, providing and servicing safety and fire-fighting equipment for passenger and cargo ships, offshore installations, fishing vessels, the navy, fire departments and leisure yachts.
VIKING is a privately held corporation founded in 1960 with group headquarters in Denmark. Products are manufactured in Denmark, Norway, Bulgaria and Thailand. VIKING offers a broad range of high-quality safety products and systems as well as tailored safety solutions certified in accordance with the latest IMO, SOLAS, EU and USCG requirements. The VIKING product range includes chute and slide-based marine and offshore evacuation systems, liferafts, lifejackets, immersion suits, fire suits, work suits, aviation safety gear, life- and rescue boats, hooks, davits, firefighting equipment, pyrotechnics and other lifesaving appliances. VIKING Shipowner and Offshore Safety Agreements are uniquely customizable concepts incorporating safety products, global servicing, exchange, single-source management, and financing in a variety of fixed price structures.
With 2,000 dedicated employees and a network comprising 72 branches, 260 certified servicing stations, multiple agents and stock points worldwide, VIKING is a truly global provider of safety solutions in all significant markets and locations.
For further information please contact:
Bjarne Kolbo Nielsen, Vice President – Region Asia
Tel. +862162899922
BKN@VIKING-life.com
 
Thomas Hestehave, Global Marketing Communications
Tel. +45 2542 8454
THH@VIKING-life.com