10 March, 2017 – VIKING has chosen Seatrade Cruise Global in Fort Lauderdale to showcase a host of innovative safety solutions and servicing concepts, proving once again that the company is closely aligned with cruise line operator needs and priorities.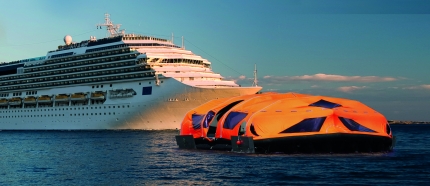 VIKING LifeCraft™
Gamechanger
round the corner
Marine and offshore safety equipment leader VIKING Life-Saving Equipment (VIKING) has a strong trio of new products in store for shipowners and operators attending Seatrade Cruise Global. The flagship among these is the revolutionary VIKING LifeCraft™ hybrid evacuation and survival craft system. Currently undergoing a comprehensive full-scale test program, the official launch of this highly anticipated gamechanger is just around the corner.
During the exhibition, VIKING specialists will be available at Stand 835, to explain how the LifeCraft™ combines all the advantages of modern lifeboats, such as self-propelled maneuverability, with the flexibility, comfort and smaller footprint of liferafts. In addition, they will offer a glimpse of the LifeCraft™ storage and launch unit that's expected to set completely new standards for innovation, functionality and aesthetics in deckside or hull-integrated evacuation systems.
New efficiencies
in evacuation
VIKING will also unveil its new VEC Plus™ evacuation solution, representing a complete design upgrade of existing high-capacity marine evacuation systems (MES) to boost long-term durability and vastly simplify maintenance. Niels Fraende, Director of VIKING's Passenger Division explains how this has been achieved:
"With more than 1,300 MES systems in operation, we've gained unparalleled experience when it comes to their operational and servicing lifecycle. Recently, we re-examined every aspect of today's evacuation solutions, cutting down the number of components and introducing new access and servicing methods," he says. "For example, now you can simply swap part-elements, rather than uninstall the entire system for servicing; and this saves on logistics, time and costs."
Raising the bar
for lifejacket performance
In addition to developments in marine evacuation systems, the brand new VIKING PV9522 SOLAS Lifejacket caters specifically to the needs of the cruise and ferry industry. Available for adults, children and infants, the lifejacket is designed to maximize safety and performance. It features a uniquely minimalist, crescent-shaped design ensuring a perfect ergonomic fit, swift repacking and compact stowage when not in use. Other key features include truly intuitive donning and excellent freedom of movement to allow for easy boarding, turning and swimming in an emergency.
"The PV9522 comes with a host of ingenious features. For example, the traditional crotch strap is redundant by design, significantly reducing the time and crew resources needed for repacking lifejackets after muster drills. Also, with single buckle operation and just one extended instant-adjustment strap, the lifejacket is extremely easy to put on and will fit passengers of any size," says Soren Hansen, VIKING's Global Product Manager for Personal Protective Equipment. The new lifejacket is compatibility tested with standard liferafts and lifeboats and is a perfect match for evacuation systems such as the VIKING LifeCraft™ and VEC PlusTM.
Safety
servicing winner
From a marine safety perspective, no show would be complete without VIKING's Shipowner Agreements. Constantly gaining momentum across all maritime and offshore industries, this uniquely customizable concept incorporates safety equipment, global servicing, single-source management, and financing in a variety of fixed price structures. VIKING representatives will be available to explain exactly why and how many cruise line owners and operators have chosen to outsource their safety equipment management and servicing in this way – and why nine out of 10 choose to renew their contracts at the end of the term.
Hooked on
safety
With a notorious track record of accidents, lifeboat hook safety is claiming shipowners' undivided attention. Acquired from Maersk in 2015, VIKING Nadiro provides everything from installation and testing to documentation and servicing of the unique Drop-In-BallTM hook system. With an outstanding safety record and several systems already operational on commercial ships and ferries all over the world, VIKING is now launching a new hook concept for the cruise market, setting all-new safety standards compared to conventional hook designs.
About
VIKING
VIKING Life-Saving Equipment is a global market leader in maritime and offshore safety, providing and servicing safety and fire-fighting equipment for passenger and cargo ships, offshore installations, fishing vessels, the navy, fire departments and leisure yachts.
VIKING is a privately held corporation founded in 1960 with group headquarters in Esbjerg, Denmark. Products are manufactured in Denmark, Norway, Bulgaria and Thailand. VIKING offers a broad range of off-the-shelf and tailored safety solutions and systems certified in accordance with the latest requirements of the IMO, SOLAS, EU and USCG. The product portfolio includes chute and slide-based marine and offshore evacuation and crew transfer systems, liferafts, lifejackets, immersion suits, fire suits, work suits, pilot suits, helicopter transportation suits, MOB boats, davits, pilot ladders, signs, and other lifesaving appliances. VIKING Shipowner and Offshore safety Agreements offer uniquely customizable concepts that incorporate safety products, global servicing, single-source management, and financing in a variety of fixed price structures.
With 2,000 employees worldwide, the unique VIKING network of branch offices, agents, 260 certified servicing stations and worldwide stock points makes VIKING a truly global provider at convenient locations in all significant markets.
For
further information:
For
press inquiries:
Thomas Hestehave, Global Marketing Communications Executive, phone: + 45 7611 8454,
Email:THH@VIKING-life.com