6 December, 2017– Omur Izgili will take over as VIKING's new Country Director for Turkey, Greece, Bulgaria, Romania and Lebanon on January 1, 2018.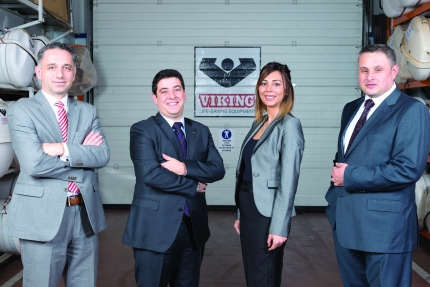 VIKING Turkey management team: From left: Mehmet Erdogan (Sales Manager), Omur Izgili (Country Director), Ozlem Gokce (Finance Manager), Olcay Cifteler (Service Manager)
He is succeeding Yasin Kasa, who has been appointed Senior Commercial Director for VIKING Asia based out of Singapore. Mr. Kasa will remain an active member of the VIKING Turkey Board of Directors.
Izgili, a Turkish national, joined VIKING's Istanbul office in 2014 as Finance Manager.
"I've worked in close partnership with Yasin Kasa for several years, and have the greatest respect for him as a person and for what he has accomplished professionally. Together with my colleagues in Istanbul and across the region, I look forward to deepening our engagement with our customers, so we can support their competitiveness with fixed prices, flexibility and fast delivery no matter where they operate."
At the same time Yasin Kasa is pleased that VIKING Turkey can continue its activities with a new strong management team in place:
"It is now 9 years since we set up VIKING Turkey. We have grown our in-house team to 26 and a strong new management team is in place to meet our customers' needs. Leaving VIKING Turkey to pursue new responsibilities within the VIKING organization is a bittersweet time for me, but I hand over the reins to Omur Izgili with the greatest confidence."
The new management team consists of Country Director, Omur Izgili (former Finance Manager), Sales Manager, Cpt. Mehmet Erdogan, Service Manager, Cpt. Olcay Cifteler, Finance Manager, Ozlem Gokce. Yasin Kasa will remain on the VIKING Turkey Board of Directors.
About
VIKING
VIKING Life-Saving Equipment A/S is a global market leader in maritime and offshore safety, providing and servicing safety and fire-fighting equipment for passenger and cargo ships, offshore installations, fishing vessels, the navy, fire departments and leisure yachts.
VIKING is a privately held corporation founded in 1960 with group headquarters in Esbjerg, Denmark. Products are manufactured in Denmark, Norway, Bulgaria and Thailand. VIKING offers a broad range of off-the-shelf and tailored safety solutions and systems certified in accordance with the latest requirements of the IMO, SOLAS, EU and USCG.
The product portfolio includes chute and slide-based marine and offshore evacuation and crew transfer systems, liferafts, lifejackets, immersion suits, fire suits, work suits, pilot suits, helicopter transportation suits, MOB boats, davits, pilot ladders, signs, and other lifesaving appliances. The VIKING Agreements offer uniquely customizable concepts that incorporate safety products, global servicing, single-source management, and financing in a variety of fixed price structures.
With 2,000 employees worldwide, the unique VIKING network of branch offices, agents, 270 certified servicing stations and worldwide stock points makes VIKING a truly global provider at convenient locations in all significant markets.