15 March 2019 – After two years of slightly declining revenue, VIKING Life-Saving Equipment A/S is seeing growth once more. In 2018, VIKING acquired the Norwegian manufacturer of lifeboats Norsafe AS. Adjusting for the costs of integrating this business and the impact on revenue in the last quarter of the year, the results show growth in both revenue and earnings.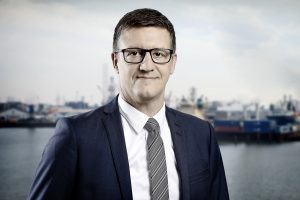 "We were able to deliver growth in activities and earnings in the original VIKING business, and we expect that the picture will remain the same for both areas of business in 2019," says CEO Henrik Uhd Christensen.
Norsafe's lifeboat sales are included in the figures for the last three months of the year and have helped VIKING surpass DKK 2 billion in revenue for the first time in the company's history. Profit before tax amounted to DKK 155.4 million on revenue of DKK 2,015.6 million, which given the one-off costs of acquisition and integration of Norsafe is considered satisfactory.
Norsafe is a perfect match
In recent years, VIKING has carried out a number of smaller acquisitions to build a more complete range of safety solutions. With Norsafe, which develops and manufactures high-quality lifeboats and cranes for the global market, the company is taking yet another major step in this direction.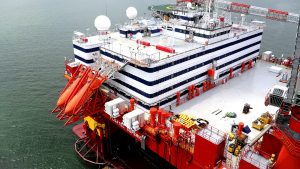 "We have long been in the market for potential acquisitions that complement our business model and meet our customers' needs, both in terms of a broad product range and high quality. I am completely certain that we've found just that in Norsafe. The product is a good fit, and our approach to quality, design, core function and global presence are all very similar. Integrating the two businesses is proceeding very well, and the logic we saw in the joining of forces is being confirmed by the response we've seen in the market," says Henrik Uhd Christensen.
Strong products and services
The market for maritime safety equipment remains highly competitive. For several years, VIKING has successfully navigated competitive challenges by bundling the sale of new products with multi-year service concepts, such as VIKING Shipowner Agreement (SOA), which continues to show double-digit growth, excellent customer satisfaction and very high renewal rates.
"The maritime market will continue to be cost-focused in the future. We are in the favorable position of having good solutions to save human lives and to ensure efficient operations. Once again in 2018, our service business was able to win market share in core markets," says Henrik Uhd Christensen.
Personal protective equipment shows growth and potential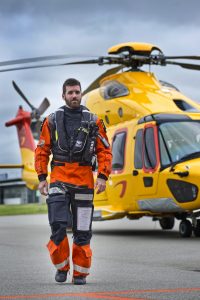 The markets in VIKING's biggest segments – Cargo, Passenger and Offshore – have developed in very different directions. As Cargo remains fluctuating due to uncertainties related to global trade agreements, the newbuild market, while still under pressure, is gradually normalizing and general market conditions stable.
Meanwhile, the Offshore segment is recovering after the sharp fall in oil prices in 2014. Parts of the industry are now growing, and we are seeing signs of growing demand. The cruise ship market remains extremely strong, and has been consistently so for many years running, says Henrik Uhd Christensen.
The PPE business, which includes personal protective equipment such as immersion and work suits, has shown extraordinarily strong growth. Military markets, fire departments and other professional users in many countries are being supplied with custom solutions, and the market for renting aviation suits to the offshore industry is also gaining momentum.
VIKING LifeCraft™ passed the critical test
The launch of LifeCraft™, the groundbreaking evacuation solution for the cruise ship market, is imminent after years of development and a highly complex approval process. The successful completion of the critical heavy weather sea trial in November 2018 means that the hybrid between a liferaft and a lifeboat will be market-ready as soon as the final regulatory approvals are issued.
"The VIKING LifeCraft™ is a huge project, and we knew all along that the sea trial was a crucial test. So, it's all the more pleasing that we've now passed the heavy weather sea trial and can look forward to a completely new platform, which will have a big impact on our sales and, in the slightly longer term, on equipment service for cruise ships. VIKING is constantly driving innovation and improving the essential function of equipment that saves human lives," says Henrik Uhd Christensen.
VIKING reached yet another milestone in 2018, surpassing DKK 1 billion in equity for the first time in the history of the family-owned company.
KEY FIGURES
VIKING Life-Saving Equipment A/S
| | | | | | |
| --- | --- | --- | --- | --- | --- |
| DKK million | 2018 | 2017 | 2016 | 2015 | 2014 |
| Revenue | 2016 | 1834 | 1858 | 1891 | 1728 |
| Operating profit | 155 | 183 | 185 | 201 | 191 |
| Profit before tax | 155 | 174 | 183 | 201 | 184 |
| Profit after tax | 111 | 130 | 139 | 149 | 137 |
| Assets | 2311 | 1555 | 1660 | 1630 | 1498 |
| Equity | 1013 | 971 | 923 | 805 | 714 |
| Average no. of employees | 2212 | 1874 | 2013 | 1914 | 1860 |
For more information:
Henrik Uhd Christensen, CEO
Tel: (+45) 7611 8100
Email: huc@VIKING-life.com
Lone Aaboe, Corporate Communications Manager
Tel: (+45) 7611 8217,
Email: laj@VIKING-life.com
About VIKING:
VIKING Life-Saving Equipment is a global market leader in maritime and offshore safety. Headquartered in Denmark, the corporation manufactures, supplies and services everything from chute and slide-based evacuation systems to liferafts, lifejackets, immersion suits, firefighting equipment, aviation safety gear, lifeboats, hooks, davits and more.
VIKING brings its customers all the elements needed to simplify safety, including the world's broadest range of safety products and a highly efficient, worldwide servicing network. And it stands out in the ability to offer complete safety compliance solutions – all certified in accordance with the latest IMO, SOLAS, EU and USCG requirements. Known as VIKING Shipowner and Offshore Safety Agreements, these uniquely customizable solutions incorporate safety products, global servicing, exchange, single-source management, and financing in a variety of fixed price structures.
In 2018, VIKING acquired Norsafe, the Norwegian boatbuilder whose lifeboats are used throughout the world, adding further strength to an unmatched product and service offering in the global maritime safety industry.
Founded in 1960, the privately held corporation manufactures in Denmark, Norway, Bulgaria, Greece, China and Thailand, and provides safety solutions in all significant markets and locations.
www.VIKING-life.com