19 November 2018 – Rough seas with wave heights up to 50% above the stipulated heavy weather testing requirements proved no obstacle for VIKING's innovative LifeCraft™ system, paving the way for cruise ship operators worldwide to benefit from all the advantages that this new hybrid – intended to replace lifeboats/liferafts – has to offer.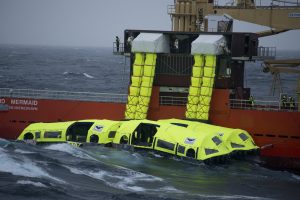 It is considered to be the most exciting innovation in passenger evacuation systems in decades – and now, despite unusually challenging test conditions, the VIKING LifeCraft™ system has passed an important milestone in its journey to commercial use following the conclusion of a demanding full-scale Heavy Weather Sea Trial (HWST).
Developed and extensively tested by leading maritime safety equipment and servicing provider VIKING Life-Saving Equipment over the past 10 years, the new evacuation system unites the advantages of modern lifeboats – such as self-propelled maneuverability – with the flexibility, comfort and smaller footprint of today's liferafts combined with marine evacuation systems.
The solution comprises two main elements: four inflatable VIKING LifeCraft™ survival crafts each with a capacity of 203 persons, so 812 in total, and a fully self-contained stowage and launching appliance either placed on deck or built into the ship's side. And it's packed with a long list of innovations that take the system far beyond the capabilities of existing lifeboats, marine evacuation systems or liferafts.
The perfect storm – and the perfect test: "The HWST involved launching and testing how well the LifeCraft™ system performs in high winds, stormy seas and extreme weather conditions," explains Niels Fraende, VP Cruise & LifeCraft™. "We launched the LifeCraft™ with the ship heading 3 knots up against the wind, exposing the system to the full force of the fierce weather in the most critical test phase. We then demonstrated – with a simulated dead ship condition – that the fully loaded LifeCraft™ system provides a safe and stable means of evacuation in both the weather and lee side for several hours."
"In addition, we quickly and successfully maneuvered the LifeCraft™ survival crafts on both sides of the vessel to a safe distance, demonstrating their built-in flexibility to move rescue-capacity to wherever it is most needed. Simulating station-keeping while waiting for rescue, we performed a 24-hour controlled drift test in the battering seas with no damage sustained to the survival crafts."
Heavy weather is exactly what nature delivered at the testing location on the North Sea between southern Norway and United Kingdom. In fact, after being ballasted with 70 tons to simulate full capacity, the LifeCraft™ was subjected to brutal wind gusts with speeds of up to 18 m/s in addition to significant wave heights of between 3.6 and 4.6 meters.
Towering peak waves of 10 meters greatly exceeded the required 3 meters needed for the trials, with the personnel from VIKING and DNV GL battling sea-sickness and heaving decks to conclude the tests.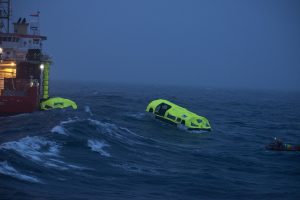 The HWST consisted of multiple phases, all of which were witnessed and approved by the attending DNV GL senior surveyor acting on behalf of the Danish Maritime Authority. And, with the toughest test ever behind VIKING, Niels Fraende is elated that the LifeCraft™ system performs so well under such demanding conditions.
"The LifeCraft™ exhibited superior maneuverability, sailing away from the ship much faster than required. We achieved this with the wind at our front as well as our backs, which makes it an even more impressive feat," says Niels Fraende.
The tests demonstrated, too, that the system's flexible chute arrangement could easily cope with the ship's list and trim, providing exceptional stability despite the highly dynamic sea state. With its four electric motors, one positioned at each corner, the fully loaded LifeCraft™ was swiftly maneuvered to a safe position within minutes of disengagement from its position along the ship's side.
The trial afforded crew members the opportunity to demonstrate, under extreme conditions, the capability of the chute arrangements that provide a controlled vertical passage from the embarkation point to the LifeCraft™ survival crafts. All landed safely at the expected evacuation speed, dry and unperturbed by the elements.
Raising the bar for safety: The VIKING LifeCraft™ system's development journey began in 2009. Over the best part of a decade more than 50 prototypes were created and put through their paces undergoing a battery of tests, which, among other punishments, employed jet engines to assess how well they stood up to 150 km/h winds.
Crucially, the four inflatable survival crafts are powered by electric motors instead of diesel-driven units. These not only enable excellent maneuverability for reaching a safe position or for rescuing passengers or ship personnel in the water, but are quieter in operation and more reliable, requiring far less maintenance. They also pose less of a fire risk and reduce evacuees' exposure to harmful fumes. Inside, there's strong focus on comfort, with triple the air space of existing lifeboat solutions, for example, and a novel natural ventilation system.
From a ship design perspective, the system is a significant space-saver, taking up around 25% of the necessary deck space compared to the equivalent capacity in lifeboats. This compact footprint is in itself a compelling argument for cruise ships as it frees up space for additional berths or passenger amenities. Furthermore, by enabling the positioning of evacuation capacity on both sides of a ship, something which simply isn't possible with conventional lifeboats, the system surpasses SOLAS requirements and allows greater overall flexibility in vessel design.
What's next?: With heavy weather sea trials now complete, all that remains are a few tests of the system's container, along with documentation and final approval by the Danish Maritime Authority (DMA). Soon, therefore, the VIKING LifeCraft™ system will be ready to be incorporated into new and existing vessels to provide an entirely new level of passenger safety.
About VIKING
VIKING Life-Saving Equipment is a global market leader in maritime and offshore safety, providing and servicing safety and fire-fighting equipment for passenger and cargo ships, offshore installations, fishing vessels, the navy, fire departments and leisure yachts.
VIKING is a privately held corporation founded in 1960 with group headquarters in Denmark. Products are manufactured in Denmark, Norway, Bulgaria and Thailand. VIKING offers a broad range of high-quality safety products and systems as well as tailored safety solutions certified in accordance with the latest IMO, SOLAS, EU and USCG requirements.
The VIKING product range includes chute and slide-based marine and offshore evacuation systems, liferafts, lifejackets, immersion suits, fire suits, work suits, aviation safety gear, rescue boats, hooks, davits, firefighting equipment, pyrotechnics and other lifesaving appliances. In 2018, VIKING acquired Norsafe, the Norwegian boatbuilder whose lifeboats are used throughout the world, ensuring a unique and unmatched product and service offering in the global maritime safety industry.
VIKING Shipowner and Offshore Safety Agreements are uniquely customizable concepts incorporating safety products, global servicing, exchange, single-source management, and financing in a variety of fixed price structures.
With 2,800 dedicated employees and a network comprising 80 branches, 280 certified servicing stations, multiple agents and stock points worldwide, VIKING is a truly global provider of safety solutions in all significant markets and locations.
For further information please contact:

Niels Fraende, VP Sales, Cruise & LifeCraft™
Tel. +45 2542 8450
Email. NFR@VIKING-life.com
Thomas Hestehave, Global Marketing Communications
Tel. +45 2542 8454
Email. THH@VIKING-life.com