24 April 2019 – John-Kaare Aune has been appointed the new Managing Director, Ship Management for the Wallem Group. He is expected to take up his position with effect from 1 July 2019.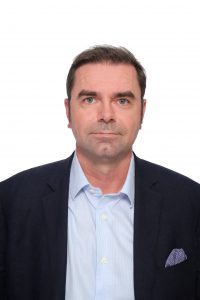 John joins Wallem from the Cayman Registry, where he was most recently Regional Director, Safety and Compliance overseeing its global commercial services and business development in addition to the Registration section in the Asia-Pacific region. Previously John also served as Principal Surveyor with the Cayman Registry.
John is a qualified Naval Architect with a degree from the University of Newcastle upon Tyne. He spent more than 6 years with the Norwegian Maritime Directorate (NMD). During this time, he represented Norway on numerous EU expert committees and several different IMO Committees. John has also served as the executive secretary to the Cayman Islands Ship-owners Advisory Council (CISAC & CISAC-YC). He has played a key role in the growth of the Cayman Registry and in maintaining its established position on the Paris and Tokyo MOU white lists.
Frank Coles, Wallem Group CEO, commented: "We are excited and lucky to have been able to secure John's services. The expertise and knowledge he brings to the company will greatly enhance our mission of safety and quality with technology. He brings a wide range of technical, compliance, regulatory and operational experience. John has earned the respect and endorsement of maritime industry players with his constant focus on the needs of customers."
John-Kaare Aune said: "The opportunity to join Wallem was something I could not turn down. The history of Wallem is well known, but it was the exciting vision and opportunity to create leadership in our industry attracted me to be a part of its great team. Our mission now is to realise the full potential that exists within the company for the benefit of our customers and to accelerate Wallem's transformation. I am very proud to be joining such a dynamic team in a period of growth and innovation".
About Wallem:
The Wallem Group is a leading provider of technology driven maritime solutions, offering services supporting the complete lifecycle of a vessel from newbuilding supervision to end-of-life recycling guidance. Our extensive portfolio includes asset management, crewing, training, ship management, safety and compliance management and agency services.
As one of the largest and most experienced solutions providers globally, we offer world-class support to shipowners by bringing our customer-centric and transparent approach to all aspects of fleet operation. We combine technology and forward-thinking to deliver on safety, technical, and commercial performance without compromise. We believe in collaboration to foster innovation in meeting future needs.
Wallem operates globally with a shore-based team of 1000 and more than 7,000 highly qualified seafarers, serving nearly all vessel segments.
For further information:
Lidia Selivanova
Head of Marketing, Wallem Group
Phone: +49 162 1038279
Email: lis@wallem.com
Debbi Bonner
Managing Director, JLA Media
Phone: +31 652 630122
Email: debbi.bonner@j-l-a.com