30 October 2023 – Wallem Group, a leading global maritime partner, is proud to have welcomed two dual fuel vessels, Angleviken and Askviken, into management in the last few months. The two LR2 tankers, delivered by Guangzhou Shipyard International, demonstrate Wallem's commitment to building its expertise in managing and operating the vessels of the future and being a partner to our clients who drive decarbonisation in the maritime industry. Wallem is also preparing to take delivery of multiple new build DF PCTC vessels in the near future.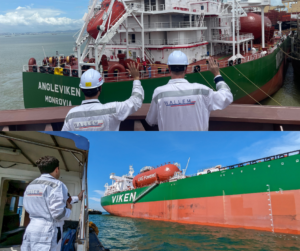 Ioannis Stefanou, Managing Director Ship Management, Wallem Group said: 'Since its foundation 120 years ago, Wallem has been at the forefront of maritime global services with a keen eye to adopt industry change. In the 21st century decarbonisation leads the sector's agenda, and Wallem's key focus is to develop and build our expertise both onboard and ashore in new technologies and alternative fuel systems.'
Ioannis continues, 'Despite technological advances, we still believe the Future is Human. These dual fuel vessels have brought exciting opportunities for our crew to expand their expertise. They provide a platform to train experienced crews of various ship types on dual fuel engine system requirements. Wallem is ready to manage any type of vessel equipped with dual fuel engines for our clients.'
About Wallem
Wallem Group is a leading provider of technology driven maritime solutions, offering services supporting the complete lifecycle of a vessel from newbuilding supervision to end-of-life recycling guidance. Wallem's extensive portfolio includes asset management, crewing, training, ship management, safety and compliance management and agency services.
As one of the largest and most experienced solutions providers globally, Wallem offers world-class support to shipowners by bringing its customer-centric and transparent approach to all aspects of fleet operation. Wallem combines technology and forward-thinking to deliver on safety, technical, and commercial performance without compromise. Wallem believes in collaboration to foster innovation in meeting future needs.
Wallem operates globally with a shore-based team of 700 people and 7,000 highly qualified seafarers, serving nearly all vessel segments.