8 May, 2013 – Leading classification society ClassNK and maritime software company NAPA have announced that Taiwan-based Wan Hai Lines Ltd has chosen ClassNK-NAPA GREEN ship efficiency software for use on WAN HAI 516, a 4680 TEU vessel delivered by CSBC in April 2013.
This marks the first time that the operational optimization and SEEMP (Ship Energy Efficiency Management Plan) solution will be installed commercially on an existing vessel. The announcement was made at a signing ceremony attended by representatives from Wan Hai Lines, ClassNK, and NAPA held at Wan Hai Lines headquarters in Taipei, Taiwan on 7 May 2013.
The ClassNK-NAPA GREEN system is a new comprehensive software system developed by NAPA and ClassNK to help owners and operators reduce fuel costs and CO2 emissions and smoothly comply with new IMO SEEMP requirements which entered into force at the beginning of 2013. While the new software is already in use as part of verification testing on a container vessel operated by Japan's Shoei Kisen, this agreement with Wan Hai Lines marks the first commercial success for the system.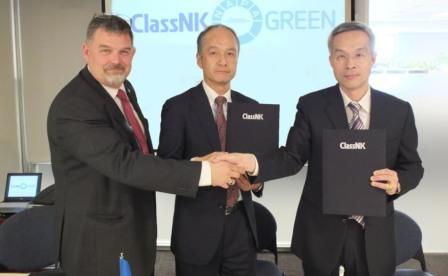 Jan Schauman,Vice President of Sales, NAPA; Yasushi Nakamura, Executive Vice President, ClassNK; Sanders Jong, Vice President Marine Division, Wan Hai Lines (pictured left to right)
With more than 70 container vessels under operation, Wan Hai Lines is one of Asia's leading container vessel operators. Speaking during the signing ceremony Mr. Sanders Jong, Vice President Marine Division, Wan Hai Lines highlighted the importance of the new technology for the company: "Improving the fuel efficiency of our vessels is one of the most important challenges we face as an operator today. After examining a variety of technologies, we chose the ClassNK-NAPA GREEN system based on its comprehensive and user friendly set of tools for trim, speed and route optimization, as well as for the dynamic performance model, which we hope will allow us to achieve a higher level of environmental and economic ship management."
These comments were echoed by Mr. Juha Heikinheimo, President of NAPA Group who said: "Following on the success of our verification tests, we are proud to be able to partner with Wan Hai Lines for this first commercial application of ClassNK-NAPA GREEN. ClassNK-NAPA GREEN offers many powerful tools for improving the efficiency of ship operations. We expect the jointly developed Dynamic Performance Model included in ClassNK-NAPA GREEN to open up a new era for real time monitoring and efficiency optimization in the shipping industry."
Speaking on behalf of ClassNK, Executive Vice President Mr. Yasushi Nakamura added: "Owners today are facing the twin challenges of new regulations and rising fuel costs. As the world's largest classification society, it is our mission to help owners address these problems, and that is why we teamed up with NAPA to create ClassNK-NAPA GREEN. We are already seeing the amazing potential of these systems in our verification tests with vessel owners and NAPA, and this commercial application marks another major milestone in our efforts to help owners improve the efficiency of their operations."
For more information about
ClassNK-NAPA GREEN, please contact:
ClassNK Consulting Service Co., Ltd.
Tel: +81-3-5226-2290
Email: consulting@classnkcs.co.jp
NAPA
Tel: +358 9 22 813 1
Email: sales@napa.fi
About
NAPA
NAPA is a world leading software house supplying solutions for ship design and operation with a mission to improve safety and eco-efficiency of the global maritime industry. With a solid track record in setting new standards for 3D modelling of ships and ship performance analyses, NAPA's philosophy is that true eco-efficiency starts with the build process and continues through the operational lifecycle of a vessel. NAPA software are used by shipyards, owners, designers, classification societies, research institutes, authorities, consultancies and universities. NAPA has nearly 400 user organizations for the design application and over 1,500 installations onboard.
About
ClassNK
ClassNK is a ship classification society dedicated to safer, cleaner seas. With more than 210 million gross tons, or some 20% of the world's merchant fleet on register, ClassNK is the world's largest classification society on a gross tonnage basis. ClassNK also works in partnership with the industry to develop new cutting-edge technological solutions aimed at securing a safer and greener future for the entire maritime community. Based in Japan, ClassNK is a global organization committed to providing the highest quality services, supporting clients 24/7 through a network of 122 offices across the globe.