Inmarsat Maritime's service will provide the required speed, reliability, and redundancy to support the AHTI, which tests technology to help improve vessel performance and energy usage.
06 July 2023 – Inmarsat Maritime, a Viasat business, will connect Wärtsilä ANCS's new floating laboratory, AHTI, and its shore operations, to support the data exchange for advanced technology testing and the ship's day to day operations. Inmarsat Maritime's award-winning Fleet Xpress connectivity will be packaged with unlimited back-up from FleetBroadband to meet all the demonstrator's needs.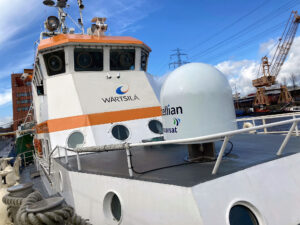 AHTI uses seamless, high-speed and reliable connectivity to create a seaborne environment where customers can test Wärtsilä ANCS's own technologies and its technology partners' solutions, all of which aims to reduce the environmental impact of commercial shipping. Through the programme, Wärtsilä ANCS tests new technologies to offer real-time insights into a vessel's performance, energy use and the impact on commercial shipping. This provides a safer, faster, and more cost-effective setting for tests than a ship in service while still delivering accurate insights into performance at sea for test centre staff ashore.
Michael Christiansen, Vice President, Wärtsilä ANCS said "AHTI reduces time to market by providing a faithful reflection of a technology's capabilities and limitations on the open water without the risks, red tape and costs that come with full-scale sea trials. As a floating laboratory, the vessel depends on reliable, high-speed connectivity, meaning that Inmarsat's market-leading VSAT service, Fleet Xpress, is an important addition on board."
Inmarsat's Service Provider for the project, DRYNET, is also one of the Wärtsilä ANCS technology partners contributing to AHTI's operations. The company selected Fleet Xpress and FleetBroadband as the best solution to provide a 'multi-modal wide-area network' for the ship.
Holger Ritter, Managing Partner, DRYNET GmbH, said "Equipped with Inmarsat's Fleet Xpress with always-on back-up from FleetBroadband, AHTI has the reliability, resilience, and redundancy it requires to remain constantly connected. The multi-modal connectivity package can also handle the vast quantities of data that AHTI generates, providing a strong foundation for applications such as enhanced situational awareness and remote control."
Scott Middleton, Regional Sales Director, Inmarsat Maritime, said "With AHTI, Wärtsilä ANCS has created a means of demonstrating maritime technology that circumvents the usual challenges associated with testing at sea or in shore-based laboratories. We are proud to have been chosen as connectivity partner for a project that promises to accelerate maritime digitalisation, and we are grateful for the support of our long-time collaborator and Inmarsat Service Provider DRYNET."
About Viasat
Inmarsat Maritime is now a Viasat business and continues to power the digitalisation of the maritime industry, making operations more efficient and safer than ever before. Viasat is a global communications company that believes everyone and everything in the world can be connected. With offices in 24 countries around the world, our mission shapes how consumers, businesses, governments and militaries around the world communicate and connect. Viasat is developing the ultimate global communications network to power high-quality, reliable, secure, affordable, fast connections to positively impact people's lives anywhere they are—on the ground, in the air or at sea, while building a sustainable future in space. On May 30, 2023, Viasat completed its acquisition of Inmarsat, combining the teams, technologies and resources of the two companies to create a new global communications partner. Learn more at www.viasat.com, the Viasat News Room or follow us on Facebook, Instagram, LinkedIn, Twitter or YouTube.
Inmarsat Maritime is based in Viasat's global international business headquarters in London, United Kingdom. For further information about Inmarsat Maritime, follow us on LinkedIn.