12 March, 2013, – Norwegian Breakaway, the largest ship ever constructed in Germany, floated out of Meyer Werft's covered building dock II at the end of February. The luxury cruise ship will undertake sea trials before her delivery to the owner and passage to her home port of New York by May 7th, 2013.
The build project represented Bolidt's highest profile decking commitment for a maritime customer through 2012, with 16,500m2 of surfacing materials delivered. This year, deliveries of Bolideck® 525 and Bolideck® Future Teak have already started for sister ship Norwegian Getaway, which is due delivery in 2014.
The 4,000-passenger, 146,000gt vessels are a new class of cruise ships for NCL. Their design will be echoed on the even larger, 164,000gt Norwegian Breakaway Plus, due from Meyer Werft in October 2015.
For Bolidt, these projects consolidate the close collaboration with owner NCL and builder Meyer Werft. However, they have also involved working at a detailed level with Tillberg Design and SMC Design to deliver synthetic floor and deck surfaces in subtle as well as functional shades.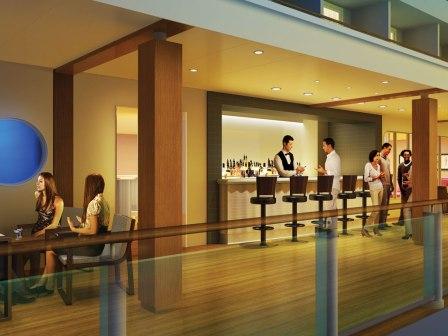 The variety of colour and patterns available mean that Bolidt materials are making a key contribution to setting specific moods in themed areas onboard. Bolideck® Future Teak, for example, is playing a significant role in mood-setting that is line with the ship's 'New York' theme. It is an integral part of 'The Waterfront' on Deck 8, NCL's unique oceanfront boulevard concept lined with shops, restaurants and bars. Here, the flooring material has been chosen for its realistic rendition of boardwalk planking, but has also been specified in tones subtle enough not to overpower walkway furnishing.
Elsewhere, skid-resistant Bolideck® 525 has been delivered in subdued tones to offer relaxation zones in otherwise bustling areas. The idea is to create a calm ambience in some zones, even though there is no physical separation between activities. Bolidt has also created a black and silver glittered floor to enhance the ambience in the 'Bliss' nightclub.
[ENDS]
***END OF PRESS RELEASE***
Note to
editors:
Bolidt Synthetic Products & Systems
For further information contact Michel van der Spek, Manager Marketing & Communications
T +3178 684 54 44
E marcom@bolidt.com
I www.bolidt.com