09 May, 2017 (Athens) – World's largest private weather service company Weathernews Inc. (WNI) and leading classification society ClassNK welcomed over 100 shipping personalities to their first joint seminar for Monitoring, Reporting, Verification (MRV) held at Glyfada Golf Gardens on 27 April.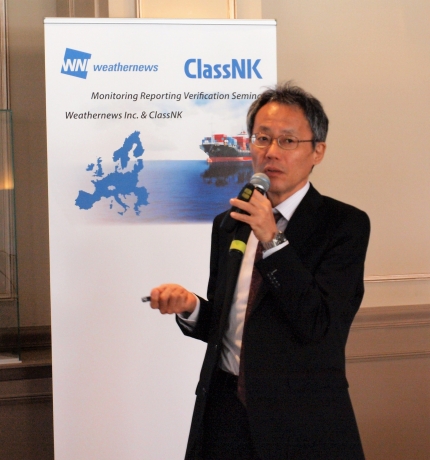 Takeshi ShimadaEU MRV is an EU regulation on the monitoring, reporting, and verification of carbon dioxide (CO2) emissions from vessels, which first entered into force on 1 July 2015. This regulation lays down rules for developing Monitoring Plans and for submitting the Emission Reports to the verifiers accredited by a national accreditation body in the EU for ships above 5,000 gross tons which arrive at or depart from ports under the jurisdiction of an EU member state. In accordance with the timeline of the regulation, shipping companies are required to submit a Monitoring Plan to a verifier by 31 August 2017, and to monitor CO2 emissions for developing the Emission Report in accordance with the assessed Monitoring Plan from 1 January 2018.
At the joint seminar, Mr. Takeshi Shimada, General Manager ClassNK EEDI Department explained the EU MRV requirements and its service for shipping companies' compliance to EU MRV as ClassNK has become one of the world's first classification societies to receive an EU MRV verifier accreditation from the UK-based national accreditation body UKAS (United Kingdom Accreditation Service). Mr. Shimada also outlined ClassNK's verification scheme for the reports generated with WNI's solution.
Mr. Jesse Vecchione, Operations Leader of WNI Europe, presented the newly launched Emission Status Monitoring solution as well as its Service Model of Fleet Performance Management. WNI's Emission Status Monitoring Report consists of four steps/service menu as 1.Monitoring Plan Support, 2. Ship Reporting Support, 3. Data Gap Control Support , 4. Emissions Report Support.
WNI and ClassNK have shared the goal to keep their customers familiar and updated on the new and old challenges and the two organizations feel confident this target was successfully achieved through the seminar.