New autonomous and digital technologies can transform seafarers' work patterns by improving decision making, enhancing safety and allowing human beings to concentrate on what they do best
30 September 2021 – Over the last five years, and particularly during the last 20 months, digital technologies have transformed lives ashore, both at home and at work. World Maritime Day 2021 therefore provides a timely opportunity to explore how digital and autonomous technologies can transform the working lives of our seafarers while also raising both safety standards and operational efficiency.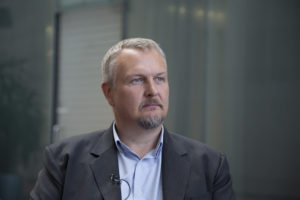 International shipping is an essential but often unseen business that fulfils a vital role in the lives of almost everyone on this planet. Shipping, too, has undergone a digital revolution: huge strides in ship-shore connectivity now enable real-time monitoring, remote maintenance, and real-time data flows on parameters such as fuel consumption, weather and voyage performance.
However, a whole new range of digital and autonomous technologies have also been developed which can assist seafarers in their routine work schedules and support them in emergencies. These wide-ranging systems are available to ease the workload of both navigators and engineers, and to raise safety standards by enabling personnel to manage their time more effectively and to make better decisions.
Many of these digital systems have already been well tried and tested, and new solutions are being developed fast. Step by step, offering new and better ways to operate vessels.
Some understanding of the potential impacts of these technologies can be secured by considering two existing 'smart' technologies which are already fully accepted by our industry. Both provide acknowledged support for seagoing personnel as well as setting new safety standards in ship operation.
The first is the humble autopilot, now a standard feature on many vessels, which senses the difference between a ship's designated course and her actual heading. Automatic adjustments to the rudder keep the ship constantly on track without the helmsman's intervention.
The second is the dynamic positioning system, which is now found on many offshore vessels, including some of the most sophisticated construction, intervention and installation ships in service today. Without dynamic positioning systems and the back-up redundancy that the more advanced systems now incorporate, the safe installation of many offshore structures, including fixed and floating energy and renewable facilities, would not be possible.
At ABB, we have gone further, developing the ABB Ability™ Marine Pilot Vision; an intelligent solution that fuses the data available onboard, to generate a digitally enhanced situational awareness, allowing much greater overview around the vessel and its voyage path. In addition, the ABB Ability™ Marine Pilot Control allows a whole new way to control vessels; where the operator previously had to switch between different systems to perform maneuvering, transit and position-keeping, all modes are now available through one system.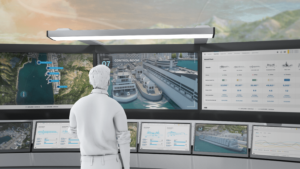 Increased situational awareness, further developed into the Bridge Zero (B0) concept, that can be used to better support the work patterns of bridge personnel. The B0 concept describes what is necessary for a conditionally and periodically unattended bridge and is designed for use on long ocean passages where the lookout may see nothing more than empty sea for hours on end. In these circumstances, an 'electronic lookout' can take account of how far away other ships are, our heading/speed and the headings/speeds of other ships. Meanwhile, bridge personnel can undertake other essential tasks during their shift in the knowledge that they will be alerted if necessary.
The purpose of this development is to allow humans to concentrate on the things they do best – applying knowledge and experience, exercising judgement, handling uncertainty and problem-solving – while digital systems deal with repetitious and potentially fatiguing tasks. This is a division of labor conducive to higher safety standards.
Digital systems can monitor a wide range of parameters constantly, with pinpoint accuracy, right around the clock. They provide a constant stream of reliable data automatically, or as frequently as required. Unlike human beings, these systems are 'always on'. In a safety context, but also in efficiency terms, the situational awareness available to the combination of man and machine is unbeatable.
Shipping's critical role in keeping global supply chains running has never been more evident and, on this important day, it is essential that we acknowledge our seafarers as the basis for that role. However, thousands of years of maritime history also confirm the link between advancing technology and improving ship safety and efficiency. As the maritime technology part of ABB, ABB Marine & Ports pushes the boundaries of technology to ensure greater ship efficiency, enhanced safety and environmental performance. On the intelligent systems side, our goal is to develop technology that works together with the crew playing to the best of the abilities of both, offering seafarers supportive tools that simplify operations, enhance situational overview and enable better decision-making.
At a time of rapidly advancing digital technology, World Maritime Day provides an opportune moment to reflect that one priority for shipping is to harness these technologies to the best advantage of efficiency, sustainability and safety on the deep seas, in coastal waters, and in ports.
Eero Lehtovaara is Head of Regulatory & Public Affairs at ABB and represents ABB towards IMO. He is Chairman of One Sea, a group of leading technology companies collaborating on the promotion of autonomy in shipping applications, and has recently been elected as Chairman of Waterborne Technology Platform, a technology forum in which shipping industry leaders from all of its sectors pioneer new technologies in autonomy, digitalization, and decarbonization.