12 September 2022 – Interior spaces from YSA Design on board Norwegian Prima offer a break with traditional cruise ship aesthetics to create an ambience more reminiscent of a modern, high-end hotel, according to the Oslo-based architecture and design firm.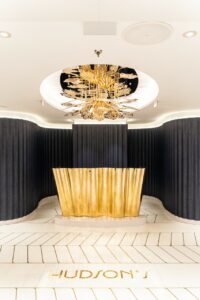 Recently christened in Reykjavik, Iceland following the completion of construction works at Italy's Fincantieri Marghera Shipyard, Norwegian Prima is the first in Norwegian Cruise Lines' new Prima class of vessels. The 294-metre passenger ship can accommodate up to 3,099 guests on itineraries to Bermuda, the Caribbean and Northern Europe.
YSA Design developed multiple spaces aboard Prima, including two dining establishments, the forward and aft public stairs and lift lobbies and the public toilets.
"For this first-in-class vessel, we departed from the conventions of the cruise-ship aesthetic to create a fresher look and feel based on the flair of a modern, luxury hotel," says YSA Design senior interior architect and project lead, Fabiana Vale Dornelas. "Our design approach is characterised by elegant and contemporary elements including clean lines, reflective surfaces, stone finishes and metal detailing."
Exemplary of this approach is the New York-style restaurant aft of deck 7. Named after the river that separates Jersey City from Manhattan, Hudson's is an upmarket venue offering 280-degree views from the stern of the ship. The open, airy space is decorated in contrasting bright and deep-blue tones, with golden finishes reflecting the natural light that enters through sloping floor-to-ceiling windows. Adding colour and texture are the velvet upholstery and the organic, abstract motif of the carpet, while crystal-embedded gold-leaf chandeliers cast intricate patterns of light on the ceiling.
Aft of the back stairs on deck 8 is The Local, a casual venue comprising a starboard bar and a restaurant on the port side. In the bar, cool blue lighting from behind the counter contrasts with the warm, earthy tones of the seating area, and multicoloured mosaic tiling and wood-panel flooring converge at straight and diagonal angles in the centre. Sharing the warm palette of the bar seating area, the restaurant brings together boldly coloured upholstery with subdued wood and brick finishes. The entire venue is unified by a dark, semi-open ceiling partially illuminated by contemporary string lights.
"The idea with The Local was to offer a relaxed environment for informal dining and socialising," explains Dornelas. "The space is vibrant and quirky with a multicultural twist – the perfect setting for sharing a bite to eat and a drink with friends."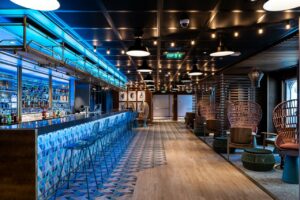 Comprising a total of three lobbies, four lift towers and fourteen lifts, the forward and aft public stairs share a consistent look and feel, featuring straight lines, marble flooring, stylish stone finishes with metal detailing and deep-blue tones reflected in the mirror elements and chandeliers. Spanning lift to lift, the impressive chandeliers form a fluid, wavy shape that appears to change depending on the angle from which it is viewed.
Adjacent to the lobbies are the public toilets, which maintain the modern hotel style. The aesthetic is sophisticated and clean, with wooden and stone finishing. Contributing to the elegant look are a reflective wall with metal inserts, slate floor tiles arranged in an irregular pattern and crystal pendants that produce fascinating reflections. In line with post-pandemic hygiene standards, the integrated sinks include touchless taps, soap dispensers and dryers.
About YSA Design
Founded in 1985, YSA Design is one of the world's leading architects and design studios for the cruise ship industry. It has decades of experience that extends from the concept stage, to General Arrangements, interior and exterior design solutions, materials selection and project management in the shipyard. In recent years, we have also completed a growing number of land-based commissions.
Our philosophy is to deliver designs that are both functional and unique: we do not limit our customers to one style; instead, we offer diversity and designs that are tailor-made for each commission. YSA Design's creative process rests on three pillars: close relationships with clients; our talented and innovative staff; and the skills and experience of our founding partners. For more information, visit www.ysa.design.